Summary

With reduced mobility, the oil demand has plummeted, leading to a decline in the profits of oil and gas company.
Topaz Energy, the largest Canadian energy IPOs since 2017, debuted on the TSX this Monday.
Suncor Energy stocks are down 63 per cent this year.
With global business disruption triggered by Covid-19, energy stocks have taken a beating as well. Energy stocks such as Canadian Natural Resources (TSX: CNQ) and Suncor Energy Inc. (TSX:SU) plummeted earlier this year during the pandemic-led market crash. However, the economy now is slowly recovering and energy stocks are gradually gaining momentum.
Energy is a cyclical industry, so when there is an economic downturn, commodity price crisis or lack of demand, the stock prices of energy companies are impacted. Investors should be mindful of the volatility prevailing in the industry before taking any investment decision.
Canada's oil patch has been mired by controversies over environmental concerns, forcing investors to rethink to investment decisions. Oil producers, too, have been struggling with high production costs, reduced demand for oil, and crude transmission difficulties. With more people working from home these days, the energy demand has decreased considerably.
With reduced mobility, the oil demand has also reduced and profit generated from oil extraction has declined steeply. Gasoline sales took a huge hit this year. To help the beleaguered oil and gas industry survive, the Alberta government has introduced a three-year property tax exemption for companies drilling new wells and building new pipelines. It is also eliminating taxes on well-drilling equipment, lowering tax assessment for less productive oil and gas wells, and extending a 35 per cent assessment reduction for three years to shallow gas wells. These measures could offer some relief to oil and gas producers in Alberta, Canada.
Businesses are fearing how the second wave of Covid-19 will play out. The Organization of the Petroleum Exporting Countries (OPEC) has predicted a further drop in global oil demand, then previous estimations. Thriving in an environment of uncertainty, here are two energy stocks for investors to keep a close watch – Topaz Energy Corp. (TSX:TPZ) and Suncor Energy Inc. (TSX:SU).
Topaz Energy Corp. (TSX:TPZ)
Current Stock Price: C$13.01
Calgary-based Tourmaline Oil Corp's subsidiary Topaz Energy shares dropped about 0.5 per cent after debuting on the Toronto Stock Exchange earlier this week. It was one of the biggest Canadian energy IPOs since 2017.
The company's IPO issue price was C$13 per share, aiming to raise C$217.5 million. The offering is expected to close on October 26, 2020. The net proceeds will be used for royalty and energy infrastructure acquisitions, as well as for working capital and general purposes.
Topaz is a unique royalty and energy infrastructure company, formed by Tourmaline Oil Corp in November 2019 with C$800 million capitalization. Following the deal, Tourmaline holds a 74 per cent stake in Topaz, while investors hold the remaining 26 per cent.
Tourmaline, however, decided to sell only 1 million of Topaz shares instead of 2.5 million planned earlier, to raise C$13 million, instead of earlier targeted C$35 million. This offering was made through a syndicate of underwriters co-led by Peters & Co. Limited and Scotiabank.
Through this IPO on Monday, Topaz Energy and Tourmaline Oil Corp., its majority shareholder raised C$230.5 million (US$175 million).
Earlier this year, Topaz entered into a 15-year volume commitment agreement with Advantage Oil & Gas Ltd and acquired 12.5% working interest for cash consideration of C$100 million.
Topaz Energy's revenue generation streams include 'royalty' production revenue, processing revenue and other income sources. It has approximately 2.3 million gross acres of developed and undeveloped lands, from which revenue is derived through on natural gas, crude oil, and condensate production.
Suncor Energy Inc. (TSX:SU)
Current Stock Price: C$15.66
Suncor Energy is an integrated energy company. It owns one of the largest petroleum resource basins in the world. Earlier this month, Suncor Energy Inc grabbed headlines with its plan to slash 10 to 15 per cent of its workforce over the next few years, and to realign itself with the current market volatility and improve cost structure.
The company earlier faced probe on the charges of securities fraud in September 2020.
Suncor stocks are down by 63 per cent this year. Starting off the year at C$42.56, the stock price of Suncor Energy hit the bottom of C$15.66 on October 21.
Stock prices plummeted to a low of C$15.05 in March, and later saw a rebound of C$28.57 as of June 6, 2020. Post which, the stock prices have been on a steady decline, a drop by 45 per cent currently. As per TSX data, the company's current market capitalization is valued at C$23.88 billion, with a profit-to-book (P/B) ratio of 0.654 and profit-to-cash flow (P/CF) ratio of 3.90. Quarterly dividend payout is C$0.21 with a dividend yield of 5.36 per cent.
SU FINANCIAL HIGHLIGHTS
In the second quarter of 2020 (ended June 30), the company's funds from operations was C$488 million as compared to C$3 billion during the same quarter last year. Total revenue stood at C$4.22 billion.
Cash flow used in operating activities decreased to C$768 million, from C$3.43 billion in Q2 2019. The company suffered an operating loss of C$1.489 billion in Q2 2020 owing to decrease in crude oil and refined product realizations, down from C$1.253 billion a year ago.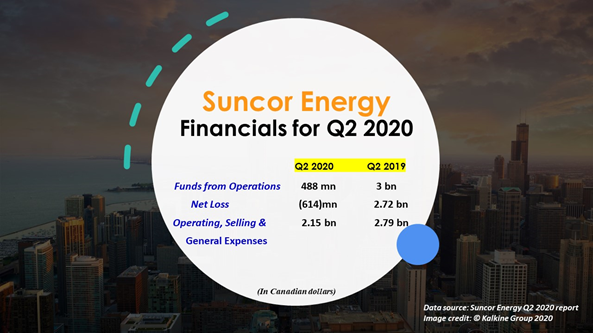 The company reduced its operating and capital expenditure in Q2 2020, remains on the right track to achieve its $1 billion operating cost reduction target and $1.9 billion capital cost reduction target by the end of 2020. Suncor's net loss was C$614 million in Q2 2020, compared to net earnings of C$2.729 billion in the prior year quarter. Its total operating, selling and general expenses decreased to C$2.156 billion in the second quarter of 2020, as compared to C$2.79 billion in Q2 2019. As of June 30, the company's total liquidity stood at C$8.65 billion.