Last year, on April 20, oil prices slipped in the negative territory for the first time in history. West Texas Intermediate (WTI) fell from US $17.85 to close at negative US$ 37.63 on that day.
While the pandemic is still on, oil prices have recovered since and are expected to remain stable this year. According to the International Monetary Fund (IMF), a 21 per cent rebound in crude oil prices could also be witnessed.
On that note, let's find out more about the recent stock and financial performances of top Canadian energy companies, Enbridge Inc (TSX:ENB) and Canadian Natural Resources Limited (TSX:CNQ).
Enbridge Inc (TSX:ENB)

On Monday, May 3, Enbridge touched its 52-week high of C$ 47.79 before closing at C$ 47.6 apiece. The oil and gas stock was also trading in green on Tuesday at the time of writing this (11.29AM EST).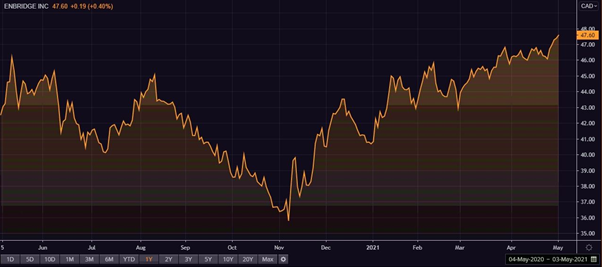 1-year chart of stock performance of Enbridge (Source: Refinitiv/Thomson Reuters)
While ENB shares recorded an average trading volume of over 5.27 million in the past 30 days, its one-month stock price growth stood at about three per cent. The stock soared by 31 per cent in the last six months and grew 13 per cent in one year.
As per data from TMX, Enbridge holds a price-to-earnings (P/E) ratio of 32 and a market cap of over C$ 97 billion.
The oil and natural gas company recently said that it will start producing renewable natural gas (RNG) from landfill sites across the country. Enbridge Vice President Cynthia Hansen reportedly pointed that 10,000 landfill sites in Canada are capable of producing 33 petajoules of RNG per year.
This announcement comes amid the government's increasing focus on green transformation, and the company's prospects might be boosted with such renewable energy initiatives.
Canadian Natural Resources Limited (TSX:CNQ)

Canadian Natural Resources is set to announce its first-quarter fiscal 2021 earnings on Thursday, May 6.
Ahead of this, its stock posted a year-to-date (YTD) growth of about 26 per cent and a one-year growth of roughly 76 per cent.
1-year chart of stock performance of CNQ (Source: Refinitiv/Thomson Reuters)
In Q4 ending December 31, 2020, CNQ recorded net earnings of C$ 749 million, and net earnings per share (diluted) of C$ 0.63.
For the whole year of 2020, the company reported increased cash and cash equivalents of C$ 184 million.
The above constitutes a preliminary view and any interest in stocks should be evaluated further from an investment point of view.