Highlights

BHC stock shot up by nearly 12 per cent in one month

BLU stock galloped by over 247 per cent year-over-year

HLS is set to deliver a quarterly dividend of C$ 0.05 on September 15
Some Canadian provinces are reportedly witnessing a major surge in COVID infections, signalling the seventh wave that could peak in Canada in the coming weeks.
According to the Public Health Ontario (PHO), COVID outbreaks in high-risk settings grew by 87 per cent on a weekly basis from July 3 to July 9. The latest data shows that long-term care homes saw 42 outbreaks this week, representing a 110 per cent increase from 20 outbreaks reported in the previous week.
In addition, Canada is also seeing rising monkeypox cases, with Ontario reporting 194 confirmed cases as of July 14.
Amid these health challenges, investors seem to be turning toward healthcare stocks like Bausch Health (TSX: BHC), BELLUS Health (TSX: BLU), Well (TSX: WELL) etc., so let's look at five TSX health stocks closely.
1.

Bausch Health Companies Inc (TSX: BHC)
Bausch, earlier known as Valeant Pharmaceutical, is a midcap company focusing on pharmaceutical, consumer health and medical devices. The healthcare company's profitability, commonly denoted by its return on equity (ROE), was over 202 per cent. However, this stock seems to involve high financial risk as it holds a debt-to-equity (D/E) of 44.72.
BHC stock shot up by nearly 12 per cent in one month and was up by about 27 per cent from a 52-week low of C$ 8.91 (June 23). Refinitiv information shows that BHC stock held a moderate-level Relative Strength Index (RSI) of 47.85 on Friday, July 15.
2. BELLUS Health Inc (TSX: BLU)
BELLUS is a smallcap firm that develops biopharmaceuticals and is focused on advancing therapeutics for chronic cough. Currently, this health solutions provider is at a clinical stage.
On July 12, BELLUS Health announced the completion of the End-of-Phase 2 meeting with the US Food and Drug Administration (FDA) and outlined the CALM Phase 3 program for its candidate BLU-5937 to treat refractory chronic cough.
BLU stock galloped by over 247 per cent year-over-year (YoY). According to data gathered from Refinitiv, BLU scrip had an RSI value of 49.17 on July 15.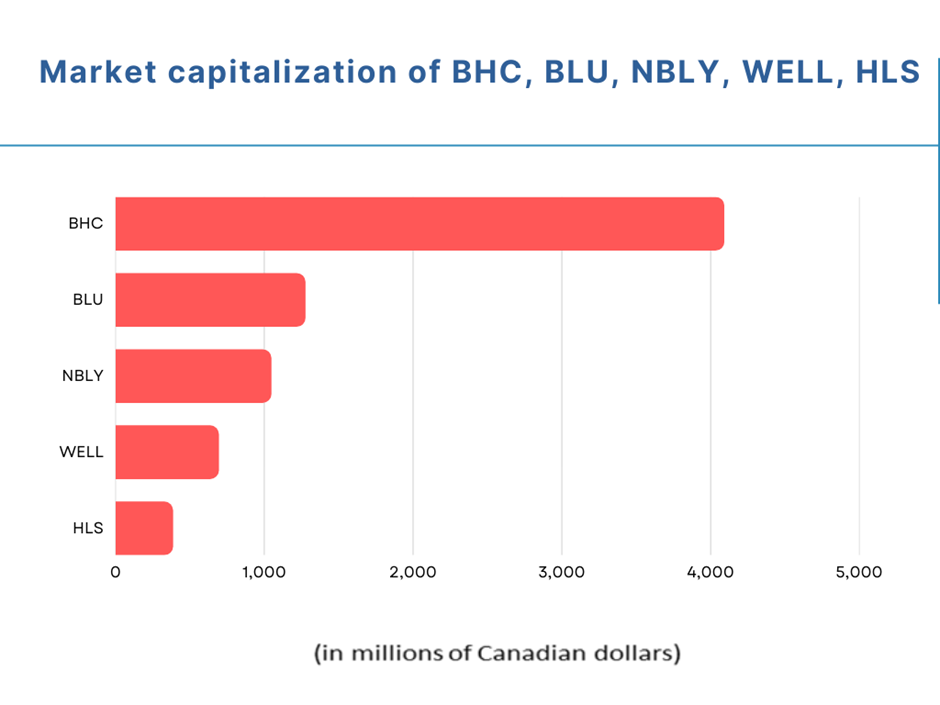 ©Kalkine Media®; ©Garis Studio via Canva.com
3. Neighbourly Pharmacy Inc (TSX: NBLY)
Neighbourly Pharmacy is a smallcap company that operates as a network of community pharmacies in Canada. In June, Neighbourly acquired Rubicon Pharmacies in a C$ 435 million deal. The Canadian pharmacy network company said this acquisition would expand its network by 100 locations.
NBLY stock surged by over seven per cent in one month. As per Refinitiv, NBLY recorded an RSI value of 47.04 on July 15.
4. WELL Health Technologies Corp (TSX: WELL)
Canadian digital healthcare company WELL Health set up WELL Health Canada Clinics, a new business unit to house its omnichannel clinical business across the nation.
WELL stocks plunged by nearly 60 per cent and, according to Refinitiv, saw an RSI of 36.22 on July 15.
5. HLS Therapeutics Inc (TSX: HLS)
HLS is a smallcap company engaged in acquiring and commercializing speciality pharmaceutical products across North America. This Canadian healthcare company is set to deliver a quarterly dividend of C$ 0.05 on September 15.
HLS stock sank by almost 21 per cent year-to-date (YTD) and, on July 15, held an RSI of 42.75, according to Refinitiv.
Bottomline
The TSX Capped Health Care Index lost roughly 49 per cent in 2022. However, the surge in COVID and monkeypox cases in Canada could likely spark some interest in quality TSX healthcare stocks. Interested investors could explore these health stocks in the hopes of deriving some value from innovation and developments in the healthcare space.
Please note, the above content constitutes a very preliminary observation based on the industry, and is of limited scope without any in-depth fundamental valuation or technical analysis. Any interest in stocks or sectors should be thoroughly evaluated taking into consideration the associated risks.