Closing the earnings season for the Big Six banks in Canada, Bank of Nova Scotia (TSX:BNS) announced the results for its second quarter of fiscal 2021 before market open on Tuesday, June 1.
Like its peers, Bank of Nova Scotia also beat analysts' expectations to post a net income of C$ 2.45 billion in the latest quarter, up from C$ 1.3 billion in the second quarter of fiscal 2020.
Its rise in profit, similar to the other major backs, was triggered by a significant drop in provisions for credit losses (PCL). Bank of Nova Scotia's PCL stood at C$ 496 million in Q2 FY21, as compared to C$ 1.8 billion in Q2 FY20, when banks were forced to brace for higher bad loans due to the COVID-19 pandemic.
Chief Executive Brian Porter said that Bank of Nova Scotia's diversified business platform has helped it achieve another quarter of robust results.
A Look At Bank of Nova Scotia's (TSX:BNS) Q2 FY21 Results

Scotiabank's diluted earnings per share (EPS) jumped by 88 per cent year-over-year (YoY) to C$ 1.88 in Q2 FY21. According to the IBES data from Refinitiv, analysts had estimated an EPS of C$ 1.76.
Compared to about eight per cent return on equity (ROE) last year, the bank's ROE increased to 14.8 per cent in Q2 FY21.
Presently holding a dividend yield of 4.9 per cent, BNS shareholders will continue to receive an unchanged dividend of C$ 0.9 per unit in the third quarter.
Notably, BNS' value of the assets under management (AUM) increased to C$ 331.6 billion in Q2 FY21, while its total assets was C$ 1.13 trillion.
Bank of Nova Scotia (TSX:BNS) – Stock Performance
BNS stocks have been on a roll over the past week ahead of its earnings report release. Before markets closed on Friday, May 28, BNS stock clocked a 52-week high of C$ 81.5.
On Monday, the stock closed at C$ 81.21 apiece.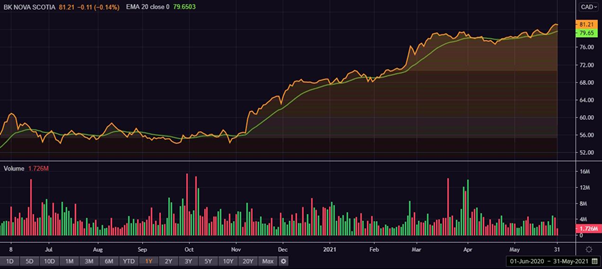 1-year chart of stock performance, volume and moving average exponential of Bank of Nova Scotia (Source: Refinitiv)
BNS stock recorded 18 per cent returns year-to-date (YTD) and swelled by 47 per cent in the past year.
According to the data from TMX, the bank holds a price-to-earnings ratio of 14.9 and its debt-to-equity (D/E) ratio is 0.4. In terms of return on assets (ROA), the bank offers 0.6 per cent.
Please note: The above constitutes a preliminary view and any interest in stocks should be evaluated further from an investment point of view. The reference data in this article has been partly sourced from Refinitiv.