Highlights

Alimentation Couche-Tard Inc deployed its first electric vehicles (EVs) charging station on Friday, May 20.
The retail giant plans to equip 200 Circle K and Couche-Tard stores with EV charging sites in North America by 2024.
Its net profit was US$ 746.4 million in Q3 FY2022.
Alimentation Couche-Tard (TSX: ATD) stocks have been creating a buzz on the markets after the Canadian retail company started its journey into the electric vehicle (EV) market in the US with the launch of its very first EV charging site. Couche-Tard deployed its first EV charging station on Friday, May 20, under the Circle K banner in Rock Hill, South Carolina.
The retail giant also revealed its plan to equip 200 Circle K and Couche-Tard stores across North America with EV charging sites by 2024.
The Canadian retailer said that it will use the first EV unit to understand customer requirements, monitor driver usage and how it will impact foot traffic in its convenience stores. The company believes that its store is at a convenient location to start the EV rollout considering that EV traffic is expected to surge in a metropolitan area.
With this new addition to its retail ecosystem, let us glance at Alimentation Couche-Tard.
Alimentation Couche-Tard Inc (TSX: ATD) Q3 FY12022 results
Alimentation Couche-Tard held total assets of US$ 28.22 billion as of January 30, 2022. The C$ 57-billion market cap firm earned a net profit of US$ 746.4 million in Q3 FY2022.
The Laval, Quebec-headquartered company recorded US$ 4.8 billion in total merchandise and service revenue in the latest quarter, representing a year-over-year (YoY) rise of 5.8 per cent. Its same-store sales increased in all geographies, except for Canada (down by 0.8 per cent) in Q3 2022 compared to Q3 2021.
Recently, the convenience and fuel retailer also launched a commercial paper program for up to US$ 2.5 billion in the U.S. via private placement.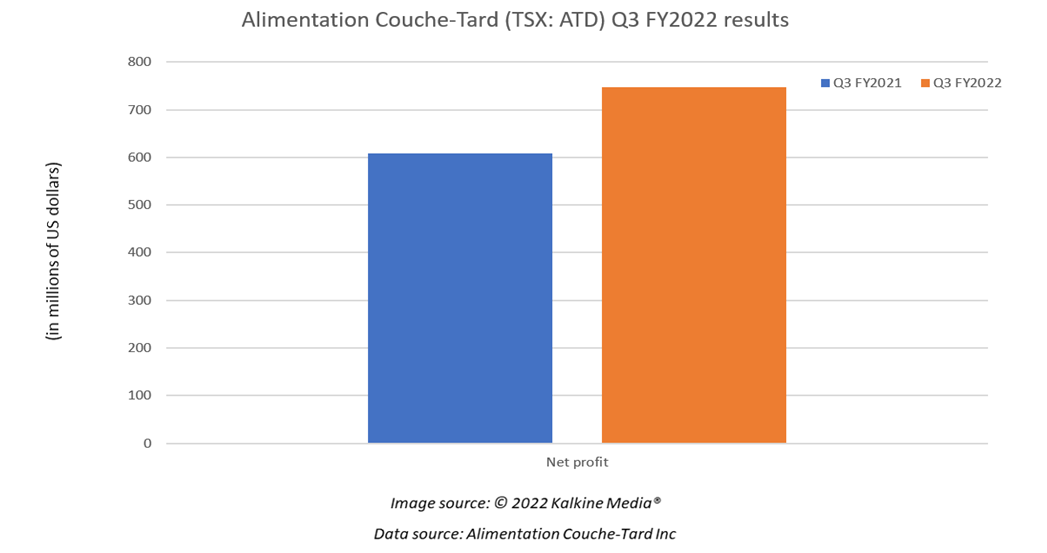 Alimentation Couche-Tard Inc stock performance
Having closed at C$ 55.53 on May 19, ATD stock was trading at C$ 55.63 at 11:47 AM EST on Friday, May 20. ATD stock zoomed by over 23 per cent in 12 months and was almost seven per cent away from a 52-week high of C$ 59.60 (May 2).
As per Refinitiv findings, ATD's Moving Average Convergence/ Divergence (MACD) indicator tells the stock's momentum was above but approaching the zero line. The Relative Strength Index (RSI), which depicts bearish or bullish movement, was 46.58 for ATD on May 20.
ATD's price-to-earnings (P/E) ratio was 11.30, suggesting that this stock is appropriately valued. Its debt-to-equity (D/E) ratio was 0.74. Generally, the D/E ratio below one is considered ideal.
Bottomline
Alimentation Couche-Tard can provide huge growth potential to investors as it will serve the booming EV market. Plus, the retail company already has a vast store network across North America and has solid financial and valuation metrics, making it more suitable for low-risk investors. And not to forget that this large-cap company also offers a regular dividend payout.
Also read: Is Telus (T) stock a buy as Globalive pushes bid for Freedom mobile?
Please note, the above content constitutes a very preliminary observation based on the industry, and is of limited scope without any in-depth fundamental valuation or technical analysis. Any interest in stocks or sectors should be thoroughly evaluated taking into consideration the associated risks.