Highlights

Stocks of Canopy Growth plummeted by nearly 14 per cent on Friday, May 27.
The cannabis company reported a 25 per cent year-over-year (YoY) decline in Q4 2022.
Canopy Growth, however, shortened its net loss in the latest quarter.
Canopy Growth (TSX: WEED) stocks had surged by a notable 10.5 per cent on Thursday, May 26, a day before its financial results for Q4 FY2022 was set to come out. Once the earnings report was released on Friday, however, the Smith Falls-headquartered cannabis player saw its stocks plummet by nearly 14 per cent.
The decline came as Canopy Growth reported a 25 per cent year-over-year (YoY) decline in its net revenue and a negative balance of C$ 159.24 million in its gross margin in Q4 FY2022.
On the other hand, the C$ 2.3-billion market cap pot company announced its plan to buy Jetty Extracts, a California-based cannabis and vape brand, on May 18. The company also introduced new products across its premium brands, including 7ACRES, Ace Valley, Deep Space and Doja, on May 20.
Does the acquisition and launch of new products make Canopy Growth a cheap stock worth exploring? Let us find out.
Also read: RY, TD & CM stocks fly after Q2 results: Which TSX bank stock to buy?
How did Canopy Growth (TSX: WEED) perform in Q4 FY2022?
Canopy Growth posted net revenue of C$ 117.77 million in the fourth quarter of FY2022, down from that of C$ 148.43 million in Q4 2021.
The pot maker posted an increased total operating expense of C$ 370.4 million in Q4 2022 compared to C$ 243 million in Q4 2021, which led to an operating loss of C$ 529.64 million in this quarter (higher than C$ 233.3 a year ago).
However, Canopy Growth shortened its net loss to C$ 578.61 million in the latest quarter compared to C$ 616.69 million in Q4 2021 due to lower other expenses and income tax recovery during the quarter. The mid-cap company recorded a net loss of C$ 320.48 million on an annual basis in fiscal 2022, which was less than C$ 1.67 billion posted in 2021.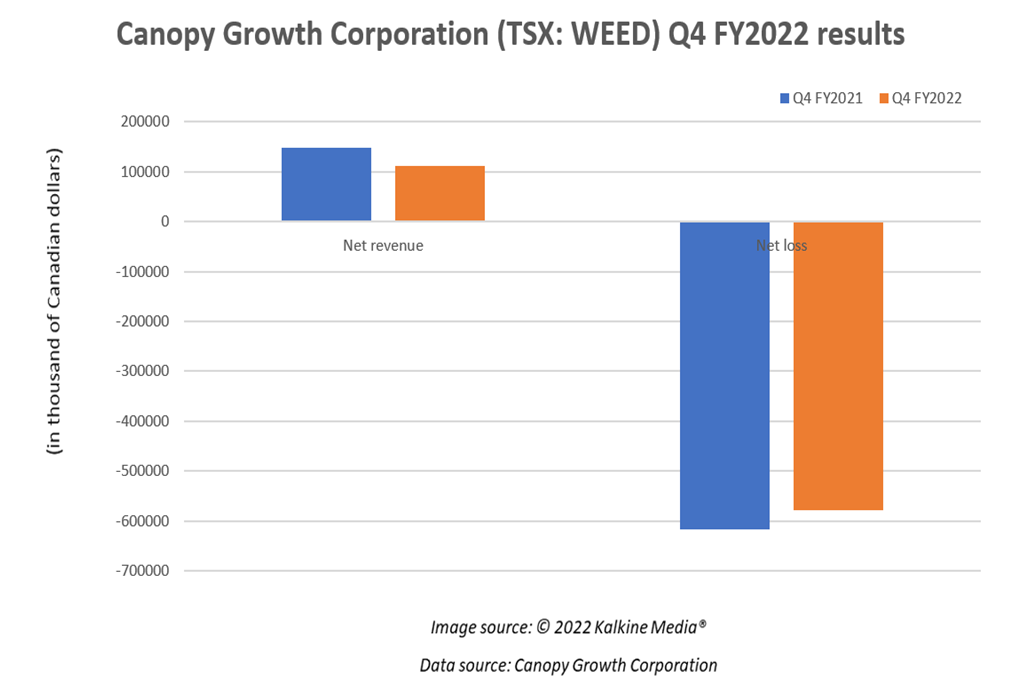 Canopy Growth Corporation's stock performance
WEED stock has slipped by about 44 per cent in 2022. It is also down by roughly 81 per cent from a 52-week high of C$ 32.6 (June 3, 2021).
According to Refinitiv, WEED's Relative Strength Index (RSI) value was 40.11 on May 27. The RSI value of 30 represents a bearish trend for the stock, while when above 70, RSI indicates a bullish trend.
Canopy Growth's debt-to-equity (D/E) ratio of 0.40 represents that it could generally be preferring equity financing over debt.
Bottomline
When looking at its performance in the past year, Canopy Growth stock may not seem like an ideal investment option to some short-term investors. Investors with a long-term view can explore WEED stock as it could gain if and when federal-level cannabis legalization comes to the US.
Also read: VMware & Broadcom stocks soar on acquisition plans: What you must know
Please note, the above content constitutes a very preliminary observation based on the industry, and is of limited scope without any in-depth fundamental valuation or technical analysis. Any interest in stocks or sectors should be thoroughly evaluated taking into consideration the associated risks.