The TSX Composite Index hit a record 21,284.84 points by market close Monday, October 25. After gaining 68.69 points, the index shut on a 14-day green streak. This is its longest streak of gains since 1979. The last time the index closed in the red was October 4, when it did so at 20,052.25. In fact, that was the only day it ended in the red this month.
Energy was up nearly two per cent and base metals almost 2.5 per cent to give the index 0.32 per cent in growth. Healthcare and financials were also in the green along with IT.
Inflation is sky-high and employment has, for the most part, recovered and so, the Bank of Canada will be watched closely for signs of the beginning of the end to pandemic-era stimulus. The central bank convenes Wednesday and some development about the end to the Covid-19 bond-buying can be expected.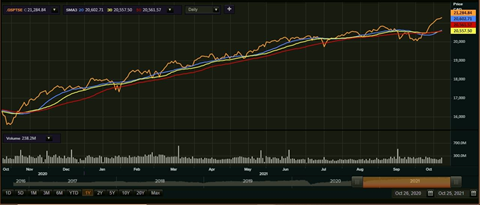 One-year price chart (October 25). Analysis by Kalkine Group
Volume active
The most traded stock was Suncor Energy Inc with 8.79 million shares exchanging hands. It was followed by the Royal Bank of Canada where 7.94 million shares exchanged hands, and TC Energy Corporation with 7.21 million shares exchanging hands.
Movers and laggards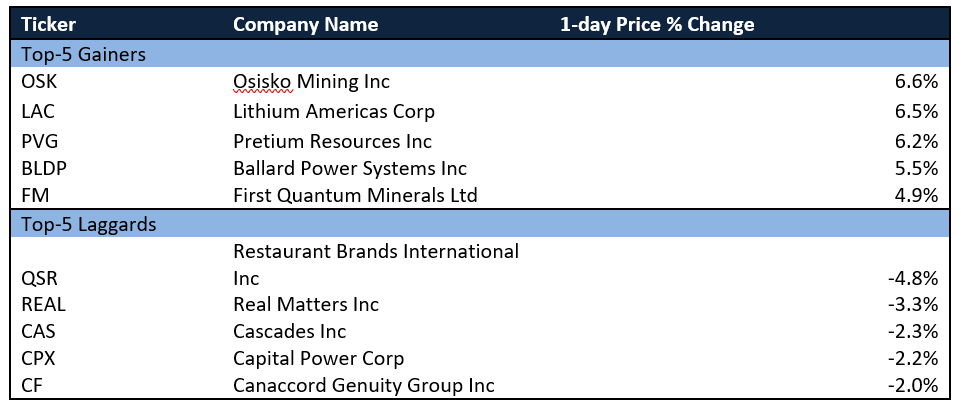 Wall Street update
The TSX Composite Index isn't the only market currently trading in the all-time high club. South of the border, Monday saw fresh new all-time highs for the Dow and the S&P 500 after the Tesla stock reached its highest ever price, boosting the company into the over US$1 trillion market capitalization club.
During the day, trade on the main indices gradually grew. The S&P 500 gained 0.47 per cent or 21.58 points to 4,566.48 points. The Dow was up 0.18 per cent or 64.13 points to 35,741.15 points and the Nasdaq grew 136.51 points or 0.9 per cent to 15,226.71 points.
Commodity update
Gold gained 0.64 per cent and traded at 1,806.80. Brent oil rose 1.57 per cent to US$ 85.99/bbl, while crude oil fell 0.36 per cent to 83.76/bbl.
Currency news
The loonie fell against the US dollar on October 25, while USD/CAD ended in the green at 1.2381, up 0.07 per cent.
The US Dollar Index was better off against the basket of major currencies Monday and ended at 93.84, down 0.19 per cent.
Money market
Monday saw the US 10-year bond yield fall 0.96 per cent and end at 1.633.
The Canada 10-year bond yield grew 0.3 per cent on October 25 and ended at 1.653.