The S&P/TSX Composite Index jumped 36.82 points, or 0.19%, to a record close of 19,564.12 on Tuesday, May 25. The spike in the main Canadian stock index came after the Victoria Day holiday on Monday, during which the US markets set a positive move.
Investor sentiments were elevated on Monday due to the assurance from Federal Reserve officials regarding considerate fiscal policy despite moderate spike in inflation.
The healthcare and technology sectors made notable gains on Tuesday, jumping 1.63% and 0.83%, respectively. The energy sector, on the other hand, recorded the highest downturn of 0.83% despite a marginal improvement in crude oil prices.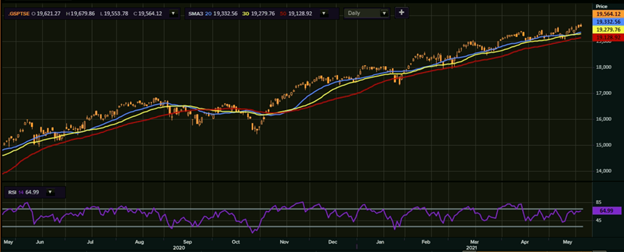 1-Year Price Chart (as on May 26, 2021). Source: Refinitiv
From a technical standpoint, the broad Canadian index is hovering in a bullish zone and trading well above all its short-term as well as its long-term support levels. Further, the 14-day RSI is hovering in a neutral zone with bullish bias at 64.99.
Major Movers and Gainers
Active Volume
The most actively traded stocks on Tuesday on the TSX were Enbridge Inc, with 13.48 million shares, Suncor Energy Inc, with 8.89 million shares, and Manulife Financial Corporation, with 7.99 million shares.
Wall Street
As inflationary signs from the latest economic statistics outweighed the dovish reassurances from Federal Reserve officials, US markets erased previous gains and closed lower on Tuesday.
Consumer confidence dipped marginally as new home prices in the US fell amid worries over inflation and unemployment, according to reports.
The Dow Jones Industrial Average fell by 81.52 points to 34,312. The S&P was down 8.92 points to 4,188, while Nasdaq was flat at 13,657.
Commodity Update
Gold traded higher at US$ 1,898.85, up 1.11%.
Brent Oil carried its positive momentum and closed at US$ 68.65/bbl, while WTI Crude Oil closed flat at US$ 66.07/bbl.
Forex Update
Volatility continued within the USD/CAD, as the Canadian dollar lost some ground against the USD on Tuesday. The USD/CAD closed at 1.2062, up 0.19%.
On May 25, 2021, the US Dollar Index traded lower against the basket of major currencies, down 0.16% to closed at 89.70.
Money Market Update
The US 10-year bond yield declined for the fifth straight session on Tuesday, plunging 2.65% to close at 1.560.
The Canada 10-year bond yield, on the other hand, significantly corrected 5.40% to 1.463 on Tuesday.