TSX closes flat after winning streak, US markets sink on Feds outlook
Despite testing a new high on Wednesday, June 16, the S&P/TSX Composite index ended the day trading flat as weakened energy and metals sectors offset early gains.
The Canadian benchmark index dwindled by less than a point to settle at 20,230.96 on Wednesday, after touching an intraday high of 20,295.18.
While the energy index traded 1.37% lower, base metals declined 1.3% and industrials slipped 0.8%. The losses were offset to a certain extent by gains in the high weightage financials sector, which was up 0.56%.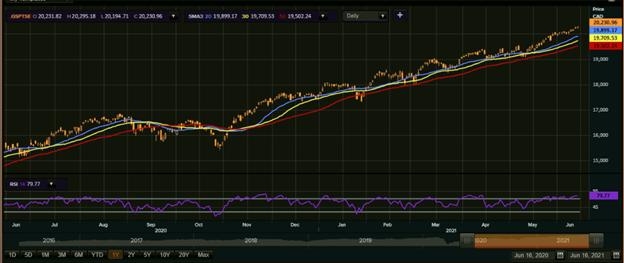 1-Year Price Chart (as on June 17, 2021)
Major Movers and Gainers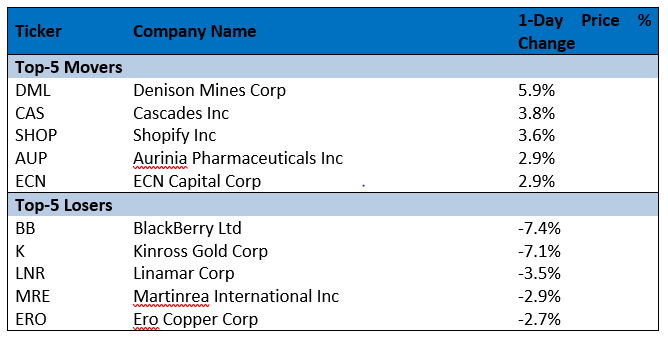 Actively Traded Stocks
The most actively traded stocks on the TSX on Wednesday were Canadian Natural Resources Limited, with a trading volume of 15.28 million, followed by TC Energy Corporation, with that of 7.93 million, and Kinross Gold Corporation, with that of 7.70 million.
Wall Street Update
Wall Street noted a weakness on Wednesday in the wake of the US Federal Reserve's recent economic predictions, which foresee an interest rate hike in 2023. Stocks ended the day's trading session largely down, reflecting a negative reaction to the Federal Reserve's highly anticipated monetary policy decision.
While the main indices recovered a lot of ground from their session lows, the day still ended in the red. The Dow Jones fell 265.66 points or 0.77% to 34,034, the S&P 500 fell 22.89 points or 0.54% to 4,224, and the Nasdaq dipped 33.17 points or 0.24% to 14,040.
Commodity Update
Gold traded at US$ 1,861.40, up 0.27%.
Brent Oil traded higher at US$ 74.39/bbl, up 0.54%, while WTI Crude Oil stood at US$ 72.15/bbl, up 0.04%.
Forex Update
US Dollar Index inched higher on Wednesday after Federal Reserve chair Jerome Powell announced that there will be two potential rate hikes by 2023. The US dollar index settled 0.78% higher against the basket of majors.
The Canadian Dollar, on the other hand, traded lower against the US counterpart, down 0.79%.