Summary

The US is the world's largest uranium consumer requiring over 48mlbs p.a. though its domestic uranium mining business and uranium exploration has collapsed.
Global uranium supply squeeze, climate change, US Energy & National Security Strategy are supportive themes to explore in the US.
GTI Resources is progressing work at uranium and vanadium projects in Utah, while a detailed aeromagnetic survey was completed in its Kookynie (WA) gold project.
Recent placement supports exploration work programs in both the US and Australia.
GTI Resources Limited (ASX:GTR) entered a world class uranium and vanadium producing district in the US by acquiring several highly prospective uranium and vanadium properties in the Henry Mountains, Utah. The region has prolific history having produced 92 mlbs U3O8 and 482 mlbs V2O5 at average grades of 2,400ppm and 1.25%, respectively from the Morrison Formation sandstones.
Besides leveraging from the prolific uranium/vanadium producing district, GTI Resources has other reasons to explore in the US and believes that it is well positioned for the US domestic uranium supply squeeze which is driving prices up. For instance, nuclear energy is a key strategic industry with the Trump administration building a strategic uranium reserve through purchasing USD 150 million per annum of local U3O8 for a decade.
Currently, GTI's project portfolio consists of-
Henry Mountains Project, Utah

Jeffrey Project
Rats Nest Project
Moki Project
2 new Utah state mineral leases being acquired from Anfield Resources

Niagara (Kookynie) Gold Project, Western Australia (WA)
On 15 July 2020, the Company announced two significant updates that provided strong momentum to the stock, soaring by ~4%. each day. Further, GTR stock settled at $0.030, up 3.45% by the close of market trading on 23 July.
Completion of Placement
GTI Resources raised a total of $1,811,289 before costs via the issue of 60,376,300 new shares at an issue price of $ 0.03 per share.
Part of the proceeds from this placement are likely to be used to fund acquisition of additional ground next to the Jeffrey & Rats Nest Projects. It should be noted that the Company has entered into a binding agreement to acquire 100% of two highly prospective mineral leases from TSX.V listed Anfield Energy Inc. This is likely to more than double the existing Jeffrey & Rats Nest project area.
The funds from the placement would also help in bolstering the pace and scale of current exploration work programs in the US as well as Australia.
Besides the placement, GTI is offering its 2k-strong shareholder base the opportunity to participate via an offer of up to 32.6 million shares at an issue price of 3 cents per share, to raise $978k through an underwritten Share Purchase Plan.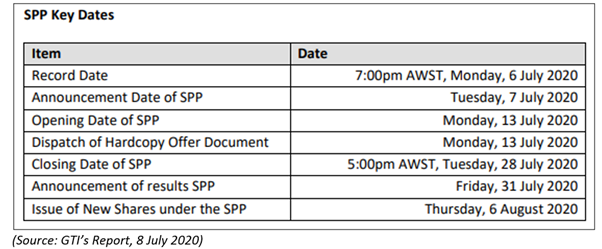 Airborne magnetic survey Concluded at Niagara Gold Project
On 15 July 2020, GTI Resources advised that flying of an airborne magnetic survey has been completed at its Niagara Gold Project near Kookynie in WA. This survey marks the next phase of gold exploration work to follow up on anomalous soil sampling results that were reported recently.
Details of aeromagnetic survey-
Comprised 2,053 line kms at 20m line spacings over E40/342, P40/1506 and P40/1517.
Aims to define and map potential north trending structures within the buried magnetic basement that are associated with gold mineralisation in the Kookynie region.
Processing, interpretation of aeromagnetic data will help to refine a follow up field program, likely to include additional infill auger soil sampling and ground mapping to aid in drill targeting.
Exploration by GTI has identified several significant gold in soil targets within the northern, central parts of E40/342, including a strong 500m long, 100m wide anomaly up to a peak of 38 ppb Au, in the north-eastern corner of the licence.
Moreover, recent highly successful exploration drilling conducted at the Leipold & McTavish prospects (within 2 - 4 kms north of the Niagara Project), by Metalicity Ltd (ASX:MCT) in JV with Nex Metals Exploration Ltd (ASX:NME), validates the exciting potential of the Kookynie region within the central Norseman-Wiluna greenstone.
What's in Store?
Pertaining to the Niagara Gold Project, final magnetic data is expected to be available within the next two weeks. Besides this, permitting for a PoW stands approved, for up to 5,000 metres of drilling. The Company is also working towards an initial drilling campaign during September 2020.