Summary

Iron ore demand rally is expected to continue in the upcoming years with government reforms focusing on rebuilding economies.
China recorded a dip in port stocks, while strong demand continued during the second quarter.
Australian iron ore miners are registering robust operational performance despite wet weather conditions and restrictions related to coronavirus pandemic.
Iron, the most common element of the earth, is the backbone of economies and part of the human life since times unknown. While the ongoing pandemic led to a demand shock for almost all industrial commodities, Australian iron ore has been the talk of the town, expected to play an important role in the economic recovery. As per the Department of Industry, Science, Energy and Resources, iron ore price is forecast to average around US$79 a tonne free on board (FOB) Australia in 2020.
Must Read: Iron Ore Price Rally Tail Winds Aid BHP Group Post Strong Performance in FY20
Steel: The Iron Ore Driver
As reported by the World Steel Association (includes data from 64 countries), world crude steel production stood at 148.3 million tonnes (Mt) in June 2020. As for H1, global crude steel production reached 873.1 Mt with Asia making the largest contribution at 642.0 Mt.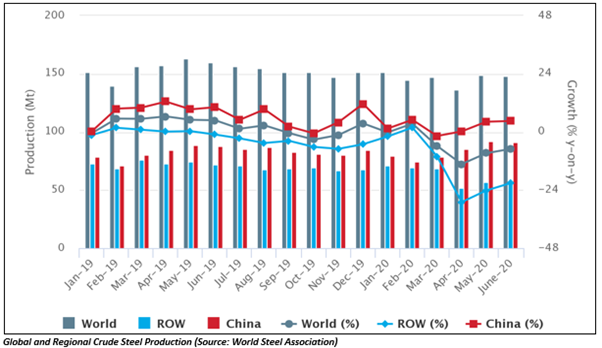 On a country level, China produced 91.6 Mt of crude steel during June 2020, registering a growth of ~4.5% y-o-y. While China traversed growth path, India, Japan and South Korea experienced major declines, producing only 6.9 Mt, 5.6 MT and 5.1 Mt, respectively, in June 2020. Iron ore stocks at the Chinese ports on 30 June 2020 stood at 108 Mt, 9 Mt lower than on 31 March 2020.
With pandemic restrictions being eased, both mobility and industrial production is set for a major boost, as industrial activity and infrastructure are at the centre of government stimulus measures.
Read Here: China- The Catalyst to Gold and Iron Ore Rally
Australian Iron Ore Miners to Feed Chinese Appetite
As per the June 2020 Australian Resources and Energy Quarterly report, export volumes of iron ore miners are forecast to increase to 852 Mt valued at over $103 billion in 2019–20 against $78 billion in 2018-19.
Currently, Australia is the largest producer and exporter of iron ore, globally, with more than double export volumes of Brazil, the second largest exporter.
Read Here: Iron Ore Stocks Losing Charm Over Soaring Supply
While global economy is progressing towards revival, iron ore futures on the Chinese Dalian commodity exchange have recovered ~29.7% to CNY901.5 a tonne.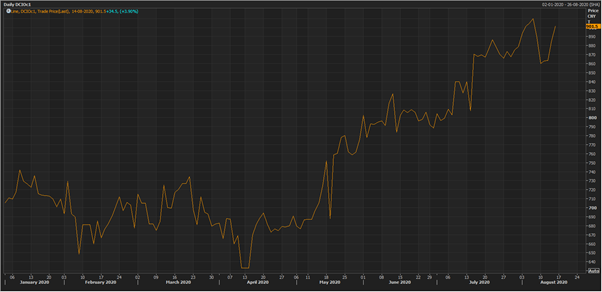 DCIOC1 Dalian Commodity Exchange Iron ore 1-month Futures (Source: Eikon Refinitiv)
Australian iron ore exports witnessed fair share of weather disruptions and difficulties in the Pilbara region ever since the beginning of 2020 but still managed to report strong export gains of 36% during the Q1 of 2020.
New production is anticipated by next year upon commencement of iron ore projects in the Pilbara region of Western Australia. The additional supply will be crucial to offset the reduced supply from mines approaching depletion.
Industry majors including BHP are expecting steel and pig iron product production to continue to rise over the calendar year 2020, if China manages to dodge the successive waves of coronavirus.
Let us discuss few iron ore giants and their performance on the ASX.
BHP Group Limited (ASX: BHP), the diversified mega miner, recently announced achieving full-year production guidance for FY20. The production from Western Australia Iron Ore (WAIO) operations surged to a record high despite the effect of wet weather conditions and coronavirus pandemic.
The iron ore production grew by almost 4% during FY20 to 248 Mt and by a mega 11% in the June quarter to 67 Mt. For the fiscal year 2021, production guidance estimates for iron ore are 244-253 Mt. Higher product volumes pertaining to record levels were registered at Mining Area C and Yandi with continued strong supply chain performance along with wet weather impacts during the June quarter.
Must Read: Iron Ore and Copper: The Tale of Two Commodities
BHP traded at $40.010 a share on 14 August 2020, with a market capitalisation of $117.57 billion. The stock has delivered a return of more than 7% in the last one year and over 28% in the last three months.
Fortescue Metals Group Ltd (ASX:FMG), the iron ore miner, produced over 176.3 Mt in FY20 and over 42.7 Mt during the June quarter. Fortescue, a major iron ore exporter, exported 178.2 Mt in FY20 and 47.3 Mt during the June quarter. The record iron ore shipments exceeded the guidance of 177 Mt.
Read Here: Iron ore Prices Beating Market Headwinds as Supply Chain Gets Derailed Thanks to Virus
Further the outstanding performance underpinned operational excellence while battling with the coronavirus pandemic. The US$1.3 billion Eliwana Mine and Rail project and US$2.6 billion Iron Bridge Magnetite project are expected to commence operations in Q1 of FY2021 and during the first half of calendar year 2022, respectively.
FMG traded at $17.980 a share on 14 August 2020, with a market capitalisation of $54.99 billion. The stock has delivered a return of more than 65% in the last one year and over 46% in the last three months.
Rio Tinto Limited (ASX:RIO), shipped over 86.7 Mt of iron ore from the Pilbara operations during the June quarter of 2020, registering an increase of 1% over the similar period last year. The overall iron ore production from the Pilbara operations stood at 83.2 Mt during the quarter.
Must Read: Rio Tinto Poised to Meet Iron Ore Shipment Guidance for 2020
Rio Tinto anticipates the demand from China to grow with recovery from Japan and Europe in the short term. Its iron ore pellets and concentrate production stood 2.8 Mt in the June quarter with a growth of 9% against the corresponding period last year. Further, the company plans to expand production capacity at the Pilbara operations.
Upon robust performance during the first two quarters, Rio remains optimistic on achieving the 2020 iron ore guidance.
RIO traded at $101.150 a share on 14 August 2020, with a market capitalisation of $37.68 billion. The stock has delivered a return of more than 18% in the last one year and over 21% in the last three months.
(All currencies in AUD unless or otherwise stated)