Summary

ASX-listed mineral explorer Greenland Minerals has reported its consolidated financial and activities report for the half-year ended 30 June 2020.
During 1H20, the Company was engaged in mineral exploration and project evaluation of the Kvanefjeld rare earth (RE) project in south-west Greenland.
Kvanefjeld Project is one of the world's most important emerging RE projects.
Kvanefjeld Project is well-placed to make Greenland a internationally major material supplier. These materials could be instrumental to an energy-efficient, environmentally sustainable future.
Developments are fostering well at Kvanefjeld, with EIA review to conclude shortly.
Greenland Minerals Limited (ASX:GGG) continues to advance the high-quality work of advancing the Kvanefjeld Project, one of the world's most important emerging RE projects.
Executive General Manager, Jørn Skov Nielsen says that the Project has "far-reaching strategic and commercial significance for Greenland and on a global scale".
On 10 September 2020, the Company released its consolidated financial and operational report for the half year ended 30 June 2020. It briefed about various developments that kept Greenland Minerals at the forefront of market attention during the period.
Developments During Half Year Ended 30 June 2020

The principal activity of Greenland Minerals during the reporting period was mineral exploration and Kvanefjeld project evaluation. It should be noted that the Project is deemed to be a large-scale, low-cost, long term supplier of products which may revolutionise efficient use of energy. The Company made significant developments at the Project during 1H20 as outlined below:
EIA Review Nearing Completion- Significant Progress Towards Mining License
Greenland's Environmental Agency for Mineral Resource Activities (EAMRA) is on track to complete the EIA review process by mid-September 2020. Meanwhile, Greenland Minerals is work closely with EAMRA and their advisors to ensure a high-quality EIA that addresses every environmental impact associated with the Project.
ALSO READ: Greenland Minerals: Kvanefjeld Project's EIA Review Process Nears Completion, Informs EAMRA
Permitting in Greenland necessitates three key impact assessments along with supporting studies to be prepared, agreed for public consultation. These comprise the EIA, Social impact assessment, and Maritime Safety study. Notably, the latter two have already been accepted for public consultation.
MUST READ: Greenland Minerals Receives EIA Review Timeline, Licensing Process Advances
Approval of Kvanefjeld Project Documentation
During the reporting period, the Project's effective documentation of a deposit of exploitable minerals in the license area was approved. Greenland's Ministry of Mineral Resources and Labour gave written approval stating that the documentation (mineral resource along with feasibility reports) for Kvanefjeld (exclusive EL 2010/02) stands approved. This marked another important milestone in the path to the Kvanefjeld Mining License.
Vital Revelation: By-Products May Deliver Economic & Environmental Benefits
According to Greenland Minerals, the project will recover a series of by-products in the course of producing the RE intermediate product. Specifically, the project will produce commercially significant quantities of uranium oxide, zinc concentrate, and fluorspar. The by-products are likely to generate ~ USD 60 million in annual revenue for the Project.
The Company believes that the recovery of by-products may support the removal of environmentally adverse elements from the Project's tailings streams and eventually reduce the overall environmental impact.
For more insight on these by-products, PLEASE READ: Greenland Minerals Underscores Economic & Environmental Gains of Kvanefjeld By-Products
Rare Earths Outlook Amidst Robust Market Opportunities
RE is critical to the electrification of transport systems, renewable energy via RE magnets. Particularly, the outlook for magnet metals continues to strengthen creating an optimal development window. It should be noted that RE elements make the world's strongest permanent magnets.
Experts thereby opine that the longer-term picture for RE remains extremely robust.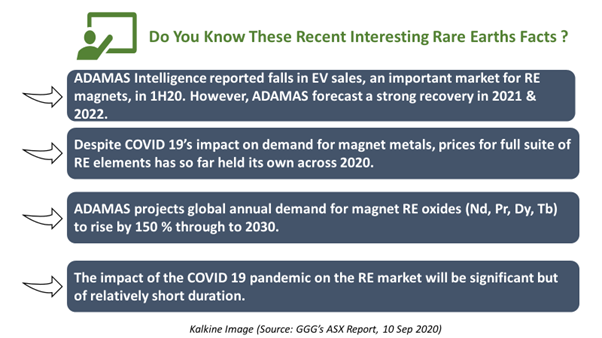 Unique Features of Kvanefjeld Rare Earth Project
Located in southern Greenland, the Project is centred on the significant northern Ilimaussaq Intrusive Complex. Global mineral resources stand at 1.01 billion tonnes. Let us cast an eye on a few unique features of the Project-
Although the resources are extensive, a major advantage of Kvanefjeld is the uranium-bearing minerals as well as distinctive RE.
These minerals can be beneficiated into a low-mass, high-value concentrate. They can then be leached with conventional acidic solutions under atmospheric conditions and achieve particularly high extraction levels of RE.
The Project area is close to deep-water fjords. This facilitates year-round shipping access.
Kvanefjeld offers outstanding chance to establish a large, stable supplier at prices, apt for end-users.
Share Performance
On the 14 August 2020, Greenland Minerals announced the issue of 4,000,000 Employee Performance Rights in two tranches. Each Right can be converted to a fully paid share once service and share price vesting conditions are met.
GGG traded at $ 0.26 on 10 September 2020. The stock has delivered returns of 213.9% in the past six months.
GOOD READ: Unveiling The Strong Bond Between Greenland Minerals & Shenghe Resources