Summary

Great Southern Mining has received outstanding gold intersection of 5.65m @ 80.0 g/t gold in diamond core 20CFRCD004 from 160.05m including bonanza intercept of 1.1m @ 404.0 g/t gold from 164.6m.
Results confirm GSN's view about high-grade component of the deposit, which requires modern-day exploration techniques applied to define its extent.
A high-grade hit was recorded in an RC hole outside the known underground development area, returning 3m @ 3.6 g/t gold from 165m including 1m @ 7.61 g/t gold in 20CFRC005.
Processing of the remaining four diamond holes is in progress with an emphasis on structural measurements of the Cox's Find shear zone.
Assay results for remaining 4 diamond holes and extensive RC drill program are still pending.
Mineral exploration company, Great Southern Mining Limited (ASX:GSN) has been reporting back to back success across its project portfolio comprising of significant landholdings. GSN's 100%-owned Cox's Find Gold Project has proven to be a key asset for the Company through the high-grade results from the activities at the project area.
Jackpot Gold Intersection at Cox's Find Gold Project
GSN reported spectacular gold intersection of 5.65m @ 80.0 g/t gold in diamond core 20CFRCD004 from 160.05m including bonanza intercept of 1.1m @ 404.0 g/t gold from 164.6m at its Cox's Find Gold Project.
HQ diamond core of 20CFRCD004 (Source: ASX Announcement)
Previous Update: Great Southern Mining Wins Up to $525,000 Tax Credit Provision under Junior Minerals Exploration Incentive
Diamond hole 20CFRCD004 was drilled down plunge from the known historic Cox's Find workings and was designed to intersect an area of high-grade mineralisation that was identified from late 2019 drill campaign. This zone previously intersected multiple high-grade intersections, including the following: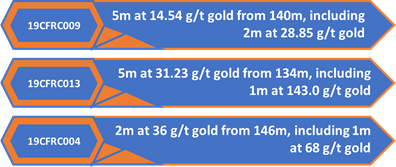 Moreover, the jackpot intersection in 20CFRCD004 reinforces the high-grade potential of Cox's Find deposit and correlates to the visible gold that was discovered in initial investigations of the drill core. Furthermore, the intersection is interpreted to be the main lode extension that produced approximately 77,000 ounces of gold, at a reported head grade of ~22 g/t Au from a vein stope operation starting in the 1930s.
GSN believes that the results reflect upon the extremely high-grade nature of Cox's Find deposit. More importantly, the high-grade intersection has come from the first diamond program of Great Southern Mining, and these are the highest-grade intersection recorded in any drill data at Cox's Find to date.

Interesting Read: Great Southern Mining Surges 23% on the Back of Commencement of Drilling at Cox's Find Project
Assay Results Confirm Bonanza Intercept of 1.1m @ 404.0 g/t gold
Subsequently, the diamond core from hole 20CFRCD004 has been logged and analysed, within which the interpreted Cox's Find main lode was intersected starting approximately 155m downhole with persistent quartz veining observed for 16 metres (downhole) to 171m.
Moreover, GSN undertook half core sampling for gold from 142m to 177m at intervals determined by the geologist, and visible gold was observed between 164.6m to 165.7m interval within a multi-phased quartz vein host.
The abundant visible gold with a bonanza intercept of 1.1m @ 404.0 g/t gold (from 164.6m) within a wider zone of mineralisation of 5.65m @ 80.0 g/t gold from 160.05m was confirmed through assay results.
Did you read: GSN Identifies a large Geochemical Soil Anomaly at Edinburgh Park Project, More Geochemical and Mapping Programs Planned
The diamond drilling program was devised to develop on the knowledge of the structural orientation of the high-grade mineralisation to offer an understanding of the structural restraints of the mineralisation. Currently, high-grade mineralisation is interpreted to occur at the intersection of the south-east plunging main lode and the Cox's Find shear zone.
Presently, processing of the outstanding four diamond holes is in progress with a focus on structural measurements of the Cox's Find shear zone. The structural data shall be utilised for interpretation while also generating a 3-D structural model that is anticipated to help in upcoming exploration drilling.
GSN awaits the assay results for the residual diamond holes.
Related: Great Southern Mining Ready to Get the Boots on the Ground; Porphyry Targets Identified at Edinburgh Park
Extensive RC Drill Campaign Returns Standout Results
Along with the diamond drilling program, GSN is completing an extensive 9000m RC drill campaign specifically around the Cox's Find deposit. So far they have drilled 32 holes and over 5618m. This drilling is intended to test the lateral extensions of the recognized mineralisation along with testing the down plunge extension on the historically mined high-grade quartz lode. Other more localised targets are also being tested in this drilling.
To date, GSN declared that results for the first six RC holes of the program (20CFRC001 to 20CFRC006) representing 1066m have been received and assessed.
Significant intersections from the results received from the first six RC holes include:
Out of all the drill hole results received, the standout of the first results was RC drill hole 20CFRC005, since mineralisation occurs within a smokey quartz vein at the lithological contact between the dolerite unit (hanging wall) and the sediment package and mineralisation intercepted is high-grade.
20CFRC005 Chip Tray Photo Highlighting The High-Grade Interval At The Lithological Contact (Source: ASX Announcement)
The mineralisation is of specific interest since it is interpreted to be mineralisation along strike from the main lode, which was the centrepiece of the historical mining.
Related: Gold-Bearing Mineralisation Identified at Great Southern Mining's Cox's Find Gold Project, Stock Hits Record High
Similar to the assay results for the residual diamond holes, the assay results for the remaining drill program are still pending.
GSN Lodges Applications Over Large Tenement Package
GSN has lodged applications over four strategic and highly prospective tenements immediately adjacent to the 100% owned Cox's Find Gold Project.
Since the acquisition of Cox's Find in August 2019, GSN has placed significant emphasis on expanding the project tenure along strike in and around recognized prospective structural trends. These trends host major gold deposits and provide further drill targets through the acquisition of new ground.

The area, the subject of application E38/3518 was identified as highly prospective for gold and is likely to offer exceptional exploration potential. The substantial area has numerous historical workings and offers GSN additional walkup drill targets. GSN has proposed applications over the below mentioned tenements: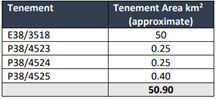 Source: ASX Announcement
Upon obtaining the approval, the tenement applications could grow Cox's Find Project tenure 16-fold to a total of 54km² and consist of more than 12km of access to the clearly identifiable mineralised trends that host the Garden Well as well as Rosemont gold deposits.
Plan View Of The Cox's Find Project And The Applications Lodged (Source: ASX Announcement)
Prior to grant, the Exploration and Prospecting License applications shall be registered and advance through the statutory processes.
GSN Collating And Analysing Existing Historical Data
At present, the exploration team of GSN is collating and analysing all accessible and existing historical data over the area, subject to application. The Company intends to share further details about the prospective nature of the tenure and the strategic relevance to Cox's Find once this has been finalised.
The Cox's Find Project has witnessed limited exploration since the cessation of mining activities in the early 1940s and is a shear hosted Archaean orogenic gold deposit located in the Duketon Greenstone Belt.
On 29 July 2020, GSN stock was last noted at $0.160 with a market capitalisation of $65.46 million. The stock has increased by a whopping 300% over the last three months till 28 July 2020.