Highlights


NAB will now be operating Citigroup Consumer Business as the acquisition process is now complete.
Both businesses will be integrating progressively over the next two-three years.
NAB share price gains 1.055% to trade at AU$31.590 a share (1 June, 10:43 AM AEST).
Australia's top bank, National Australia Bank (ASX:NAB) has completed the acquisition of Citigroup's Australian consumer business (Citigroup Consumer Business) today (1 June). The acquisition is aimed at NAB's expansion in the personal banking segment. Purchase of the Citigroup Consumer Business will support NAB in unsecured lending and will aid NAB's investment in new technology.
Meanwhile on the ASX, NAB share price has moved 1.055% up post the acquisition announcement. NAB share trades at AU$31.590 a share as at 10:43 AM AEST. However, NAB share price has lost 2.32% in May while gaining over 15% in last six months.
As of date, the stock stands at a price earnings ratio of 15.91 and the company holds a market cap of AU$100.34 billion on the ASX.
Citigroup's business integration with NAB
Back in August 2021, NAB entered an agreement to buy Citigroup Consumer Business, including its home lending portfolio, unsecured lending business, retail deposits business and private wealth management business.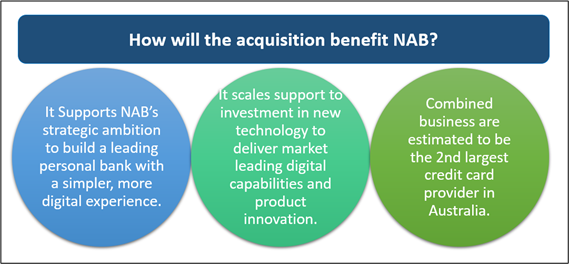 Image Source-© 2022 Kalkine Media ®
Data source- NAB's 2022 Half Year Investor Presentation, dated 5 May 2022.
However, the acquisition was subject to approvals from the Commonwealth Treasurer, the Australian Prudential Regulation Authority (APRA) and the Australian Competition and Consumer Commission (ACCC). Since these approvals are received now, from 1 June 2022, NAB will now operate the Citigroup Consumer Business, largely on a standalone basis. The business integration will occur progressively over the next two-three years.
Management Commentary
According to Ross McEwan, CEO, NAB, the bank already has good momentum in its personal banking division. The acquisition of the Citigroup Consumer Business supports NAB in building itself as a leading personal bank.

As per Ross, while Citigroup brings to NAB, deep banking expertise, insights into consumers' needs is to change. NAB, however, still has to set up a dedicated integration team for the transition and integration of both businesses.
What else is up with NAB?
NAB has also announced interim dividend payment today. The total distribution per security is AU$0.73 and it is a fully franked payment. The dividend also has a DRP (dividend reinvestment plan) option for which NAB has kept the price as AU$31.35 a share.
The dividend paid by NAB relates to a period of six months i.e., the financial reporting or payment period ending on 31 March 2022. Shareholders outside Australia as per the release will be paid cash dividends via a direct bank account credit in the currency applicable, at the prevailing market rate on 16 May 2022 at 4.00pm AEST.
More from financials- ASIC sues ANZ (ASX:ANZ) over credit card fees charges, shares fall