Highlights:

GQG has reported a fall of US$8.2 billion in the month of September.
FUM in the given month stand at US$79.2 billion, falling from US$87.4 billion in August.
Quarterly inflow of GQG is US$0.8 billion.
Australian investment management company, GQG Partners Inc. (ASX:GQG) on Friday (7 October 2022) shared an update about its funds under management (FUM), through an ASX announcement.
The share price of GQG Partners was 4.702% down at AU$1.520 per share at 2:38 PM AEDT. Around the same time, the benchmark index, ASX 200 Financials (INDEXASX:XFJ) was down 0.681% to 6,109.10 points.
Details of GQG's funds under management
According to ASX announcement made today, the total FUM of GQG was US$79.2 billion as of 30 September 2022. Total FUM has decreased from US$87.4 billion as of 31 August 2022.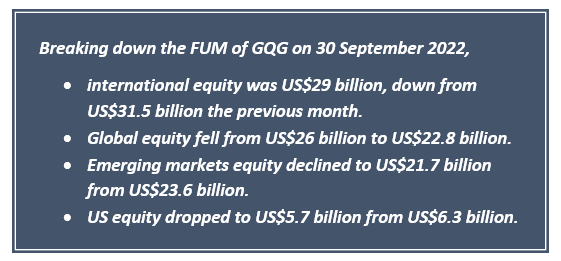 Reason behind the fall in GQG's quarterly FUM
In the quarter, the company reported a net inflow of US$0.8 billion. The numbers were affected by heightened volatility in currencies, rates and markets. At the same time, the outflow was driven by tax-loss harvesting amongst retail clients and equity de-risking in institutional clients.
GQG informed the market that recent extreme volatility in currencies and gilts resulted in the gross outflow of approximately US$1.5 billion from its UK domiciled clients.
The company added that its recently launched products, such as dividend income strategies and US Equity saw strong traction. The company offers global equity, global quality dividend income, concentrated global equity, international equity, international quality income, emerging markets equity, US equity and US quality dividend income strategies.
Also, significant momentum was observed in the Australian market.
For the quarter, the strength of the US dollar against currencies like the Australian dollar offered a natural hedge to the company's dividend and earnings.
Share performance of GQG
GQG share price has gained 4.44% in the last five trading sessions. In a month, the share price has increased 1.32%.
In the past one year, GQG shares have shed 21.54%, and on a year-to-date basis, it has declined 12.07%. In the past five years, it has marked a fall of 23.50%.