Summary

NOVONIX Limited (ASX:NVX, OTCQX:NVNXF) has appointed Prof. Jeff Dahn as Chief Scientific Advisor.
Dahn is a prominent researcher in the field of lithium-ion batteries (LIB) and materials.
While he will retain his ongoing partnership role with Tesla, Prof. Dahn's role at NOVONIX will be effective from 1 July 2021.
Leading researcher Professor Jeff Dahn has been appointed as NOVONIX Limited's (ASX:NVX OTCQX: NVNXF) Chief Scientific Advisor.
The revolutionary battery testing company NOVONIX just appointed a leader who is a pioneer in the field of battery research. Professor Dahn brings in extensive experience and is likely to assist the Company in working towards its stated goal of deploying LIB technologies for an ideal and clean energy future.
Professor Dahn's Appointment & Significance
In his role, Prof. Dahn will offer guidance and advice regarding NOVONIX's initiatives across its battery materials and research businesses. He will also be involved in the key customer and business development projects.
Prof Dahn's role will be effective from 1 July 2021. His appointment is a significant milestone for the Company as-
He is a world leading researcher in the field of LIB and materials.
He has a long career across both industry and academia-
His last 25 years were spent at Dalhousie University as a professor, with support from Tesla and 3M Company.
He has co-authored 730 papers.
Prof Dahn has 73 inventions with patents filed/ issued. These include the early patents related to Li[NiMnCo]O2 (NMC) cathode material.
With someone as prominent as Prof. Dahn joining NOVONIX, market sentiment is likely to take an optimistic turn. Consequently, NVX traded up by 16.34 per cent, mid-day on 19 January 2021, shortly after the appointment announcement was released on the ASX.
INTERESTING FACT: In 2020, Prof. Dahn was named an Officer of the Order of Canada.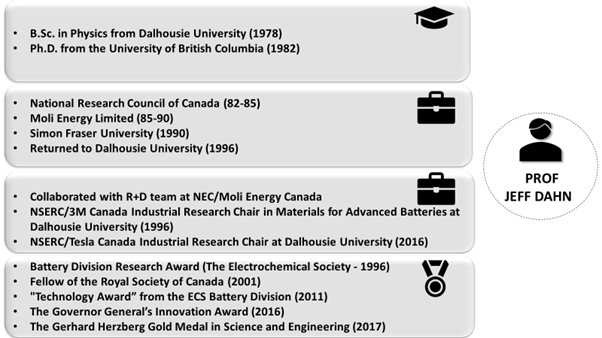 Kalkine Group Image, Source: NVX ASX Update, 19 Jan 2021
Hear from experts
NOVONIX Chief Executive Dr. Chris Burns stated that the Company is "extremely excited" to have Prof. Dahn on board. He further said that Prof. Dahn would be engaged in NOVONIX's initiatives to develop as well as supply breakthrough materials to the LIB sector.
Dr Burns is confident that Prof. Dahn's insights, industry contacts and experience will be a "huge asset" for NOVONIX's business.
It should be noted that Dr. Burns and Prof. Dahn share a strong professional history. In 2013, NOVONIX Battery Technology Solutions was drawn out of Prof. Dahn's research group by Dr. Burns who was completing his PhD under Prof. Dahn's supervision. Later in 2016-17, both scientists collaborated when Dr. Burns worked as a Sr. Research Engineer at Tesla and began the relationship with Prof. Dahn's research group.
Since 2016, Prof. Dahn and his research group have had an exclusive research collaboration with Tesla. The Dalhousie University research team in Halifax, Nova Scotia and Prof. Dahn will continue to work alongside Tesla.