Highlights

PTX-100 receives Orphan Drug Designation from the US Food and Drug Administration (FDA) for the treatment of peripheral T-cell lymphomas (PTCL)
PTCL is a blood cancer with unmet clinical need
One of the benefits of Orphan Drug Designation is that it provides Prescient a guaranteed exclusive market of seven years.
It is believed that PTX-100 is the world's only GGT-1 (a key cancer growth enzyme) inhibitor under clinical development.
Expansion cohort in current trial on track to fully recruit this year under the leadership of globally-renowned lymphoma expert, Professor H. Miles Prince, AM.
Prescient Therapeutics (ASX: PTX) has crossed a crucial milestone in its journey towards developing personalised therapies against cancer. PTX-100, one of its targeted therapies, has received Orphan Drug Designation from the Office of Orphan Products Development at the US Food and Drug Administration (FDA) for treating peripheral T-cell lymphomas (PTCL), a blood cancer with high unmet clinical need.
Prescient will benefit from the incentives provided by Orphan Drug Designation, supercharging the development of PTX-100. Following the news, shares of PTX soared by 12.5%, and were trading at AU$0.18 (as of 10:47:03 AEST, 15 July 2022) on the ASX.
Prescient is a clinical-stage oncology company having a strong pipeline of personalised cancer therapies. It consists of CAR-T and targeted therapies for fighting different cancer types.
What is Orphan Drug Designation?
Orphan Drug Designation is a special status provided to drugs intended for rare diseases affecting less than 200K people in the US. It provides incentives for drug development in less common diseases and includes:
Secured market exclusivity of seven years from granting of regulatory approval
A waiver of Prescription Drug User Fee Act (PDUFA) fees for orphan drugs, which is worth US$3.1 million in 2022
First in class compound
PTX-100, currently under Phase 1b expansion cohort study in T cell lymphomas, can potentially block geranylgeranyl transferase-1 (GGT-1). GGT-1 is a crucial enzyme involved in cancer growth, and it is believed that PTX-100 is the only GGT-1 inhibitor in the globe under clinical development.
Image Source: © 2022 Kalkine Media®
PTCL is a serious unmet medical need. Currently, therapies for this disease show a high occurrence of serious toxicities, low response rate and short duration of responses. It has a poor survival rate following relapse and has not considerably improved in the last 20 years.
Image source: © 2022 Kalkine Media®
In clinical trials to date, PTX-100 has demonstrated a promising safety profile with inspiring efficacy signals, including one PTCL patient, who displayed a strong response and is still on therapy after 28 months.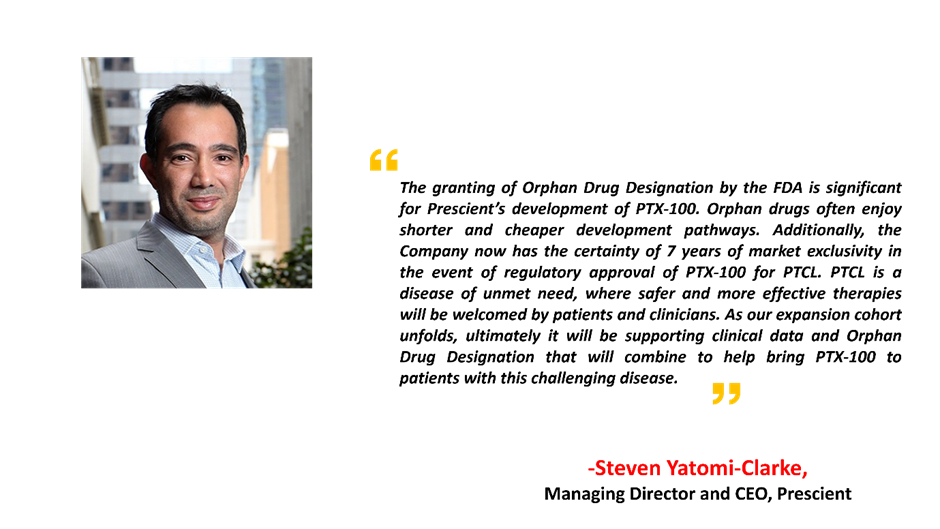 Image source: © 2022 Kalkine Media®
To know more about Prescient Therapeutics Limited, click here. Also, to stay updated with PTX company activities and announcements, please update your details on their investor centre.