Australian drug development company, Noxopharm Limited (ASX: NOX) recently announced the completion of DARRT-1 Phase 1b study in late-stage prostate cancer, reporting positive end-of-study data.
Following that announcement, NOX shares rose by 13.85 per cent, eventually finishing that day's trade at $0.370 on ASX. The stock is currently trading at $0.365 on 3 December 2019 (2:34 PM AEST).
Noxopharm's DARRT (Direct and Abscopal Response to RadioTherapy) program is the central element of the company's aim of establishing its key drug candidate Veyonda® (NOX66) as a vital aide to radiotherapy at multiple stages of the disease continuum.
DARRT-1 Phase 1b Study achieved durable anticancer response in 66 per cent of men with late-stage, progressive and metastatic castration-resistant prostate cancer (mCRPC) with significant unmet needs.
Positive clinical responses positions Veyonda® (NOX66) DARRT treatment regimen as a potentially new key treatment option for men with mCRPC, who had exhausted all available treatment options.
Noxopharm Executive Chairman and CEO, Dr Graham Kelly commented:

Lens through DARRT-1 Study
Noxopharm's NOX66 DARRT clinical program was designed to test the ability of its key drug candidate to enhance an immunological response to palliative (non-ablative) dosages of radiotherapy, in which low-dose radiation was used for the activation of local inflammatory and immune responses in a single irradiated tumour.
NOX66 was designed to enhance that response as well as expand it to all tumours in the body whilst its capacity to increase handling of the body's adaptive and innate immune cells.
Noxopharm's DARRT-1 study is a Phase 1b, open label, non-randomised study of Veyonda® (NOX66) in combination with palliative radiotherapy in which patients with mCRPC were enrolled who had exhausted all other available treatment options; in general, they were suffering from significant pain, had poor quality of life, and had a life expectancy of about 6-8 months.
The Study includes NOX66 administered to patients daily for up to fourteen days with low-dose RadioTherapy given on five days (five fractionated doses) to between one-two measurable lesions during NOX66 administration. The patients were then followed up after six, twelve and twenty four weeks.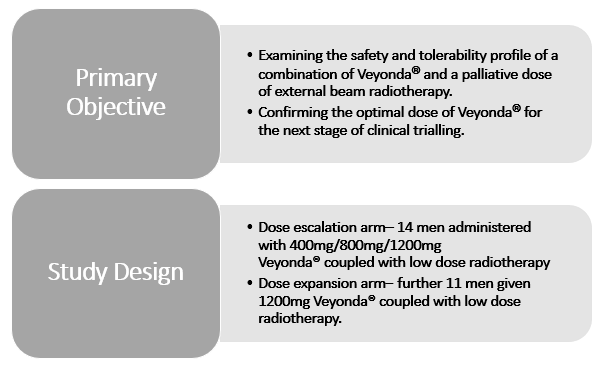 Positive Six-months data for DARRT-1 Phase 1b trial
A total of 25 patients received low-dose (20Gy) palliative radiotherapy in combination with Veyonda® (NOX66) at a concentration of 400mg/800mg/1200mg, for alleviation of pain symptoms, with little or no expectation of the drug changing the course of the disease.
Of the 25 patients, 16 patients completed the study and 15 were measured radiographically while 9 patients either had withdrawn, died or been lost to follow-up.
A six months follow-up revealed promising data demonstrating a disease progression halt including high levels of pain relief that persisted for minimum six months of observation.

The key point to note is that 10 of 15 (66 per cent) men at the end of the study had reacted to treatment with stable disease or better at six months following start of treatment (as determined radiographically) and with considerably lower levels of pain.

Market Opportunity
There stands a multi-billion-dollar market opportunity & a significant global unmet need with presently 360,000 men across the globe forecasted to die from prostate cancer each year, and of those men, with 100,000-plus in Australia, U.S. and Europe.
Noxopharm, with an aim to transform cancer treatment, intends to pursue this market opportunity with all its vigor, in its mission to bring to the market a versatile treatment- Veyonda® (NOX66) that could be a turning-point in existing cancer treatments.
Noxopharm's Future Strategy
The next stage of testing, a double-blind, control-arm, multi-national, Phase 2/Phase 3 adaptive DARRT-2/DARRT-3 study is currently under planning in collaboration with the company's Medical Advisory Boards. Noxopharm anticipates that DARRT-2/DARRT-3 will be the decisive phase in attaining marketing approval;
Final Statistical Report containing precise details of the radiographic analysis, including the extent of any partial responses and detailed responses of both irradiated and non-irradiated lesions, is expected in March 2020;
In the subsequent DARRT studies, 6 repeated cycles of Veyondaâ treatment will be used as compared to the single treatment cycle used in DARRT-1 aiming for an additional anti-cancer effect and with it, the potential for an increase in the all-important overall survival endpoint;
The family of PCT patents pertaining to NOX66 DARRT have advanced into the national examination stage in upwards of 80 countries;
Upcoming progress regarding IND application for DARRT-2/DARRT-3 to the U.S. FDA lodgment including applications to other regulatory bodies such as EMA and TGA.
Noxopharm is confident that NOX66 DARRT treatment regime would also be applicable to several other solid tumours types like lung, breast, colorectal and ovarian cancers given that idronoxil (active ingredient in Veyondaâ ) targets an oncogene that is common to most cancer forms.
---
Disclaimer
This website is a service of Kalkine Media Pty. Ltd. A.C.N. 629 651 672. The website has been prepared for informational purposes only and is not intended to be used as a complete source of information on any particular company. The above article is sponsored but NOT a solicitation or recommendation to buy, sell or hold the stock of the company (or companies) under discussion. We are neither licensed nor qualified to provide investment advice through this platform.