As a cornerstone of international government macro-initiatives targeted to improve energy efficiency, slash greenhouse gas emissions and boost renewable power generation capacity, Rare earths (RE) demand has a solid macro outlook to 2025 fuelled by government-led initiatives. With crucial utilization in magnets, electric cars, batteries, and high tech devices, Rare earths form an integral part of the modern technology DNA.
Tapping this immense market opportunity is an Australian Rare earths producer, Greenland Minerals Limited (ASX: GGG) operating in the world's largest island - Greenland, rich in mineral and energy resources. As per the Company, strong demand outlook for magnet metals and supply constraints provides strong upside to the RE space.
Gaining popularity for its Kvanefjeld Rare earths project, the Company spent the half-year ended 30 June 2019 and the September 2019 Quarter in mineral exploration and project evaluation, advancing the Project which is positioned to be a future cornerstone to global RE supply.
GGG believes that upon development, the Project would be a sustainable and low-cost supplier of RE products driving the efficient energy revolution.
But what are the driving forces behind the successful growth story of one of the world's most significant RE companies? Let's find out!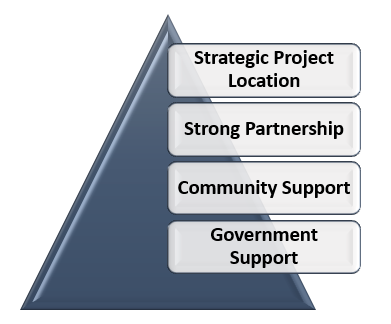 #1 Attractive Project Location
The Kvanefjeld site is centred on the globally unique Ilimaussaq intrusive complex, which is known among mineral collectors as a rich source of RE minerals and is deemed to be one of the largest multi-element deposits of its kind in the world.
Unique attributes of the Kvanefjeld include:
Optimal Location with a nearby airport, <10km from tidewater;
Year-round direct shipping access;
Huge bulk resources, mostly outcropping;
The ores are favorable to plain, cost-competitive processing.
GGG has been lucky to tap this lucrative location with a revolutionary large-scale RE project, keenly eyeing the prospective to grow into the most substantial western world producer of Rare earths. RE products are projected by the Company to produce over 80% of the Project's revenue, with zinc, uranium and fluorspar by-products supporting the balance.
#2 Strong Project Partnership
The Rare earths value chain involves several processing steps with high purity RE metals and oxides produced from mined ore. Adhering to this, miners need to develop strategies to integrate with industrial groups that can produce high-purity, industry-ready products with efficient downstream processing of intermediate rare earth concentrates.
In this regard, GGG has been working on establishing collaborations with key players in the Chinese RE industry over the years. Consequently, Shenghe Resources Holding Co Ltd became GGG's largest shareholder in 2016 (part of the consortium that acquired Mountain Pass in June 2017).
Shenghe is the second-largest RE company by output, with a global vision and customer network located across China, Europe, Japan, North America and the Middle East.
Adding the leading processing technology, a global customer network, and a strong balance sheet to the Kvanefjeld Project, Shenghe has positioned itself as a strong development partner to the Project, aiming to secure access to RE resources beyond Chinese borders with the potential to support a range of RE businesses and facilitate long term growth opportunities.
Optimised feasibility outcomes developed under the guidance of Shenghe's experience and expertise have resulted in:
Operating costs reduction by 40% (unit costs <US$4/kg of REO);
Capital costs reduction by 40% to US$505 million;
Smaller Project footprint and lower impacts, increased production of rare earths;
Decreased reagent consumption and power requirements.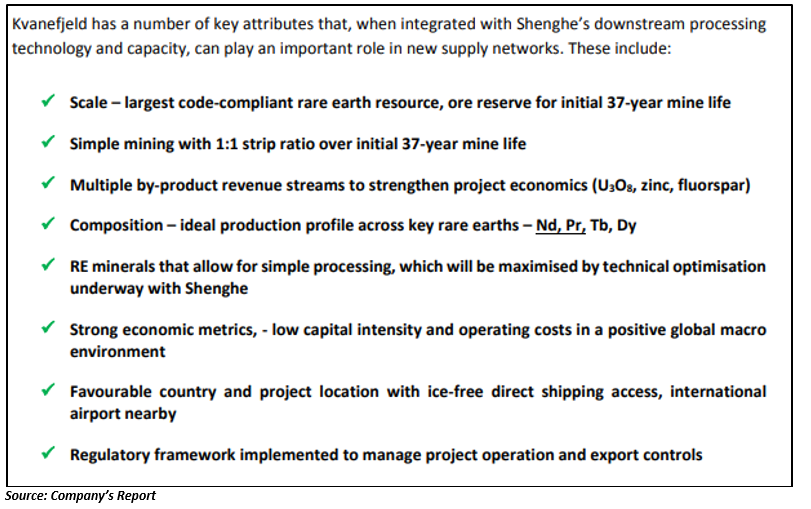 In late May, Shenghe delegates conducted a series of meetings with GGG to review the outcomes of the feasibility optimisation work while planning for establishing a path to market and the accompanying commercial development strategy.
#3 Constant Community Support
In March 2019, GGG signed an MoU with two local communities of Greenland for a Participation Agreement supporting and supplementing the Impact Benefit Agreement, part of a successful mining licence application for the Kvanefjeld Project.
These communities include Kommune Kujalleq - municipal authority for the region of southern Greenland, and Kujalleq Business Council - local organisation representing the local workforce and businesses.
The Agreement, concentrating on skill development and needs identification for the regional businesses and workforce, demonstrates strong community support for the Project and shareholder engagement.
#4 Vital Government Support
GGG's involvement with local communities is an important step in increased dialogue as it paves the path to conclude project timelines with the Government of Greenland (GoG), which benefits planning for local businesses and stakeholders.
Moreover, GGG had filed an application with the GoG for the mining license, and submitted a navigational safety investigation study, along with an environmental impact assessment and a social impact assessment as supportive documents.
In October, GoG's Environmental Agency for Mineral Resource Activities and their principal external adviser, the Danish Centre for the Environment completed the environmental impact assessment review, which marked a notable step in the progress towards finalising the assessment; the next step being formal public consultations.
Supplementary information was requested for a few outstanding issues, and GGG expects additional work to be completed within few months.
GGG last traded at $0.110, up by 4.8% on 8 November 2019. The stock has offered a decent YTD return of 54.4%.
---
Disclaimer
This website is a service of Kalkine Media Pty. Ltd. A.C.N. 629 651 672. The website has been prepared for informational purposes only and is not intended to be used as a complete source of information on any particular company. The above article is sponsored but NOT a solicitation or recommendation to buy, sell or hold the stock of the company (or companies) under discussion. We are neither licensed nor qualified to provide investment advice through this platform.