Highlights

Nutritional Growth Solutions launches its new Healthy Heights® KidzProtein nutritional shake range to support the nutritional needs of growing children.
The new range will replace its current 'KidzShake' line with 15 products, including dairy and vegan formulations.
It will be made available for customers exclusively on online stores, Amazon and www.healthyheights.com from 5 April 2022.
ASX-listed nutrition company, Nutritional Growth Solutions Ltd. (ASX: NGS) has taken its product portfolio a notch higher with the launch of its new Healthy Heights® KidzProtein nutritional shake range.
The latest products will complement its existing Grow Daily® product lines to support everyday health in children. All NGS products are scientifically formulated to help children grow in height and weight, without any increase in BMI.
Nutritional Growth Solutions has emerged as a global provider of paediatric nutritional products under various brands. With its focus centered on the well-being of children, NGS develops, produces, and sells products with nutritional supplement formulae for children which have been tested in a clinical study for kids' growth following 20 years of medical research into pediatric nutrition at Israel's largest pediatric hospital, Schneider Children's Medical Centre.
Also read: ASX-listed Nutritional Growth Solutions (ASX:NGS) gives short-stature kids higher hopes
Here's what the new range has in store for kids!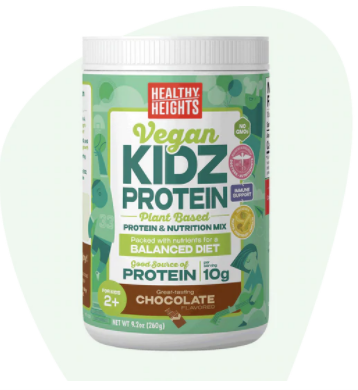 Image source: Company NGS


The 15 product Healthy Heights® KidzProtein range will consist of both dairy as well as vegan formulae to support the nutritional needs of the 2 in 10 children with intolerance to dairy-based products in the United States. Initially, it will be available online exclusively on Amazon and at www.healthyheights.com from 5 April 2022.
The new product range will replace NGS' current KidzShake product line, with the new nutritional shakes containing a proprietary mix of micro and macro nutrients shown to boost optimal growth and development.
Do read: Nutritional Growth Solutions reports solid Dec quarter, with key focus on the US and Asian Markets
Views of the NGS CEO & MD on the new launch
Nutritional Growth Solutions CEO and Managing Director, Liron Fendell expressed that the launch of the new KidzProtein range is an important part of company's "more products, more geographies, more channels" growth plan that it looks forward to expanding further. Adding more products to NGS' portfolio will empower the company to cater to more people looking for safe, healthy, high-quality nutritious foods for their children.
She said, "We continue to experience high demand from parents requesting a healthy shake formula that supports everyday health in children. It was important for us to include vegan formulas to ensure even more children have access to our products, while not compromising on quality, effectiveness, or taste. KidzProtein provides a perfect way for picky eaters or those with dairy intolerances to gain the necessary nutrients to support growth and development."
Do read: Nutritional Growth Solutions (ASX:NGS) launches Healthy Height® in Europe