In today's era of media awareness, every sector needs to be vigilant of its actions, and understand that few consequences can adversely affect their work environment.
The accusation on AFP:
The Australian Federal Police (AFP) is set to face legal actions, as the federal court has been requested by the Australian Broadcasting Corporation (ABC) to set aside the search warrant issued to AFP to conduct raids on ABC's Sydney offices. Moreover, ABC is asking for the return of documents seized by the AFP during the raid, on the grounds of investigative journalism and protection of confidential sources. Meanwhile, News Corporation (ASX: NWS) flagged its plans to launch a legal action against AFP in relation to a raid on the home of ABC's journalist. An executive of NWS stated that the company would stand against the AFP's decisions and go that extra mile to fight for journalism and the people's right to awareness.
Raid incidents:
On 4 June 2019, the AFP raided the house of the journalist .The raid concerned a 2-year old investigated report, called The Afghan Files, which detailed purported war crimes by Australia's special forces in Afghanistan.
Besides this, on 5 June 2019, ABC's Ultimo offices were raided. As part of this search, the AFP officers took the possession of around 100 documents on the grounds of national security, converting the content into USB drives.
The consequences:
The legal developments and hearing in this matter are most likely to take place in late July or early August. An ABC executive confirmed that presently, the AFP had provided an undertaking that it would not access the seized files until further proceedings. ABC would continue to stand by its journalists and opt for legislative aid that support and protect the media reporting, in the interest of the public.
Another media house, Nine Entertainment, has joined the bandwagon along with NWS and ABC, regarding the matter and would push for the required legislative amendments.
The proceedings of this incident have stirred up global criticism against the AFP and the Australian government across the globe, being in the limelight in most of the media discussion worldwide. There were rallies conducted in Sydney to protect the press and media from such raids, showcasing AFP's raids. A press conference is expected to be held on 26 June 2019 regarding the matter at the National Press Club, to discuss the essentiality of safeguarding journalists and whistleblowing activities.
Let us now look at the two media players, News Corporation (ASX: NWS) and Nine Entertainment Co. Holdings Limited (ASX: NEC), which are part of this case and listed on ASX:
News Corporation (ASX: NWS)
Company Profile:
An international, diversified media and information services company, News Corporation focuses on the creation and distribution of engaging and authoritative content. The company has its headquarters in New York and operations across the US, the UK and Australia. NWS was listed on ASX in 2013 and has its registered Australian office in New South Wales.
Company Updates:
In a press release dated 18 June 2019, the company notified that it is actively assessing strategic options towards the development of NWS' News America Marketing business. Allen & Company LLC is the company's financial advisor to assist in the review of NAM.
This move would aid NWS in optimising its portfolio and simplifying the company structure. With a proprietary database of millions of shoppers, NAM is categorised amongst the most valued partners in the marketing services industry. It also provides digital solutions and a dedicated digital media network.
Financial Performance:
NWS provided its quarterly report for the period ended 31 March 2019 in May 2019. The company's total revenues for the period amounted to $2.46 billion, which was 17 per cent up from the prior corresponding period when it was $2.09 billion. The consolidation of Foxtel is regarded as a major contributor to this rise. The company's net income was $23 million in the third quarter of FY19, an optimistic figure after incurring a net loss of $1.1 billion in the same period a year ago.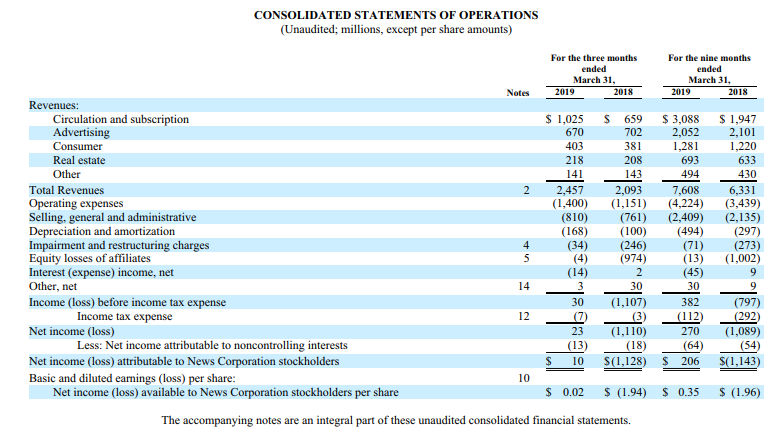 NWS' Financial Summary (Source: Company's Report)
Share Price Information:
On 25 June 2019, the company's stock last traded at A$19.560, down by 1.61 per cent with an annual dividend yield of 0.99 per cent. The company has generated returns of 12.89 per cent, 11.94 per cent and 22.04 per cent in the past one, three and six months, respectively. The company has a market cap of A$11.62 billion and 584.38 million outstanding shares.
Nine Entertainment Co. Holdings Limited (ASX: NEC)
Company Profile:
A media and entertainment company, with a registered office in New South Wales, NEC is a player operating in the Australian communication services sector. Last year in December, NEC merged with Fairfax Media and created the country's largest locally owned media company.
The Macquarie Australia Conference:
The company released a presentation related to the Macquarie Australia Conference on 1 May 2019. It defined its four key pillars post the December merger to be broadcasting, digital & publishing, stan, and domain.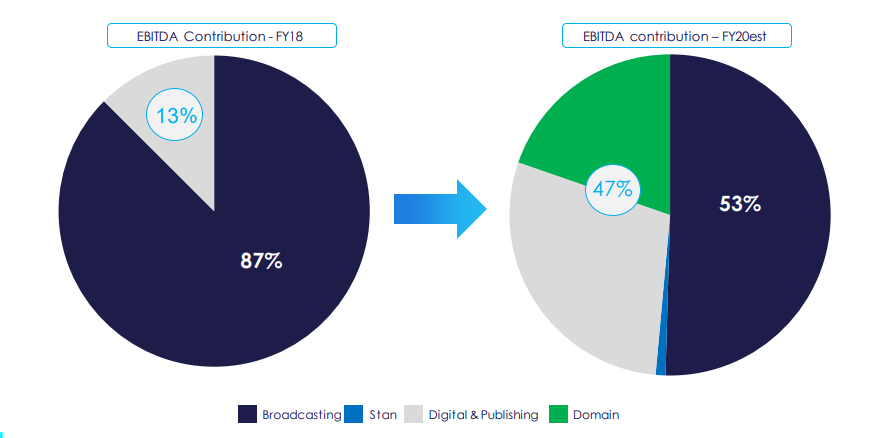 Contribution of NEC's pillars to EBITDA (Source: Company's Report)
The company stated that it would continue to grow and is most likely to generate an EBITDA of over $30 million in FY20.
Sale of ACM:
On 30 April 2019, the company notified that it would be selling its Australian Community Media and Printing business to a company linked with Antony Catalano and Thorney Investment Group by 30 June 2019. The sale proceeds would amount to approximately $115 million.
Share Price Information:
On 25 June 2019, the company's stock last traded at A$1.940, down by 0.767 per cent with an annual dividend yield of 5.12 per cent. The company has generated returns of 19.57 per cent and 39.64 per cent in the past three and six months, respectively. The company has a market cap of A$3.33 billion and 1.71 billion outstanding shares.
---
Disclaimer
This website is a service of Kalkine Media Pty. Ltd. A.C.N. 629 651 672. The website has been prepared for informational purposes only and is not intended to be used as a complete source of information on any particular company. Kalkine Media does not in any way endorse or recommend individuals, products or services that may be discussed on this site. Our publications are NOT a solicitation or recommendation to buy, sell or hold. We are neither licensed nor qualified to provide investment advice.