Village Roadshow
Village Roadshow Limited (ASX: VRL) is a communication service sector company, which is registered in Australia. It is engaged in the operations of the theme park, water park, film distribution and film production. Today, on 11th June 2019, the company provided a change of director's interest notice, where it has highlighted that Robert Le Tet increases interest by 9,747 shares, taking the final holding to 323,359 shares at a consideration of $3.27 effective 11th June 2019.
On 7th June 2019, the company presented its strategy update. In a strategic update, VRL highlighted that The Gold Coast theme park was impacted by Dreamworld tragedy. The Pre-incident market size was around $120 million EBITDA. In addition, the industry's EBITDA fell in the range of $70 million to $80 million in FY18 when compared to FY16 and FY18 visitations were down by 1.6 million visits, which implies a decrease of ~20% since the peak of FY16.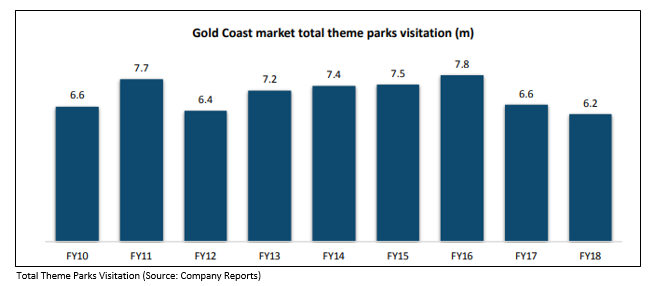 VRL is focused on its core business with a strong performance on cost mitigation and a flexible approach to upscale whenever required.
Reinvestment in Australia's Theme Park
VRL has an incredible opportunity to round out the offering and establish Sea World as Australia's best Theme Park and the rejuvenation of Sea World represents the greatest immediate opportunity for VRTP. Although Sea World is an icon for Gold Coast, the attendances in the theme park have declined to around 1.4 million in 2019, when compared to a high of 1.9 million in 2014, along with a decline in the average length of stay from 6 hours to 4 hours.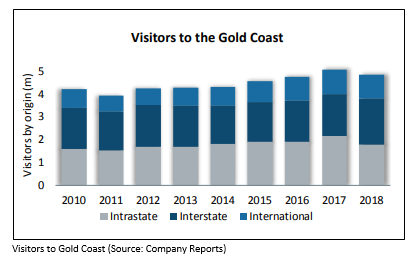 Trading Update
The ticket sales have continued strongly at higher yield prices along with an increasing mix of Village One Pass and excellent long-term trend. Long term success of the company is supported by appropriately planned FY20 and FY21 capital expenditure on attractions, plant integrity, animal welfare, guest experience, IT and more.
Outlook
The company continued the evolution of acquisition strategy in order to increase returns throughout the product lifecycle. It is also focused on the expansion of existing as well as developing new supply agreements with key platforms globally. VRL is diversifying its business capabilities whilst retaining alignment to the core business.
At the time of writing, the stock of VRL was trading at a price of $2.860 per share, down 4.667% with a market capitalisation of $582.59 million, on 11th June 2019, AEST 03:00.
Respiri Limited
Respiri Limited (ASX: RSH) is engaged in the development of mobile health applications as well as research, development and commercialisation of medical devices. The company was officially listed on ASX in 2000. In an announcement made on Friday, 7th June 2019, the company provided key updates with respect to MedAchievers Private Limited Joint Venture for its entry into the Indian market. The company has received favourable feedback for its wheezo™ product from leading Indian respiratory, pediatric, and government health officials. Its first target in India will be Mumbai, Bangalore, Delhi NCR and Chennai metropolitan centres.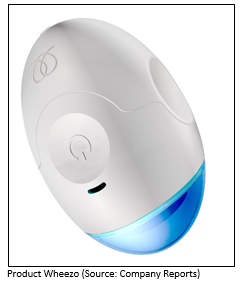 MedAchievers Private Limited has selected a group of thirty heads of respiratory department, paediatric and general medicine professional in order to successfully launch the product.
Healthcare Leaders' Summit
The Healthcare Leaders' Summit will be held in late July in Delhi in 2019. The company will be participating in the summit as a leading partner to the MedAchievers. The concerned event will allow RSH an opportunity to expand its conversation with Indian and global healthcare leaders.
Quarterly Cash Flow
On 30th April 2019, the company released its Appendix 4C, wherein it reported that after settling major expenses for research and development, advertising and marketing, and administration and corporate costs of $1.215 million, $0.185 million, and $0.477 million, respectively, the net cash used in the operating activities for the period stood at $2.162 million.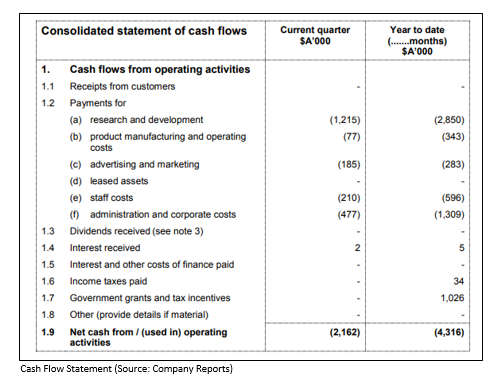 Beginning of wheezo™ Clinical Study
In another announcement, the company highlighted the first clinical study to represent the relevance of wheeze detection technology for the rollout of wheezo™ in 2019. A joint study between RSH, Eastern Health and Swinburne University has the aim of comparing and correlating wheezo's acoustic respiratory monitoring measurement of wheeze severity in patients with the help of clinical assessment of wheeze severity.
At market close, the stock RSH was trading at $0.135 per share, with a market capitalisation of $70.99 million, on 11th June 2019. The stock has generated a YTD return of 37.76% and yielded returns of 48.35%, 70.89% and 28.57% for the six months, three months and one-month period, respectively.
Crowd Media Holdings Limited
Crowd Media Holdings Limited (ASX: CM8) is an Australia registered company engaged in the sale of information, entertainment and utility services for mobile phones and tablets. It was officially listed on ASX in 1999. In an announcement dated 7th June 2019, the company highlighted that it has started the implementation of streamlining and cost reduction initiatives. From 1st July 2019, it is expecting favourable EBITDA and cash flow from operations along with a focus on reducing debt. Additionally, it has also implemented redundancies, which will help the company save annualised costs of more than $1.4 million with effect from 1st July 2019, along with a total $3.5 million savings in annualised costs in FY19.
In another announcement, the company confirmed the Wynn Resorts proposal to acquire Crown by the scheme of arrangement for a combination of cash.
Mobile and Media Division
With respect to media, the company is anticipating revenues of $1.7 million for FY19, which reflects a rise of 240% when compared to FY18. In addition, the company executed a pilot agreement with a leading digital wealth company in Europe, namely Moneyfarm. Due to the regulatory changes and provisioning of material debt, the mobile division has experienced a material headwind.
Changes in CEO and Board Remuneration
In the release, it was mentioned that CM8, in order to help conserve cash, is proposing a plan to change the CEO and Board's remuneration. To provide a boost to the proposal, the CEO of the Crowd Media Holdings Limited convinced to accept 50% of his salary for FY20 in the company's shares in lieu of cash. Moreover, the Chairman and the Board agreed on accepting 25% of their fees in Crowd Media shares in lieu of cash.
Outlook for FY20
The company will focus on FY20, as it will continue to deliver competitive social media and digital influencer campaigns to clients and produce material revenues with strong Y-o-Y growth. For Crown Mobile, it will stabilise and then grow revenues and profits throughout Q&A and subscription mobile businesses.
At market close, the stock of CM8 was trading at a price of $0.021 per share, down 4.545% during the day's trade with a market capitalisation of $5.13 million, on 11th June 2019. The stock has provided a YTD return of 42.11% and generated returns of 46.67% and -45.00% in the time span of one month and six months, respectively.
---
Disclaimer
This website is a service of Kalkine Media Pty. Ltd. A.C.N. 629 651 672. The website has been prepared for informational purposes only and is not intended to be used as a complete source of information on any particular company. Kalkine Media does not in any way endorse or recommend individuals, products or services that may be discussed on this site. Our publications are NOT a solicitation or recommendation to buy, sell or hold. We are neither licensed nor qualified to provide investment advice.