Summary

Lithium Australia NL, Australian Vanadium Ltd and Mercator Metals Pty Ltd Join hands to undertake exploration activities targeting nickel-copper-platinum group elements (Ni-Cu-PGE) mineralisation at the Coates Mafic Intrusive Complex.
Ni-Cu-PGE mineralisation identified at nearby Julimar project highlights major potential for exploration success.
A letter of understanding (LoU) signed by all three parties, seeking to have a senior partner on board by way of a joint-venture development or combined sale.
Exploration plans outlined.
Mineral exploration company, Lithium Australia NL (ASX: LIT) aspiring to build a circular battery economy and engaged in extracting, acquiring, recovering and developing lithium deposits, has established a strategic alliance with Australian Vanadium Ltd (ASX: AVL) and private company Mercator Metals Pty Ltd.
Creation of strategic alliance – Rationale
The alliance has been forged with the objective of undertaking exploration activities targeting nickel-copper-platinum group elements (Ni-Cu-PGE) mineralisation at the Coates Mafic Intrusive Complex, 55 km east-northeast of Perth, the capital of Western Australia.
The three companies hold contiguous tenements referred to as 'the Coates project', which covers the mafic-ultramafic rock sequences containing the Coates Gabbro, providing the essential continuity for exploration to be conducted efficiently (see Figure 1 and Figure 2 below).
The recent discoveries of significant Ni-Cu-PGE mineralisation by Chalice Gold Mines Ltd at its nearby Julimar project have further highlighted the potential of the region. PGE, which include ruthenium, rhodium, palladium, osmium, iridium and platinum, are some of the rarest metals on earth, with high value, elevated melting points, superior corrosion resistance and catalytic qualities.
The Julimar project is located ~29 km north-northwest of the Coates project and the geology of both is similar (referring to the figure below Figure 1).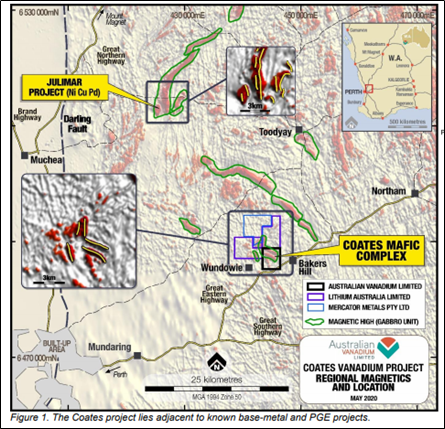 Key Conditions of The Strategic Alliance
Australian Vanadium holds the registered title to E70/4924-I.
Lithium Australia is the sole applicant for E70/5437 and holds the registered title to E70/5198.
Mercator, which holds the registered title to R70/59, is a related body corporate of Mr Adrian Griffin, managing director of Lithium Australia. This transaction does not give rise to any disposition or acquisition of any assets of Lithium Australia and in any event does not relate to a substantial asset of Lithium Australia. In the event of an acquisition or disposition, Lithium Australia will comply with all applicable laws. The transaction as currently contemplated is reasonable in the circumstances, since all parties are dealing at arm's length, and would be reasonable in the circumstances if the public company or entity and the related party were dealing at arm's length.
The parties consider that exploring (and, if warranted, mining) within the Coates project jointly may have benefits. A joint sale may also be considered.
Each party will generally be responsible for its own costs, including but not limited to rents and rates.
Each party will use its best endeavours to keep its tenement in good standing for the duration of any agreement resulting from the LoU between the companies.
At any time, a party, acting reasonably, may terminate its participation under the LoU with 30 days' written notice, notwithstanding the settlement of unpaid contributions to agreed work programmes that have been entered into.
Management Commentary
Planned Exploration
As indicated by Geological Survey of Western Australia's (GSWA) regional aeromagnetic data, the Coates Mafic Intrusive Complex may be over 5 km by 1 km.
To start with, the beginning of exploration would involve compilation and data-sharing of historical information which would help in targeting areas hosting Ni-Cu-PGE mineralisation, with the objective of creating a single, modern dataset that could be used in digital modelling systems. The initial phase would be followed by a laterite-sampling and geological-mapping field exercise aimed at developing an updated geochemical and geological map.
The companies have collectively planned to evaluate ground electro-magnetic (EM) geophysical surveys as a way to delineate any sulphide-rich horizons present in the Coates project before the start of drilling. The data compilation and geochemical sampling is expected to be completed in the current quarter while the time frame for the initial base-metal exploration is subject to receiving approvals. The EM surveys and drilling are planned for the September quarter 2020.
Furthermore, additional evaluations of geology at the Coates project would inlcude studies into any affinity of the Coates Gabbro with the recently identified Gonneville Intrusive that hosts Ni-Cu-PGE mineralisation at Chalice's Julimar project.
Stock Information: The LIT stock closed the trading on 27 May 2020 at $ 0.051, up 4.08%, with a market capitalisation of $ 29.17 million.