Summary

Lake aims to commission lithium chemical project within three years for the EV market, new research validates project potential amidst COVID-19 crisis.
Lake is tapping lucrative market opportunity as industry analysts predict heightened demand for high-grade lithium and EVs with supply constraints.
Recently concluded PFS demonstrated compelling results for long life, low-cost project with high margins.
Project's growth trajectory seems to be driven by availability of high purity lithium carbonate samples from 40K litres of Kachi brines being processed by Lilac.
Possessing four wholly owned lithium brine projects, lithium explorer Lake Resources NL (ASX:LKE) is advancing well amidst COVID-19 uncertainty, continuing with its dedicated focus on Kachi Lithium Brine Project. Notably, the flagship project is located within the Lithium Triangle that accounts for 40% of the world's lithium production at lowest cost.
While Lake has been actively focused at production of sustainable, high purity lithium through the development of Project, recent research by a leading Hong Kong-based analyst has underlined the potential value of Kachi Lithium Brine Project highlighting:
significant and sustainable competitive advantages of the Project,
project's ability to produce 99.9% lithium carbonate battery-grade product with low impurities,
growing global demand for lithium as EV penetration is increasing.
Besides, supply side constraints are expected to result in growing supply deficits by mid-2020s, particularly for the battery-grade product, offering strong market opportunity to Lake.
Moreover, research also refers to the production of samples from pilot plant modules as being a critical value catalyst for the Company.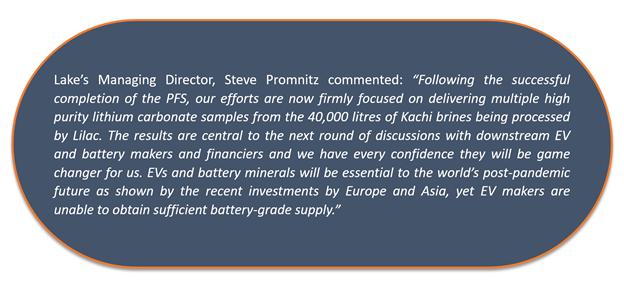 Lake Advancing Well on the Face Of COVID-19
Lake Resources recently released compelling results from its successful Pre-Feasibility Study (PFS) concerning its sustainable and scalable direct extraction process. Subsequently, the Company escalated discussions with downstream participants as well as financer,s intensifying focus on battery minerals as essential to global post-pandemic recovery.
While Lake has been operational amid COVID-19 restrictions, there have been slight delays in the processing of brines at Lilac's pilot plant in California. Lake is closely monitoring lifting of local restrictions on technology partner at California, allowing full scale operations to resume at pilot plant modules.
Lilac's operations have been limited to basic services since "shelter in place" restrictions are in place. However, these restrictions are expected to be relaxed next week, allowing Lilac to pump up operations and other service providers to re-open, that are vital to operations of Lilac.
More at: Kachi Brine Pilot Plant Testing Advanced at Lake's Technology Partner, Lilac Solutions
Lake Well Positioned Well to Tap Buoyed Demand-Supply Scenario
Lake Resources is expecting 5x to 9x uptick in high purity lithium demand in near to mid-term, supported by the following trends:
Expansion of lithium battery makers driven by major electric vehicles (EVs) commitments,
Legislation for EV's in Europe as well as subsidies in China,
Li-ion Battery Megafactories grown from 3 to 52 in 5 years, 123 Megafactories are planned
Expansions have stalled due to the lithium undersupply expected to remain through 2023/25
Related: Lake Resources Optimistic on Lithium Outlook; Update from Investor Stream Interview
Lake is highly optimistic on the outlook for EVs, noticing paradigm shift towards heightened green environment awareness and supported by recent investments and initiatives taken by the governments across the globe. Some of these include:
Investments announced by Europe in battery minerals, including France approximately US$ 8 billion, Germany over US$ 1 billion and the European Union ~US$ 88 billion,
Extension in state subsidies and tax breaks for "New Energy Vehicles" by China, the world's biggest EV market, and
US$110 billion "New Green Deal" by South Korea, including significant investment in renewable energy.
Moreover, Lake has been a witness to the significant interest shown in battery materials supply chain through its participation in global conferences and EV festivals. Along with Lake, thousands of participants from EV and battery manufacturing sector and upstream materials supply were part of these events.
Besides, Lake is hopeful on the social framework to adopt electric mobility due to reduced pollution levels and visible improvements in the environment evident across the globe in the wake of the shutdowns imposed to curb the spread of COVID-19. Even if a rise in the sales for the electric mobility/electric vehicles does not become prominent in the near term, it is highly likely to trigger a positive public attitude towards it.
Related: Assessing Lake Resources Stance Against The Lithium Outlook Amid COVID-19
While car manufacturers are carefully eyeing economic reopening and lithum pricing scenario during post pandemic recovery scenario, Lake seems to be advancing well on its Kachi Project eyeing to commission lithium chemical project within three years for the EV market with new research validating project's high potential amidst COVID-19 crisis.
LKE last traded at $0.038, up 8.6% on 28 May 2020.