Mid cap stocks:
Mid-cap stocks are those stocks whose market cap ranges from $2 billion to $10 billion. These companies have smaller market shares than more established companies in their respective industries and take steps in the expansion of their businesses. They are expected to grow more rapidly because of smaller bases. The mid-cap stocks are considered to be less risky than small-cap stocks but riskier than large-cap stocks.
Mid-cap stocks are regarded as blue-chip stocks in the making and thus attract attraction of the investors. In the case of portfolio diversification, mid-cap stocks are considered useful as they have a mix of enhanced growth potential as well as stability.
Advantage of investing in mid-cap stocks:
Mid-cap stocks have potential to outperform large-cap stocks. This trend is expected to hold good in the long run.
Mid-cap stocks, as highlighted above, are riskier than large-cap stocks and have potential for growth in the relevant industries. Thus, there are chances to grow rapidly over a small base and provide better returns to the shareholders.
They are underfollowed by investors in the market and this gives a chance to savvy investors to pick these stocks at lower levels and realise above-average growth of their portfolio values.
As compared to the small-cap companies, the mid-cap companies are comparatively mature in their respective industries. Thus, they are a better option for investment compared to the small-cap stocks due to their lower risks.
Risks of investing in mid-cap stocks:
The above-average growth potential refers to the mid-cap stocks in general. There is no guarantee that any given mid-cap stock will necessarily outperform its large-cap peers.
Mid-cap stocks tend to bear more from liquidity constraints as a result of a smaller capital base and hence a smaller number of shares outstanding in the market. Hence, a bulk purchase or sale by an institutional investor may have an appreciable impact on their market prices.
In this article, we would see how some of the stocks have performed in the quarter ended September 2019 and also have a look at their prospects of realising better results in the upcoming period.
Qantas Airways Limited (ASX: QAN)
Qantas Airways Limited (ASX: QAN) on 24 October, 2019 released its trading update for the Q1 FY2020 ended 30 September 2019.
The total group revenue of the company increased by 1.8% year over year to $4.56 billion.
Group unit revenue increased during the period by 2.1% over prior corresponding period, which was driven by strong Qantas International performance.
Total Group capacity declined by 0.2% due to a 0.6% decrease for Group International, followed by an increase in the Group Domestic by 0.5% largely because of the rise in the resources market.
Group Domestic Unit Revenue declined by 0.9% as a result of mixed market scenarios. At one side, the resources industry traffic continued to improve while on the other hand, the company experienced subdued demand in other corporate sectors like financial services as well as telecommunications. Overall, the corporate travel demand remained flat during the quarter, and the small-business travel demand growth reduced.
International Unit Revenue went up by 4.4%, which was the result of a reduction in competitor capacity along with the advantages of network and fleet changes in Qantas International.
Revenue from Jetstar International grew during the period, driven by strong demand on leisure routes to Asia, which balanced the weakness in markets due to strengthening of the US dollar.
Outlook:
The company expects an impact in its 1H FY2020 profit by $25 million due to protests in Hong Kong.
For FY2020, the company has hedged its fuel so as to obtain the benefit from considerable price falls. During this period, the full-year fuel cost is projected to be $3.98 billion with a $29 million rise in the 1H 2020 as compared to the previous corresponding period. In the worst possible scenario, the fuel cost may reach $4.05 billion.
Group capacity is anticipated to increase in the range of 0.5% to 1% in the 1H FY2020, with rises in both domestic as well as international flying.
Whitehaven Coal Limited (ASX: WHC)
Coal mining and exploration company, Whitehaven Coal Limited (ASX: WHC) on 22 October 2019 released their September 2019 quarterly report.
Safety performance progressed with the TRIFR at 5.14 for the 12 months ended September 2019.
During the quarter, ROM coal production went up by 22% on pcp.
Managed saleable coal production for September 2019 quarter went up by 23% to 4.9Mt on pcp.
Managed Total Coal sales during September 2019 were 5.5Mt, up by 14% as compared to the previous corresponding period.
WHC signed an agreement with EDF to acquire EDF's 7.5% interest in the Narrabri underground longwall mine.
FY2020 Guidance:
Alumina Limited (ASX: AWC)
On 18 October 2019, Alumina Limited (ASX: AWC), a company holding interest in bauxite mining, alumina refining, alumina based chemicals and aluminium smelting via its 40% interest in the series of operating units of Alcoa World Alumina & Chemicals (AWAC) released its Q3 FY2019 earnings results for the quarter ended 30 September 2019.
Alcoa Segments:
Alcoa Alumina Segment's adjusted EBITDA declined during the quarter from $369 million in 2Q 2019 to $223 million in 3Q 2019 which was driven by 17% drop in API only, which to some extent offset by higher production, lower AUD exchange rate along with lower maintenance costs.
Alcoa Bauxite Segment's adjusted EBITDA improved during the quarter from $112 million in 2Q 2019 to $134 million in 3Q 2019 as a result of higher sales volume internal as well as 3rd party sales, lower maintenance costs coupled with better performance at both MRN and CBG.
AWAC:
Slight improvement in the production in AWAC Refining Business from 3.1 mt in 2Q 2019 to 3.2 mt in 3Q 2019.
Production in AWAC Mining Business also improved from 10.8 mbdt in 2Q 2019 to 11.5 mbdt in 3Q 2019.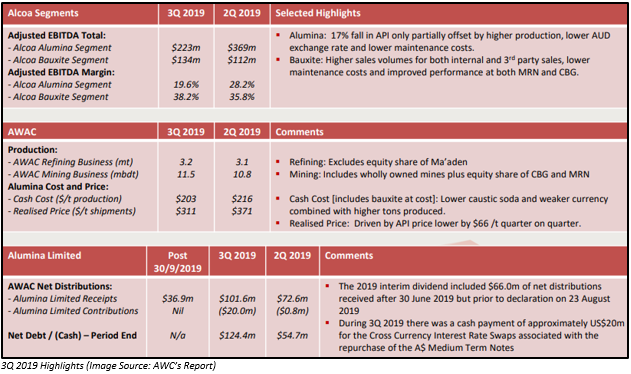 Evolution Mining Limited (ASX: EVN)
Gold miner, Evolution Mining Limited (ASX: EVN) on 15 October 2019 released its quarterly result for the period ended 30 September 2019.
The company delivered a record cash generation during the period.
Mine operating cash flow went up by 30% to $278.7 million as compared to the previous quarter.
Net mine cash flow went up by 36% to $207.4 million on the previous quarter.
Group free cash flow rose by 45% to $158.6 million on the prior quarter.
Fully franked FY2019 final dividend of A$102.1 million paid to the shareholders.
Net cash position increased from $35.2 million as on 30 June 2019 to $91.7 million as on 30 September 2019.
191,967 ounces of gold produced during the quarter.
Encouraging results were obtained from extensional drilling at Dalwhinnie and Cowal's GRE46.
Mungari's Boomer prospect follow up drilling came across laminated vein with visible gold with a best intersection of 2.28 metre (downhole) grading 130.92g/t gold.
FY2020 Guidance:
Gold production guidance for FY2020 remains unaltered at 725,000 ounces to 775,000 ounces.
AISC guidance increased by $50/oz to $940-$990/oz.
Iluka Resources Limited (ASX: ILU)
Iluka Resources Limited (ASX: ILU), a metals and mining company engaged in the production of mineral sands released its September 2019 quarterly review for the quarter ended 30 September 2019.
Zircon/rutile/synthetic rutile (Z/R/SR) production increased by 17% to 198kt as compared to Q2 2019. Rutile production was up by 18% to 48kt, zircon by 29% to 94kt and synthetic rutile production remain constant at 57kt.
The sales volume of Z/R/SR declined by 10% during the quarter.
YTD mineral sand revenue was $798 million.
Operating performance at Sierra Rutile remained below expectations.
Net debt declined from $142 million as on 30 June 2019 to $89 million as on 30 September 2019.
Outlook:
The company's production of Synthetic rutile production had exceeded expectation, and the company expects a similar result in Q4 2019.
Stock Information on 1st November 2019
---
Disclaimer
This website is a service of Kalkine Media Pty. Ltd. A.C.N. 629 651 672. The website has been prepared for informational purposes only and is not intended to be used as a complete source of information on any particular company. Kalkine Media does not in any way endorse or recommend individuals, products or services that may be discussed on this site. Our publications are NOT a solicitation or recommendation to buy, sell or hold. We are neither licensed nor qualified to provide investment advice.