The Australian Financial Sector
The Australian financial system continues to be strong, and its capacity to resist shocks persists to intensify, proving to be the most significant contributor in the nation's economy. Australia was rated one amid the best performing financial centres worldwide by The World Economic Forum Financial Development Index of 2012. This sector contributed approximately $140 billion to Gross Domestic Product (GDP) last year. It employs ~450,000 people and has been a major driver of economic growth. The Australian financial system comprises of borrowing and lending of funds. The major stock exchange operator in the country are known as the National Stock Exchange of Australia (NSX) and Australian Securities Exchange (ASX).
Innovation in Australia's Financial Service sector
The businesses belonging to the Australian finance sector are encountering new pressures from the competitors that offer various services for their customers. The financial sector of the nation is experiencing fresh innovations on a daily basis. Innovation has been taking place in financial services like banking accounts, investment management and such. Mobile payments, crowdfunding, peer- to- peer lending are a few fresh approaches, which could prove to be an advantage for the customers. A new concept, introduced to the financial sector is known as the Fintech sector.
Fintech Sector
Fintech sector has a combination of Finance and Technology. Fintech involves any technological disruption associated with finance. The money lending and financing business has been mostly held by the banks and non-banking financial institutions until now. This sector is experiencing a lot of disruption by the fintech companies.
Advantages of Fintech Companies
Better Payment Systems
This form of technology makes businesses more precise and efficient through a simple method of issuing and receiving money.
Approval Rate
The process of lending money through banks and non-banking institutions takes a lot of time. However, the fintech companies can provide loan, which can be processed as quickly as in a day's time or earlier.
Convenience
The entities engaged in financial technology makes the maximum utilisation of mobile connectivity. This can substantially enhance the number of people who can access the technology, which in turn boosts the productivity and accessibility of trades.
On 08 October 2019, the S&P/ASX 200 Financials (Sector) last traded at 6,249.2 points, with a rise of 0.03 percent.
Let us now discuss HUB24 Limited, classified under financials sector on ASX:
HUB24 Limited
HUB24 Limited (ASX: HUB) founded in 2007, offers a broad range of investment options, with the improved transaction and reporting solutions, for all types of investors – companies, associations, individuals, trusts, or self-managed super funds. Hub24 Limited was established by a strong team with a solid background of delivering market solutions in the financial services space. During FY19 period, the company signed 84 new agreements with 398 new advisors introduced to the platform. The company is officially listed on the Australian Stock Exchange.
Ceased to be a Substantial Holder
On 2 October 2019, the company announced that Credit Suisse Holdings (Australia) Limited ceased to be the substantial holder of the company effective 27 September 2019.
Change in the Director's Interest
On 29 August 2019, the company released a notice on the change of the Director's (Bruce Higgins) interest. He acquired 10,000 fully paid ordinary shares on 28 August 2019. The number of securities held by Bruce Higgins after the change was 586,811.
HUB delivered solid growth in FY19 results
On 27 August 2019, the company has announced the financial results for FY 2019 for the period closed 30 June this year. Below are a few pointers from the results:
Funds Under Administration (FUA) increased by 54 per cent to $12.9 million.
Gross profit of the company surged by 33 per cent to $45.4 million compared to the pcp.
Underlying net profit after tax of the company increased by 27 per cent to $6.8 million.
The group revenue increased by 15 per cent to 96.3 per cent.
The company maintained its position of a faster growing platform provider in percentage terms.
The company has declared a fully franked dividend of 2.6 cents per share. (The full-year dividend came to 4.6 cents per share, increased by 31 per cent).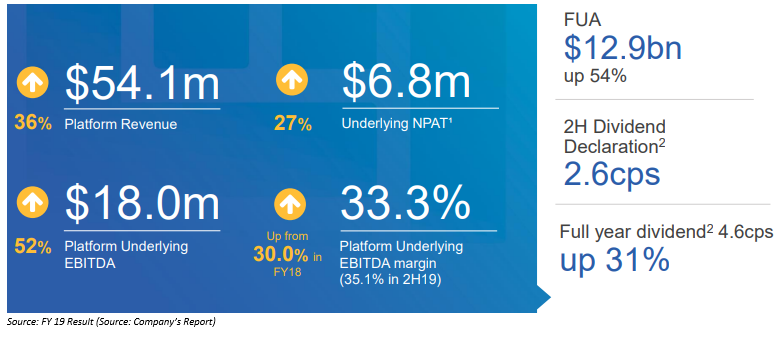 Platform Segment Overview
The company's platform revenue increased by 36 per cent to $54.1 million compared to pcp.
The gross profit of the segment increased by 4 per cent to $40.4 million.
Underlying EBITDA of the group improved by 52 per cent to $18.0 million.
Profit before tax for the platform segment increased by 38 per cent to $15.0 million
Outlook
HUB continues to provide FUA Growth by conversion of current strong pipeline from the old and new opportunities secured in FY 2019 period across financial advisors and brokers.
The company continues to roll out ConnectHub and solutions to advisors, clients and brokers.
The company would leverage FY 2019 success to service and convert existing advisory, expecting an additional flow to emerge in 2H FY 20 period.
It is further planning to invest in additional IT scrum team of approximately 8FTE.
The investments are expected to increase net flow to the platform and generate FUA growth target of $22-$26 billion by the end of FY2021 period.
Stock Performance
The stock of HUB last traded higher at a price of $11.610 on 8 October 2019, surging up by 4.219 per cent from its previous closing price. The company has approx. 62.59 million outstanding shares and a market cap of $697.25 million. The 52-week low and high value of the stock was noted $10.130 and $15.550, respectively. The stock has generated a return of -25.34 per cent in the last six months and -4.05 per cent return on a year-to-date basis.
---
Disclaimer
This website is a service of Kalkine Media Pty. Ltd. A.C.N. 629 651 672. The website has been prepared for informational purposes only and is not intended to be used as a complete source of information on any particular company. Kalkine Media does not in any way endorse or recommend individuals, products or services that may be discussed on this site. Our publications are NOT a solicitation or recommendation to buy, sell or hold. We are neither licensed nor qualified to provide investment advice.