In terms of a total number of users and projects posted Freelancer.com, also known as Freelancer Limited (ASX: FLN), is world's largest freelancing and crowdsourcing marketplace with more than 39 million registered users and over 16 million projects and contests posted to date. Twelve-time Webby award-winning Freelancer.com also performs business into global enterprise freight marketplace through its Freightlancer.com marketplace.
Considered as a game-changer for entrepreneurs, small businesses, and large organisations, Freelancer.com helps small businesses, start-ups and entrepreneurs turn that spark of an idea into reality.
How does Freelancer.com work?
Anyone looking to get work or Project done through a freelancer can go to Freelancer.com website and follow the below mentioned three steps.
Post a project
Choose the perfect freelancer
Pay when you are satisfied
The company's desktop app helps in tracking progress, monitor hours, communicate with the Freelancer. Via the mobile app, the business can stay in touch with a freelancer or client.
Freelancer.com covers over 1,600 diverse areas like website development, logo design, marketing, copywriting, astrophysics, aerospace engineering etc. Freelancer is also emerging as a leader in secure online payments and online transaction management services via its business, Escrow.com. With Escrow.com, one can ship across state boundaries; physical inspection and acceptance happen on delivery.
How Escrow.com works?
Buyer and seller agree to terms and conditions
Buyer pays Escrow.com
Seller ships merchandise
Buyer accepts the merchandise
com pays the seller
What are the Benefits of using Escrow.com?
As Buyers & sellers do not have to physically meet to transact, this solves trust problem. There are several other benefits of Escrow.com, which are as follows:
Increased Trust - Escrow.com enable customers to transact on e-commerce, marketplaces & classifieds sites with higher trust & safety greatly reducing fraud and with no chargebacks;
Increased Liquidity- Physical inspection & acceptance happen on delivery, meaning valuable items can ship across a state or country before the transaction completes, allowing business & its customers to expand beyond local to global markets safely;
Increased Fulfillment – With greater liquidity, sellers can access more buyers and buyers more sellers, resulting in better choice, pricing and increasing the probability of a successful transaction;
Increased Support - World class transaction support as well as Experienced Escrow.com personnel help customers in shipping documentation, title, liens, and more;
Increased Compliance- Escrow.com provides "compliance as a service" performing know your customer (KYC) & anti-money laundering verification for high-value transactions;
Increased Revenue - Revenue share is available for volume partners of $1 million per month or more.
Recent Performance of Freelancer.com
Freelancer.com recently announced its Quarterly Cash Flow Statement for 3Q FY19 (quarter ending 30 September 2019). Key highlights of the company's performance are mentioned below:
Freelancer Group delivers 3Q FY19 cash receipts of $14.3 million (up 9.4% on prior corresponding period (pcp)), YTD cash receipts $42.6 million (up 12.4% on pcp)
3Q19 Freelancer Group Gross Payment Volume $197.8m (up 5.4% on pcp), YTD $598 million (up 8.4% on pcp)
Freelancer segment 3Q FY19 Gross Payment Volume of $45.7 million (up 7.0% on pcp, unaudited), Escrow segment 3Q FY19 GPV was $152.1 million (up 4.9% on pcp, unaudited)
Ex-China, Escrow GPV was US$98.6 million, the third-highest quarter on record
Net operating cash flow 3Q FY19 of $(1.5) million; the Group ended the quarter with cash and cash equivalents of $33.8 million, down $0.7 million on 2Q19
Operating cash flow has been impacted by the transfer of open controlled payments for California users to Escrow.com. Additionally, the growth in the enterprise has resulted in increased receivables. Cash and cash equivalents for the Group in the quarter ended at $33.8 million, down $0.7 million on 2Q FY19.
During the quarter, the product was focused mainly on enterprise (~40% of engineering resources), regulatory work including the integration of Escrow.com and continued deployment of the front-end technical stack, leaving little time for product development.
The company also deployed the first phase of Deloitte MyGigs during Q3 FY19. This will allow Deloitte consultants globally to more efficiently match skills set with opportunities and provide greater visibility into projects and resource needs.
During the quarter, the company was busy building additional features for ArrowPlus powered by Freelancer, the co-branded marketplace for electronic and electrical engineering built with Arrow Electronics.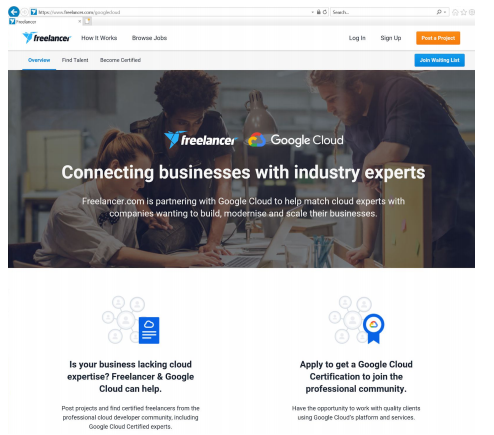 Image Source: Company Reports
Freelancer.com joined hand with Google Cloud to match cloud experts with companies wanting to build, modernise and scale their businesses. In addition to this, the company also made several releases for both iOS and Android. As a consequence of this, the daily active users increased by 17% and daily to monthly active user ratio increased by 9% (relative growth) quarter on quarter.
At the end of the September quarter, the company had cash and cash equivalents $33.8 million, down by $0.7 million on the previous quarter.
Let us now get acquainted with the significant operational activities of Escrow.com during the quarter.
Recent Performance of Escrow.com
Escrow.com integrated and went live with a major automotive marketplace in North America, which is expected to be announced in the coming weeks.
During the quarter, Escrow inched a step closer to the completion of its US licensing program. Following the completion of the US license, Escrow total licensed coverage will expand to 47 states. Moreover, the company also witnessed an increase in the number of money transmission licenses to 35, including the recent granting of a license in Maryland.
For the next quarter, Escrow is highly positive about money transmission licenses to be granted in two more states, with one of the licenses already in the final stages of approval.
In addition to this, Escrow anticipates the lodgement of a license application for the United Kingdom in 2019. As per company reports, the filing for UK license has been delayed due to the prioritising of the launch in Canada during the quarter.
During the quarter, Escrow.com has been focused on integrating Escrow.com into Freelancer.com for the facilitation of payments by users residing in California.
Stock Performance
In the last one year, FLN stock price increased by 35.65% as on 30 October 2019. At market close on 30 October 2019, FLN stock was placed at $0.755 with a market cap of ~$353.15 million and outstanding shares of around 452.76 million.
The company is changing lives in the developing world by providing opportunity and income. During the quarter, Freelancer.com has made significant operational progress by broadening the scope of its operations.
---
Disclaimer
This website is a service of Kalkine Media Pty. Ltd. A.C.N. 629 651 672. The website has been prepared for informational purposes only and is not intended to be used as a complete source of information on any particular company. Kalkine Media does not in any way endorse or recommend individuals, products or services that may be discussed on this site. Our publications are NOT a solicitation or recommendation to buy, sell or hold. We are neither licensed nor qualified to provide investment advice.