Every sphere of the business world agrees that regulations are an indispensable tool to ensure effective functioning of economies. Besides reinforcing markets, regulations protect the rights and safety of citizens while ensuring seamless delivery of public goods and services.
The World Economic Forum, a renowned NGO based in Switzerland believes that there are three vital channels through which regulation can benefit an economy:
The market-creating and market-growing role illustrated by the GSM standard;
Regulation can also benefit an economy by enabling competition;
The third way in which regulation is good for an economy is precisely in its protection of consumers.
Regulation in Australia
Australia is globally acknowledged for its regulation effect assessment arrangements. In the country, regulation is rendered at the federal and state level and in the country's territories, as legislation and subordinate legislation and so forth.
Regulations in Australia are devised to certify adequate protection for the applicable parties, fair competition and maintain market integrity. Below mentioned are few regulatory authorities of Australia:
The Australian Securities and Investment Commission (ASIC);
The Reserve Bank of Australia (RBA);
The Australian Competition & Consumer Commission;
The Department of the Treasury;
The Australian Prudential Regulatory Authority (APRA);
Council of Financial Regulators (CFR) and
Adhering to keeping the regulation stance strong and vigilant in Australia, the competition watchdog, ACCC, has alleged Google LLC and Google Australia Pty Ltd (together, Google) recently. Let us find out why-
Google Under ACCC's Radar
A renowned MNC headquartered in California, Google LLC is a subsidiary of Alphabet Inc. Google Australia Pty Ltd, a subsidiary of Google LLC represents its parent company's business in Australia (certain aspects), which includes the circulation of Pixel phones.
On 29 October 2019, ACCC notified that it has instituted proceedings against Google (Google LLC and Google Australia Pty Ltd) in the Federal Court on grounds that the company has misled conduct and made false/ misleading representations to users about the personal location data that the company Google collects, keeps and further uses.
According to the watchdog, since January 2017, Google has been breaching the Australian Consumer Law and misleading consumers regarding the location data Google stored/ used when specific Google Account settings were either disabled or enabled.
ACCC alleged Google for making on-screen depictions on Android tablets and mobile phones that consequently led to the misleading conduct. These depictions were made to users when they are setting up a Google Account on their respective Android tablets and mobile phones, and users who access their Google Account settings later through these gadgets.
Focus of The Allegation
According to the ACCC, Google was involved in misleading users about the attributes, nature and suitability for purpose of Google services, the Android operating system and Google Pixel mobile phones.
ACCC's case primarily focusses on two Google Account settings:
Location History
Web & App Activity
Before diving into the allegation, let us understand the structure of these settings:
The default setting for new Google Accounts is for "Location History" to be turned "off" (or "paused") and the "Web & App Activity" setting to be turned "on". If the former is "on", Google frequently saves and maintains personal data concerning the user's location.
However, if it is "off", and the latter setting is "on", Google still gets and maintains personal data concerning the user's actions on Google services and its Apps, involving the personal data related to the location.
The allegation states that Google did not inform consumers that both the settings in discussion had to be vigilantly turned off if they didn't intend for Google to gather, keep and make use of their location data. The ACCC believes that consumers would have realised that by turning off their Location History setting, the company would stop storing their location data. However, Google was hushed about the fact that the other setting (Web & App Activity) also had to be turned off.
In cases where the Web & App Activity was turned on, Google could still continue to gather location data. It should be noted that users make a deliberate decision to turn off settings to cease the collection of their location data, but Google might have let this option go in vain.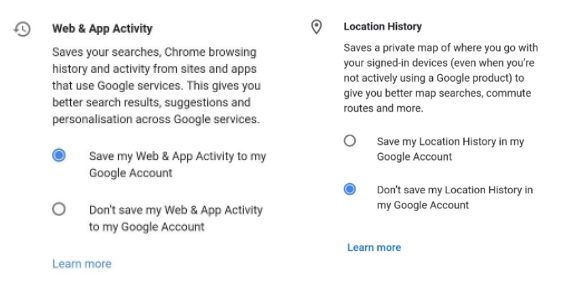 Setting between 30 April 2018 and 19 December 2018 (Source: ACCC)
Moreover, ACCC alleges that from around mid-2018 until late 2018, Google had been intimating consumers that by not using certain Google services, including Google Search and Google Maps, they could prevent Google from collecting, keeping and using their location data. Even in this case, both the account settings in discussion needed to be switched off.
Adding on to the allegation of data representation, the regulator believes that Google's on-screen statements which broke down ways in which location data would be used when users accessed their 'Web & App Activity' and 'Location History' settings were deceptive.
Google ceased to reveal that the data could be used by Google for several other purposes which were irrelevant to the user's utilisation of Google's services. This could be a probable reason for consumers to be deprived of the chance to make an informed choice and choose to share or not share their location data (personal) with Google.
What's in store?
Taking the allegation to the judicial level, the ACCC is pursuing penalties, orders and declarations that require the publication of remedial notices and the formation of a compliance program, pertaining to the issue.
The ACCC's Digital Platforms Inquiry final report suggested that privacy legislation should be strengthened, by updating the definition of "personal information" in the Privacy Act and strengthening notification and consent requirements so that consumers are able to make informed decisions about the personal data they allow digital platforms to collect.
Google's Stock Performance
After the close of trading on NASDAQ on 6 November 2019, (NASDAQ: GOOGL), Alphabet Inc Class A, quoted US$1,291.01, down by 0.033% from its last close. The stock has a P/E ratio of 28.09x and the company's market cap is US$890.60 billion.
---
Disclaimer
This website is a service of Kalkine Media Pty. Ltd. A.C.N. 629 651 672. The website has been prepared for informational purposes only and is not intended to be used as a complete source of information on any particular company. Kalkine Media does not in any way endorse or recommend individuals, products or services that may be discussed on this site. Our publications are NOT a solicitation or recommendation to buy, sell or hold. We are neither licensed nor qualified to provide investment advice.