Summary

COVID-19 pandemic has created a domino effect where stocks experiencing limited impact from the coronavirus also noted a significant drop in their share prices due to massive sell-offs.
Technology and healthcare sector have played a defensive role. However, their share prices dropped amid the crisis.
The outbreak has changed the way people work. Changes are happening globally at a rapid pace, and on that front, technology has a significant role to play.
In the upcoming period, AI and PCB designing are expected to have a firm grip over the market, with players like Appen and Altium possibly stealing the spotlight.
At a time when the pandemic was at its peak, there was a massive sell-off of shares held by the market players. The Australian market, which was its all-time high level of 7,162.50 on 20 February 2020, dropped significantly and reached a low level of 4,546 on 23 March 2020. Post the low point, the market bounced back, and it continues to move in the upward direction, albeit with a couple of hiccups.
Amid COVID-19 crisis, many businesses were impacted. However, the extent of damage was different for each sector. The worst-hit sectors were travel and tourism, aviation, entertainment. On the other hand, sectors like healthcare and technology fared reasonably well with the virus outbreak creating opportunities for the two sectors to explore.
As most businesses were shut, and people started working from home, an increase in the demand for e-learning, cybersecurity, and online business meeting applications was witnessed. It was technology that supported other businesses during this crucial period.
In this article, we will look at two ASX-listed IT companies whose respective performances since the ASX-listing have remained consistent. The shares continued to move in the upward direction and reached their all-time high until the COVID-19 outbreak. These businesses continue to have a positive outlook despite the major crisis faced by the world in the first half of 2020.
Appen Limited (ASX:APX)
Appen Limited provides high-quality training data that is used for machine learning and Artificial Intelligence. The Company has a broad reach with skilled contractors working across 70k locations in 130 geographies.
Stock Performance:
Appen made its ASX debut on 7 January 2015, and since then the shares have improved by 5439.05%. Appen shares have generated an impressive YTD return of 27.77%. On 9 June 2020, the stock ended the day's trade at A$28.340, down 2.545% from the previous close. Appen has a market cap of A$3.54 billion and ~121.65 million outstanding shares. The Company's PE ratio is 82.43x, and the annual dividend yield is 0.31%.

Some Interesting facts about Appen:
Eight out of the top ten global tech companies trust Appen.
Appen has more than 20 years' experience assisting clients in building world-class Artificial Intelligence.
It has been awarded the Deloitte Asia Pacific Technology Fast 500™ three times.
Six-time winner in the Deloitte Technology Fast 50 Australia Awards from 2012 till 2019.
It has been recognised by the Philippine Council of Organizations on Disability and Empowerment Inc for practising & promoting Diversity and Addition in the workplace.
FY2019 performance Highlights:
For FY2019 ended 31 December 2019, the Company reported a 47% growth in revenue.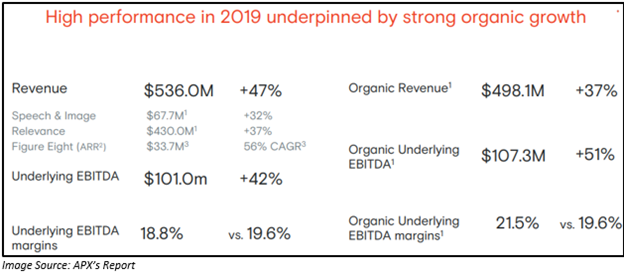 Market Opportunities:
Appen makes AI work in the real world. In its AGM presentation, it was highlighted that AI expenditure is growing at 28% and that Appen is well placed in this space. The broad and deep technology suite opens markets and scalability. Further, the staff supporting the Company are highly skilled.
The Company also has a track record of high revenue & earnings growth. From 2015 till 2019, the Company witnessed a CAGR revenue growth of 59% and underlying EBITDA growth of 64%.
Outlook:
Appen continues to strengthen its position in a high growth market via investment in technology, customer growth and diversification.
Investment would soften 1H FY20 margins to mid-teens. However, in FY2020, the margin is expected to be in the high teen.
APX anticipates a negligible impact of COVID-19.
For FY2020 ended 31 December 2020, the underlying EBITDA is projected to range in between A$125 million to A$130 million (assuming A$1=US$0.70, May-Dec 2020).
Altium Limited (ASX:ALU)
Altium Limited is a global software company based in San Diego, California. A significant number of PCB designers & engineers prefer Altium software for designing & producing electronics-based products.
Stock Performance:
ALU's stock got listed on the ASX on 4 August 1999. If we look at the performance of ALU's stocks from 7 June 2010 till 9 June 2020, the stock has delivered a return of ~14351%. The stock which closed at A$0.235 on 7 June 2010 has reached A$33.99 by the market closure on 9 June 2020. ALU has a market cap of A$4.57 billion and has around 130.97 million outstanding shares.

Interestingly, ALU's performance since its listing has been impressive as the shares continued to move in the upward direction till the COVID-19 outbreak. On 17 February 2020, the shares, which traded at A$42.63, dropped significantly and reached A$24.67 on 23 March 2020. From 24 March 2020, the shares bounced back and have delivered a return of ~13% in the past three months.
Things to Know about Altium:
Altium started its business during 1985 and became a publicly listed company in 1999. Since 1985, the Company is engaged in the development, creation as well as selling electronic design tools that help electronics designers use the latest devices & technologies, handle their projects across broad design ecosystems, and create connected intelligent designs.
A Glance at the Recent Business and Market Update:
On 12 May 2020, Altium announced its business and market update. The Company is operationally and commercially well placed despite the prevailing market condition. However, it expects some headwinds in case the restriction prolonged and continued lock-downs related with the COVID-19 & their impact on the major economies of the US & Western Europe. If this happens then, the Company expects that its performance might get affected.
The Company is presently working towards robust sales and business performance in this unprecedented COVID-19 environment.
In response to COVID-19, the Company launched attractive pricing and extended payment terms to drive volume. It also accelerated the introduction of new digital online sales capability, which forms a part of the execution of its man-out-of-the-loop strategy to strengthen its transactional sales capability.
ALU also strengthened the rollout of a new cloud platform Altium 365 to its subscribers to enable engineers to operate and get connected from any location.
Outlook and Balance Sheet Strength Amid COVID-19:
As per Mr Joe Bedewi, the CFO of Altium, the Company is a profitable and financially robust with a strong balance sheet and cash balance (as on 12 May 2020) of over US$77 million.
The Company focus has remained on the cash flow management and will be leveraging its strong balance sheet to support its client. It would be investing in its Altium 365 and digital sales platform.