Highlights

Eli Lilly and Company (NYSE: LLY) posted Q3 revenue of US$6.773 billion, up 18% YoY.


Novartis AG's (NYSE: NVS) net income rose 43% YoY to US$2.8 billion on net sales of US$13.0 billion.


LLY raises revenue forecast for 2021; NVS keeps guidance unchanged.
Health care companies Eli Lilly and Company (NYSE: LLY) and Novartis AG (NYSE: NVS) reported strong third-quarter revenue growth before the opening bell on Tuesday.
The Eli Lilly stock traded flat at US$245.05, while NVS stock traded at US$83.36, up around 1%, in the premarket after the results.
Third-quarter highlights:
Eli Lilly and Company
Eli Lilly reported revenue of US$6.773 billion, up 18%, compared to US$5.740 billion in Q3 of 2020. However, excluding Covid-19 vaccines, the revenue grew by 11% YoY.
Eli Lilly's gross margin grew by 21% YoY to US$5.342 billion in the third quarter due to a favorable mix of products and exchange rate effect on international inventory.
Its operating income was US$1.881 billion, accounting for 27.8% of the revenue, compared to US$1.278 billion in the same quarter of the previous year.
The operating income increased by 47% YoY, primarily due to higher revenue generation.
Also Read: Top 7 REITs with over 50% YTD returns to explore
Its net income was US$1.110 billion, or US$1.22 per share diluted, compared to a net income of US$1.208 billion, or EPS diluted of US$1.33, in Q3 of 2020.
On a non-GAAP basis, the EPS increased by 38% YoY to US$1.94.
Eli Lilly also has applied for the diabetes drug tirzepatide and Alzheimer's drug donanemab with the FDA for approval. Besides these drugs, the company is awaiting FDA approvals for Verzenio, Jardiance and lebrikizumab medicines.
Guidance for 2021
The company expects its earnings per share to be between US$6.38 and US$6.48 for 2021 on a reported basis and between US$7.95 and US$8.05 on a non-GAAP basis.
The 2021 revenue is expected to be between US$27.2 billion and US$27.6 billion, considering additional revenue from Covid-19 antibodies.
Eli Lilly's market capitalization is US$234.4 billion, and its P/E ratio is 36.74. The current dividend yield is 1.39%, and the annualized dividend is US$3.40. The Indiana-based firm develops drugs for cancer, diabetes, immunological diseases, etc.
The stock closed at US$245.05 on Oct 25, 2021.
Also Read: Six investment myths one should stop assuming about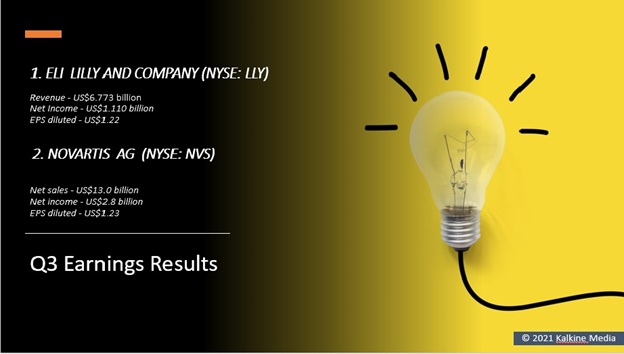 Also Read: Seven most anticipated IPOs this week
Novartis AG
Novartis posted net sales of US$13.0 billion, an increase of 6% YoY. Its Innovative Medicines segment sales grew by 8%, while its Sandoz segment sales declined by 1%.
NVS booked an operating income of US$ 3.2 billion, up 34% YoY. The net income was US$2.8 billion, up 43% YoY, while EPS rose by 45% to US$1.23 YoY.
Its net cash flow from operating activities was US$4.9 billion. The free cash flow was US$4.4 billion, an increase of 64% YoY due to higher operating income and lower payments.
Moody's Investors Service gave Novartis a long-term credit rating of A1, and S&P Global Ratings gave an AA rating as of Q3 2021.
Also Read: 7 hot S&P 500 companies that gave over 30% return in 3 months
Outlook for 2021
The guidance for 2021 remains unchanged. The anticipated group sales and core operating income to grow low to mid-single digit. The company expects Innovative Medicines sales to grow mid-single-digit and Sandoz sales to decline low to mid-single-digit.
Headquartered in Basel, Switzerland, Novartis manufactures healthcare products through its two segments: Innovative Medicines and Sandoz.
The company has a market capitalization of US$186.4 billion and a P/E ratio of 21.1. Its annualized dividend is US$2.079, and its dividend yield is 2.45%.
The stock closed at US$83.36 on Oct 25, 2021.
Also Read: 5 industrial stocks with over 40% YTD returns to explore
Bottomline
Eli Lilly is set to get a significant boost after FDA approval for its upcoming drugs. On the other hand, Novartis is expected to see strong growth in its Innovative Medicines segment. Furthermore, LLY stock generated 45.25% YTD growth, while NVS stock fell 10.65% YTD. By contrast, NYSE Composite Index gave an 18.43% return YTD.