Highlights

Total retail card spending increased 9.6% in November amid Black Friday promotions and the upcoming Christmas season.
Turners Automotive reported a 26% increase in its NPAT for H1 FY22.
Hallenstein will pay a final dividend of 24cps on 17 December 2021.
Stats NZ data released on Friday revealed that the total retail card spending increased 9.6% in November as compared to previous month with the durable goods industry accounting for the major spending.
The durable goods industry rose 22.9% in November compared to previous month. The industry includes furniture, hardware, electricals etc., which witnessed a rise in expenditure due to Black Friday sales in November end.
Business performance manager Ricky Ho stated that sales were spiked due to Black Friday promotional offers with Kiwis spending more amid the Christmas season and the easing of COVID-19 curbs.
Here's a look at how these 5 NZX retail stocks are performing.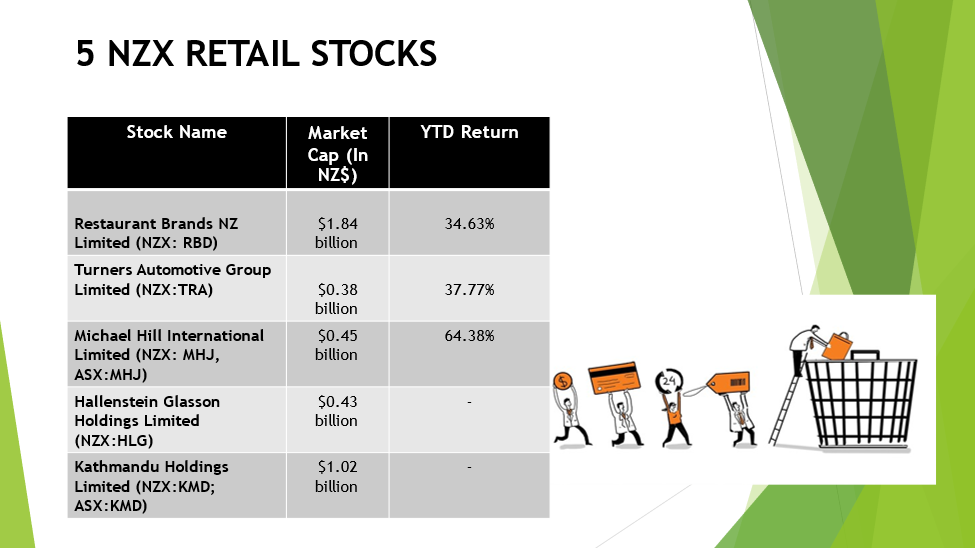 Image source: © 2021 Kalkine Media®, Data source- Refinitiv
Restaurant Brands NZ Limited (NZX: RBD)
Restaurant Brands' sales increased by 1.6 % to $243.6 million in Q3 compared to the same period in 2020.
ALSO READ: How are 4 NZX financial stocks faring on solid labour market?
The increase in sales was lower compared to last year due to the closure of outlets in NZ in August and September, and was compensated by extra two months of trading from its newly purchased California business.
RBD ended the day 0.13% in green to close at $15.22.
Turners Automotive Group Limited (NZX:TRA)
Turners Automotive reported a 26% increase in its NPAT to $16.9 million for H1 FY22 despite COVID-19-induced disruptions in Q2. This came due to continued gains in margin, market share and geographic diversification.
Related Read: Look at 5 NZX retail stocks amid a surge in Black Friday fake deals
The Group plans to surpass its net profit before a tax target of $45 million in FY24.
TRA ended the day flat to close at $4.48.
Michael Hill International Limited (NZX: MHJ, ASX:MHJ)
Michael Hill reported a 15.5% rise in same stores sales growth and margin increase for the 13 weeks ended 26 September 2021.
The negative effect of store closures on earnings was also reduced by initiatives like the focus on costs, margin improvement and strong digital as well as physical sales.
Michael announced a final dividend of A$3cps, taking total dividends to A$4.5cps for FY21.
MHJ ended the day flat to close at $1.21.
Hallenstein Glasson Holdings Limited (NZX:HLG)
HLG announced last month that it would pay a final dividend of 24cps on 17 December 2021. The move came as all stores began trading again across NZ and Australia.
Related Read: Hallenstein Glasson (NZX:HLG) published its full-year results
The Group had deferred the final dividend declaration until its stores were able to trade again.
HLG ended the day 0.42% in red to close at $7.07.
Kathmandu Holdings Limited (NZX:KMD; ASX:KMD)
Kathmandu Holding notified on 6 December that it had finalised a formal bid for the application procedure for external audit. The Group has taken the letter of resignation of PwC and has now hired KPMG for doing an external audit for FY22.
RELATED READ: Which are top 5 NZX retailers to explore ahead of 2022?
KMD ended the day 1.32% in red to close at $1.49.
Bottom Line
As COVID-19 restrictions eased, NZ's retail sector has begun to pick up but remains impacted due to supply chain issues and an uncertain environment amid new COVID-19 variants affecting the world.
(NOTE: Currency is reported in NZ Dollar unless stated otherwise)