Highlights

NZ's filled job numbers rose 1.8% in the September quarter compared to the June quarter.
Geneva Finance will pay its interim dividend on 21 December.
Barramundi's net asset worth stood at $0.8474 on 8 December 2021.
The latest statistics from Stats NZ revealed that the average number of filled jobs had reached 2.14 million in the September quarter, up 1.8% compared to previous quarter. The major rise in filled job numbers came from the healthcare and social assistance industry, up 2.5% in the September quarter compared to previous quarter.
Employment indicators manager Sue Chapman stated that since employees were kept on the payroll, the COVID-19 wage subsidy stifled the lockdown impact on job numbers in the quarter.
On this note, let's have a look at how these 3 financial stocks are performing.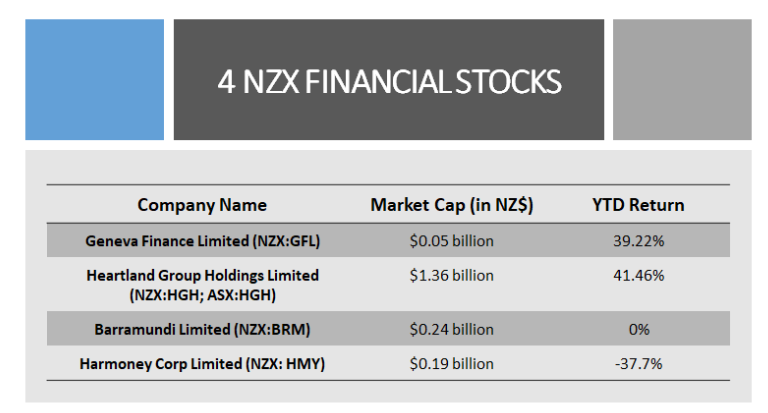 Image source: © 2021 Kalkine Media®, Data source- Refinitiv
Geneva Finance Limited (NZX:GFL)
Geneva Finance gives financial services to consumer credit markets.
Geneve Finance had a pre-tax profit of $4 million for H1 of FY22, up 22% on pcp. The Group did well in the first four months of the period, but after the August lockdown, the impetus was lost.
RELATED READ: 2 NZ banks that can be explored amid improving youth employment rate
GFL will pay an interim dividend of 1.25cps on 21 December. GFL remains dedicated to increasing profit margins and shareholder value.
On 10 December, at the time of writing, GFL was trading at $0.69, down 2.82%.
Heartland Group Holdings Limited (NZX:HGH; ASX:HGH)
Heartland provided a performance rights update to some of its employees on 1 November. These rights are a part of its FY22 performance rights strategy.
HGH expects a profit between $93 million and $96 million in the year ahead.
On 10 December, at the time of writing, HGH was trading at $2.32.
Barramundi Limited (NZX:BRM)
Barramundi is an investment firm that invests in growing Australian firms. On 22 November, Barramundi declared a quarterly dividend of 1.81cps, which will be paid on 17 December 2021.
DO READ: 2 NZ insurance companies that can be followed ahead of 2022
The Group's net asset worth was $0.8474 on 8 December 2021, with the five largest portfolio holdings being CSL, Carsales.com, Wistech, CBA and Seek.
On 10 December, at the time of writing, BRM was trading at $0.99, up 2.06%.
Harmoney Corp Limited (NZX: HMY)
Harmoney Corporation is the biggest online personal lender across Australia and NZ.
Under its employee share programme, it announced that it would be obligated to get the transfer of shares in HMY, from time to time, for employees' benefits. To aid employees financially, the Company will cover the acquisition price of shares.
ALSO READ: Which are 5 NZX financial stocks to explore before 2021 ends?
HMY spent $201,917.33 for the on-market acquisition of shares, while financial assistance was provided for 109,800 shares.
On 10 December, at the time of writing, HMY was trading flat at $1.9.
Bottom Line
NZ's financial sector has relatively stayed resilient to COVID-19 and is well placed to support the economy in case conditions worsen.
(NOTE: Currency is reported in NZ Dollar unless stated otherwise)