Highlights

The new Hira programme for the NZ health data can transform the people's understanding of healthcare.
Pacific Edge on 9 December inked a deal with Australian-based Northern Health.
TruScreen summarised its progress in its key target markets.
The new Hira programme, coordinated by the Ministry of Health in collaboration with other providers, can transform the healthcare experience altogether, as per New Zealand Health Information Technology (NZHIT) chief executive Ryl Jensen.
Hira will bring people's health information including a person's medicine, lab tests, vaccinations, and demographic information, in one place.
NZ's Health Minister Andrew Little announced on Thursday that the NZ government would improve 24 local hospitals in 2022 to support routine care and ensure the safety of non-COVID-19 patients when COVID-19 patients are treated.
Let's take a look at how these 5 NZX healthcare stocks are doing as 2021 is set to end.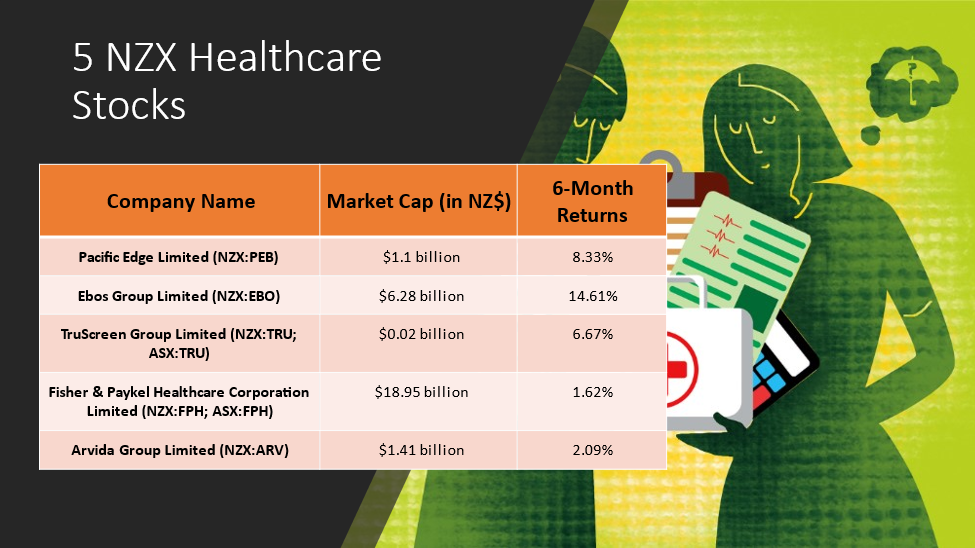 Image source: © 2021 Kalkine Media®, Data source- Refinitiv
Pacific Edge Limited (NZX:PEB)
Pacific Edge on 9 December inked a deal with Australia-based Northern Health. Northern Health's urologists will make use of Cxbladder Monitor for handling the patients who are under surveillance after the treatment of their bladder cancer.
RELATED READ: Pacific (NZX:PEB): The Company strikes a deal with Northern Health
The service will be expanded to use Cxbladder Triage for the assessment of patients referred to urology for the examination of haematuria.
PEB ended the day 5.8% in red to close at $1.3.
Ebos Group Limited (NZX:EBO)
Ebos Group announced the opening of a retail offer to raise up to $105 million with the ability to accept oversubscription at the Company's discretion. EBOS is also undertaking nearly $674 million placement of new shares to partially finance LifeHealthcare's acquisition.
EBO ended the day 2.3% in red to close at $37.42.
TruScreen Group Limited (NZX:TRU; ASX:TRU)
TruScreen summarised the Company's growth in many key target markets and would replace cytology at the leading hospital in Vietnam.
RELATED READ: Which are the top 5 NZX healthcare stocks of 2021?
While the Group's Russian supplier continues to raise awareness of TRU's technology throughout the Russian Federation, its Mexico distributor has collaborated with a local medical device financing firm to take cervical cancer screening devices to a 3K client base of private and public hospitals.
TRU ended the day 1.23% in red to close at $0.08.
Fisher & Paykel Healthcare Corporation Limited (NZX:FPH; ASX:FPH)
Fisher witnessed a successful first half of FY22, with operational sales of $900 million and a net profit of $222 million.
FPH paid an interim dividend of 17cps on 15 December and plans to spend roughly $700 million on land and buildings over the next five years.
FPH ended the day 1.57% in red to close at $31.27.
Arvida Group Limited (NZX:ARV)
Arvida Group confirmed that its 3 Rangiora located RVs had been sold on 9 December.
RELATED READ: How are NZX retirement villages stocks doing in December 2021?
The sale of Bainswood House, Bainswood on Victoria and Bainlea House reduced Arvida's portfolio by 14 serviced apartments, 109 care beds and 4 villas.
ARV ended the day flat to close at $1.95.
Bottom Line
The NZ government has been making a substantial investment in the country's health infrastructure to improve healthcare facilities in the country.
(NOTE: Currency is reported in NZ Dollar unless stated otherwise)