Highlights

The NZ Govt announces a contract with Microsoft to get enhancements in cybersecurity protection.
Fisher & Paykel Healthcare Corporation to pay an interim dividend of 17 cps this week.
Oceania Healthcare discloses its dividend reinvestment plan payable this month.
New Zealand boasts a robust healthcare network comprising world-class and trusted healthcare facilities.
It is noted that the nation's public hospitals are free of charge and do not put a burden of charges on patients, and the country's government keeps a strict check on prices and access to care to keep control over the costs.
In 2020, the island nation ranked 20th among various others in the World Index of Healthcare Innovation.
As per the latest reports, the NZ Government has entered into a deal with Microsoft to get more cybersecurity tools to enhance the nation's health and disability system for NZ$45 million yearly.
The said deal would also provide the newly established healthcare firms with IT and related software services.
With this backdrop, let us walk through the five most prominent healthcare stocks on the NZX.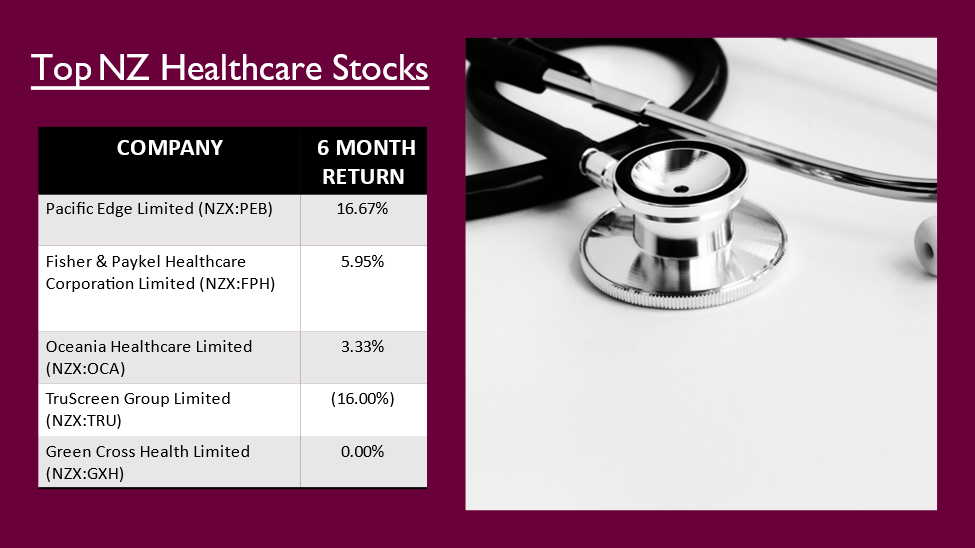 Source: © 2021 Kalkine Media® data source- Refinitiv
Pacific Edge Limited (NZX:PEB; ASX:PEB)
Pacific Edge Limited focuses on the growing cancer diagnostic market. A few days ago, the Company entered into a commercial agreement with Northern Health, Australia's leading provider of healthcare and hospital services.
Related Read: Pacific (NZX:PEB): The Company strikes a deal with Northern Health
The urologists at Northern Health will use Cxbladder Monitor to examine its patients, thus expanding the market base of PEB.
Further, Pacific Edge is constantly working with numerous healthcare organisations and is focused on converting them into commercial agreements.
On 15 December, at the time of writing, Pacific Edge was down by 1.47% at NZ$1.340.
Fisher & Paykel Healthcare Corporation Limited (NZX:FPH; ASX:FPH)
Fisher & Paykel Healthcare Corporation Limited is a globally acclaimed designer of respiratory care products. The Company posted a strong H1 FY22 performance, with operating revenue clocking NZ$900 million and NPAT being recorded at NZ$222 million.
Interesting Read: Fisher & Paykel (NZX:FPH): What is its latest product launch all about?
It would pay an interim dividend of 17 cps on 15 December and has announced investing nearly NZ$700 million in land and buildings over the next five years.
On 15 December, at the time of writing, Fisher & Paykel Healthcare Corporation declined by 1.89% at NZ$32.18.
Oceania Healthcare Limited (NZX:OCA; ASX:OCA)
One of the leading operators of rest homes and hospitals across the country is Oceania Healthcare Limited. Recently, the Company revealed the strike price for its Dividend Reinvestment Plan, which has been fixed at NZ$1.2837 per share.
The said DRP would be applicable on the payment of dividend, the date of which is 20 December.
It is noted that those OCA shareholders who have agreed to participate in the said plan will receive shares instead of cash dividend payments.
On 15 December, at the time of writing, Oceania Healthcare was trading down by 2.17% at NZ$1.35.
Do Read: How are NZX retirement villages stocks doing in December 2021?
TruScreen Group Limited (NZX:TRU; ASX:TRU)
TruScreen Group Limited has recently posted a strong half-year performance for the period ended 30 September 2021.
Related Read: Which 5 NZX stocks are the top penny players of 2021?
It witnessed a 25% growth in its revenue on a year-on-year basis. Also, its Single Use Sensor, i.e. SUS unit sales, too rose by 35% YOY.
Further, TruScreen Group continued to widen its reach into the Chinese market and also made access throughout Central and Eastern Europe.
The Group is looking positive for FY22 and is concentrating on continuous product improvements and rapid growth in key markets.
On 15 December, at the time of writing, TruScreen Group was trading up by 5.13% at NZ$0.082.
https://www.nzx.com/announcements/383762
Green Cross Health Limited (NZX:GXH)
Green Cross Health Limited focuses on offering primary health care services throughout the country. A few days ago, the Company disclosed the appointment of General Manager – Access Community Health, Androulla Kotrotsos.
Must Read: Green Cross (NZX:GXH) reports a robust six-month profit of NZ$9.7 million
Androulla would start her role from 15 December onwards.
On 15 December, at the time of writing, Green Cross Health was trading up by 2.63% at NZ$1.17.
Bottom Line
COVID-19 has hit all segments of the economy, even affecting the healthcare sector. However, the sector remained resilient and adapted quickly to the changing environment and needs.