On 11th May 2021, broader market continued to slide as significant selling was witnessed in Consumer Staples and Information Technology stocks, among others. NZX 50 fell by 0.16% to 12,639.19 and NZX 20 declined by 0.05% to 8,108.72. In line with this, NZX All Consumer Staples Index fell 4.57%.
Data Source: NZX, Table Source: Copyright © 2021 Kalkine Media
MidCap and SmallCap Outperformed Broader Market:
NZX 50 Index managed to close at 12,639.19, reflecting ~17.46% growth in 1 year. Also, MidCap Index and SmallCap Index claimed the levels of 6,280.76 and 21,777.91 points, respectively. Therefore, it could be mentioned that the Smallcap Index and Midcap Index have performed better than the broader market (NZX 50 Index).
S&P/NZX 50 Index vs SmallCap Index vs MidCap Index – One Year Return

Source: Refinitiv (Thomson Reuters)
Gainers and Losers:
On 11th May 2021, Meridian Energy Limited (NZX: MEL) released an investor presentation. With regards to retail, the company stated that profitable growth is being backed by volume as well as margin management. Notably, improved financial performance continued amidst higher competition as well as pressure on the retail margins.
On 10th May 2021, NZX Operations made an announcement that the final quotation date for Auckland International Airport Limited (NZX: AIA) bonds series (AIA130) would be 28th May 2021. Notably, the final day of trading in AIA130 would be 14th May 2021 prior to the bonds being suspended at the close of business.
JPMorgan Global Growth & Income plc (NZX: JPG) made an announcement that the indicative gearing ratio as of 7th May 2021 stood at 5.0%.
The a2 Milk Company Limited (NZX: ATM) announced that Morgan Stanley and its subsidiaries have ceased to become the substantial holder, with the current percentage held being 4.916%.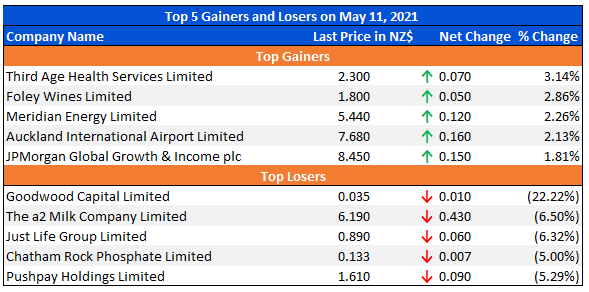 Data Source: NZX, Table Source: Copyright © 2021 Kalkine Media
Movements on Wall Street:
On 10th May 2021, NASDAQ Composite declined by 2.55% to 13,401.86. However, Dow Jones Industrial Average fell by 0.10% to 34,742.82.