Highlights

In the run up to the snap poll, Trudeau proposed raising corporate tax on Canadian banks and insurance companies
The S&P/TSX Composite Index (Banks) has given negative quarter-to-date (QTD) return
Snap election's result that produces yet-another Liberal minority government might compel Trudeau to rethink some of this proposals
How much did the Canadian snap election 2021 cost taxpayers? News agencies are citing the C$600-million figure. The point is that the costly mid-pandemic election could have been justifiable had the House of Commons moved toward a majority government.
But over a month in campaigning that saw Trudeau's approval rating going south, and the Canadians are now yet-again with a minority government. Does this mean that the Prime Minister might find pushing his agenda difficult? Trudeau sought an earlier-than-scheduled election to bring legislative reforms that could have, according to the Liberals, limited the COVID-19 blow to the economy.
Among his most debated pledge during the election campaign was raising taxes on Canadian banks.
Will the snap election result compel Trudeau to maintain status quo on such aspects, or will he still bring his pledged big-ticket reforms?
Also read: Canada snap election 2021: A quick roundup of all the key highlights
Trudeau's bank tax proposal
Analysts believe tax hike on banks is a complex thing. Canadian banks may have raked in more profits during the pandemic but levying more taxes on them can lead to higher borrowing costs. Trudeau's bank tax proposal envisages hiking rate from 15 per cent to 18 per cent on revenue over C$1 billion. The hiked corporate tax would apply to both banks and insurance companies. The Liberals say it can generate C$2.5 billion a year in government revenue over four years.
The S&P/TSX Composite Index (Banks) hit peak of 4,198.91 on August 25, 2021, which was followed by tax pledge of Trudeau later in the day. As of September 21, the index is at 3,991.92. The 1-year return is high, nearly 39 per cent, but the quarter-to-date (QTD) return is in the negative territory.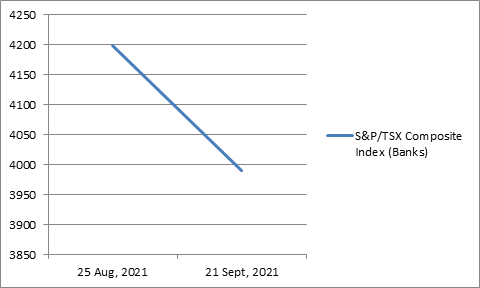 Data source: S&P Global
Trudeau's tax proposal will now be one of the major talking points, but a yet-again minority in snap polls might compel him to re-think on big-ticket tax reforms.
Also read: Canada snap election 2021: How a Liberal win could impact stock markets
Ambitious climate change targets
The other key area of reforms is climate. The ambitious climate change law mandates cutting emissions by 40 to 45 per cent below emission levels in 2005. Achieving this means adoption of greener alternatives to dirty fuels. Industry players producing green and sustainable products want to outshine their fossil fuel counterparts, but any major blow to the latter may cost Canada jobs and revenue in the near-to-medium term.
The next federal budget will bring more clarity to most of the poll pledges of the Liberal party. Trudeau will move ahead with the baggage of C$600 million snap election bill that pinches more at a time when government's revenues are subdued.
Also read: What to consider when creating post-snap election portfolio in Canada
Bottom line
Trudeau's agenda, from tax reforms to ambitious climate change pledge, is not easy for him to implement in the wake of snap election results. His economic policy actions will shape the Canadian stock market, and particularly stocks like banking and oil and gas.