Highlights

Sales volume and prices were down in July 2021 as per CREA
Political parties are promising new measures in their campaign to make houses affordable
In June 2021, the federal government made stress tests for mortgage tougher
Canada's housing market is being closely watched by many. The market is undergoing a buying frenzy amid the pandemic.
Let's find out more about the current numbers of the real estate market, measures being taken and promised at various levels to limit the impact of rising prices, and investment opportunities in a couple of real estate stocks.
Photo source: Pixabay
Data on house price and sales volume
According to the Canadian Real Estate Association (CREA), the average price peaked to C$716,828 in March 2021. In the following months, the price has dropped. In July, it was C$662,000. Alongside the price, sales volume is also down. July was the fourth consecutive month of negative growth in sales volume.
On a year-on-year basis, July sales dropped 15 per cent. As per CREA, the average price change was in the negative territory in the provinces of British Columbia and Ontario between March and July 2021. In Quebec and three other provinces, average price growth was in positive territory during the same period.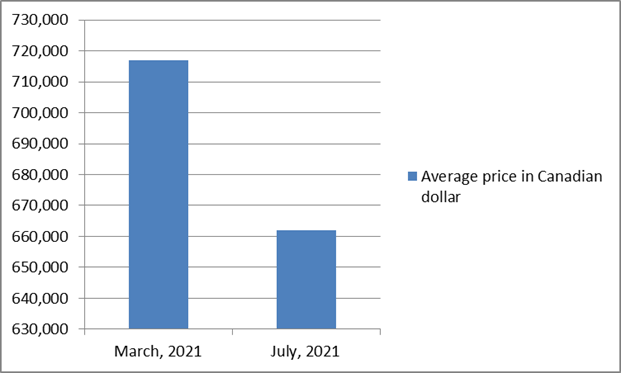 Data source: Canadian Real Estate Association
Image source: Copyright © 2021 Kalkine Media
On an annual basis, the average price of a Canadian house is still up. CREA's House Price Index (HPI) is up 22 per cent in one year to July 2021.
Also read: How are low interest rates helping Canada & US?
That was about house prices. Let's now look at how rental rates are shaping up.
Rental rates have recently climbed
In the August Rental Report by Rentals.ca, data suggested the average rent of listed properties on the website was C$1,752 per month for July 2021. The rent is down 1.1 per cent on an annual basis.
On a monthly basis, it grew by 1.8 per cent. Data also revealed that average rent increased for a third straight month in July 2021.
The year-on-year increase in rent in cities like Vancouver and Victoria in British Columbia, and Oshawa and Guelph in Ontario is in double digits. On the contrary, rental rates are down nearly nine per cent in some cities like Toronto and Mississauga.
Housing market becomes an election issue
Prime Minister Justin Trudeau, who has called a snap election in September to solidify his grip over power, has lately called out the "instability" in the housing market. He is in favor of the government intervening in the sector to make owning a house affordable. To further this, Trudeau has announced new government funding as part of his "unlock home ownership" project.
He has promised that in the event of a Liberal win in the snap election, a new policy will be introduced to help young Canadians. It will feature a home savings account for people below 40 years of age. They can save a maximum of C$40,000 to purchase their first home. These savings will not attract any tax levy.
Additionally, Trudeau has promised that his government will hike the first-time home buyers tax credit by 100 per cent. In order to make mortgages affordable, he has promised to bring mortgage insurance rates down by 25 per cent.
Also read: Canada snap election 2021: How a Liberal win could impact stock markets
Aside from addressing these demand-side constraints, Trudeau promised a slew of supply-side measures. In case Liberals are re-elected to power, the government will build and repair 1.4 million homes over the course of four years. A pool of C$4 billion would be built to help cities extend benefits to middle-class buyers.
The Conservative Party had previously said it will restrict foreign buyers from tapping into the Canadian housing sector for two years, if elected. In a similar promise, Trudeau has promised to prevent speculation in the market by banning foreign ownership.
He is also in favor of extending the tax on non-resident-owned vacant houses. The measure was first announced in the Federal Budget 2021.
Also read: Canada snap election 2021: How a Tory win could impact stock markets
In June 2021, the federal government had made stress test levels tougher for mortgages. Stress tests were first implemented in 2017 to raise the bar for applicants of mortgage loans. In terms of mortgage rates, it made no difference. Stress tests mean that the borrower must be able to demonstrate repaying capacity.
Real estate stocks on TSX
Let's also look at a couple of real estate stocks that may be worth investing in at a time when the market is still high as compared with last year.
InterRent Real Estate Investment Trust (TSX:IIP.UN)
The company acquires older properties for the purpose of renovating and re-letting. Revenues are earned from rents from tenants.
InterRent has a market cap of nearly C$2.4 billion. It also pays dividends to shareholders with a monthly payout frequency.
In the first quarter of 2021, the company announced an increase of 11.8 per cent in funds from operations (FFO) on a yearly basis. The average rent for a suite was up 4.3 per cent in March 2021 as compared with March 2020.
First Capital Real Estate Investment Trust (TSX:FCR.UN)
First Capital is a developer of mixed-use real estate in Canada's urban regions. The company has a market cap of nearly C$3.9 billion. First Capital is also a dividend-paying stock with a monthly payout frequency.
The company has reported that its FFO surged by C$0.13 per unit in the second quarter of 2021 as compared with the corresponding period last year. The company invested C$41.7 million in acquiring and developing properties in Toronto's urban parts in Q2 2021.
Bottom line
The Canadian housing market has cooled off in the recent few months. Both the average price and number of units sold were down in July 2021, according to CREA. Some experts have also predicted a slowdown in the market, which could weigh down on its growth through the rest of the year.
The government introduced tougher stress tests in June and borrowers must now prove their repaying capacity.
The market has also become an issue in the upcoming snap election. Both Liberal and Conservative parties have promised a slew of measures that they intend to undertake if voted to power.
Meanwhile, a couple of real estate stocks listed on the TSX could be an investment option to explore.