Summary

2020 was marked by multiple blows to the insurance industry, including floods, bushfires, and the COVID-10 pandemic.
While 2021 was seen as the year of recovery, the industry faces multiple challenges such as the ongoing pandemic and expected rise in regulatory costs.
However, insurance technology players and life insurance companies have had a limited impact this year and continue to perform well.
Ensurance Ltd, AUB Group, and Suncorp Group are some insurance players who have done well this year, delivering impressive YTD returns.
While 2020 marked a torrid period for the insurance sector with multiple headwinds such as COVID-19, floods, and bushfires, 2021 has not yet seen a full recovery. The ongoing pandemic, coupled with anticipated increase in compliance and regulatory costs, poses a threat for the sector.
On the bright side, quite a few players have done well despite the tricky scenario. For example, insurance technology players have shown resilience while life insurers have highlighted that the pandemic has had a limited impact on their overall performance.
This year, many ASX-listed players from the insurance sector have generated double-digit YTD growth. This article will walk you through three such players that have delivered returns of over 20% in 2021.
Source: ASX (As of 4 August 2021)
Ensurance Ltd (ASX:ENA)
Ensurance Ltd, an ASX-listed insurance underwriting agency with operations in the UK, has delivered an impressive YTD return of 62.5% (as of 4 August).
On 27 July 2021, the Company updated on its operational & corporate activity for June 2021 quarter. During the period, Ensurance achieved a major milestone of generating its first annual profit in its fourth financial year since incorporation, with over AU$185,000 of profit.
ENA announces annual profit for the first time (Copyright © 2021 Kalkine Media)
Other highlights include:
AUB Group Limited (ASX:AUB)
AUB Group focuses on insurance broking, underwriting agency, and risk management businesses. In 2021, AUB shares have delivered a return of ~43.5% in 2021.
On 22 July 2021, the Company announced the changes made in its Board of Directors. The Company appointed Peter Harmer as a Non-Executive Director. Ray Carless would retire from his position on 31 August 2021.
In Macquarie Conference presentation, AUB reported solid performance delivered in Q3 FY2021 regarding revenue and margin.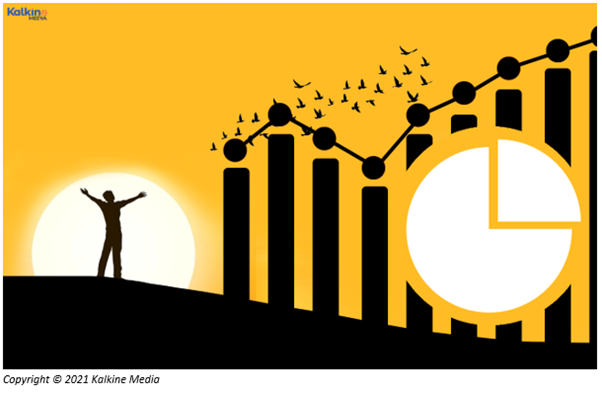 Austbrokers performed strongly in Q3 and continues in the period ahead. The Q3 performance was driven by an increase in premium rate by 5.9%, impressive premium growth in BizCover, satisfying performance throughout the Austbrokers network, take-up of ExpressCover etc.
FY2021 Strategic priorities
Suncorp Group Limited (ASX:SUN)
Suncorp Group Limited, the provider of banking, insurance, wealth, and other financial solutions to the retail, corporate and commercial sectors, has delivered a YTD growth of over 20%.
On 02 July 2021, the Company updated on:
Sale of its 50% interest in RACT Insurance
Suncorp Group signed a binding deal to sell its 50% JV interest in RACT Insurance Pty Ltd to the Royal Automobile Club of Tasmania Ltd for AU$83.75 million via cash proceeds and indicates a P/E multiple of 18.1x as per anticipated FY2021 earnings.
Pre-tax profit on sale is likely to range in between AU$65 to AU$70 million. With the profit on sale, the total capital release is likely to be around AU$50 million.
FY22 Reinsurance Placement
SUN placed its FY2022 reinsurance program effectively. The Company highlighted that the structure of the main catastrophe program would remain unaffected from FY2021, with the upper limit of AU$6.5 billion, which covers Home, Motor and Commercial property portfolios across ANZ. The Group's highest event retention stays at AU$250 million.
Pay and leave entitlements review
SUN completed the overall evaluation as a component of the thorough review into pay & leave entitlements in Australia. It highlighted in its announcement that the remediation payments to any existing and ex-employees found by the evaluation would start from July 2021 and continue for several months.
INTERESTING READ: