Summary

Zenith Minerals has made strategic moves for its Earaheedy and Split Rocks projects, expected to generate significant value at the highly prospective landholdings.
Having secured seven new exploration licences, the company has increased its rights to ~200km of strike of zinc prospective acreage within the Earaheedy Basin.
A 30,000m drill program is progressing across the Earaheedy joint venture zinc discovery, expected to define more mineralisation.
Recent months have been quite eventful for Zenith Minerals Limited (ASX:ZNC), which is focused on advancing developments across its project portfolio in the world-class Australian mining jurisdictions.
Latest in the series is the addition of seven fully owned exploration licences surrounding the Earaheedy Joint Venture (EJV) Zinc discovery within the Earaheedy Basin, Western Australia.
Moreover, ZNC has transferred the rights for exploration, development, and processing of scandium, nickel, and cobalt at the Split Rocks Project in Western Australia to American Rare Earths (ASX:ARR).
PREVIOUS UPDATE: Zenith Minerals gets a boost from positive results at Earaheedy zinc project
Seven new ELAs in Earaheedy Basin
In the JV, ZNC holds a 25% interest while Rumble Resources, which is the project manager, has a 75% interest. The exploration lease (E69/3464) appears to extend over 45 lineal kms of the prospective zinc host rock sequence.
The seven exploration licence applications (ELAs) totalling around 150 lineal kms of a prospective zinc host rock sequence in the basin lie along the highly prospective Frere Formation – Yelma Formation contact. With these licences, ZNC now holds the rights to ~200km of strike of zinc prospective acreage.
ZNC selected these licences considering its prior experience and existing geological, drilling and geochemical datasets.
ZNC landholdings in the Earaheedy Basin (Source: ZNC Announcement 10/06/2021)
INTERESTING READ: A Sneak Peek at Zenith Minerals' (ASX: ZNC) New Gold Project in NSW
EJV - The key focal point for exploration
The EJV zinc discovery is interpreted to be large scale, with the upper portions drilled to date being shallow, covering a projected surface area of around 2km by 1.2km.
For the upcoming six months, the project remains the key target for exploration activity. Currently, a 30,000m reverse circulation and diamond drill program is in progress at the project location.
The program, which signifies a 10-fold increase in drilling activity on the project, has the ability to define more mineralisation on the JV property, thereby adding significant value to the existing business, said ZNC Chairman Peter Bird.
The program is targeted to achieve multiple objectives of twinning the significant mineralisation across holes, scoping on 500m line spacings, and testing the prospective high-grade Zn-Pb corridors.
Additionally, the recent technical work has indicated a SEDEX-style zinc dominant deposit, supporting the current exploration evaluation of the EJV. It is also expected to assist with the newly acquired ZNC licences.
Recently reported drill results have highlighted widespread zinc and lead mineralisation over a surface area of 2km x 1.2km, with the following results: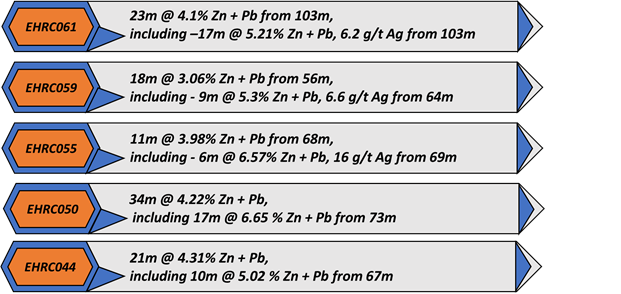 Source: ZNC Announcement 10/06/2021
IMPORTANT UPDATE: Zenith Minerals Updates on Major Drilling Campaign at Earaheedy Zinc-Lead JV Project
Transfer of scandium mineral rights at Split Rocks Project
In another key development, ZNC's scandium mineral rights at its Split Rocks Project have been transferred to American Rare Earths (ASX:ARR).
ZNC, ARR and other related parties had recently inked a Binding Term Sheet Scandium – Mineral Rights Option for the transfer of the rights to ARR. As per the term sheet, ZNC agreed to grant ARR an exclusive option to acquire scandium minerals to a depth of up to 50m from surface within a part of its Split Rocks Project.
Currently, ZNC is engaged in compiling and providing all related geological data to ARR. The data will further be compiled, assessed, and processed by ARR to determine the next steps of development.
VIDEO INTERVIEW: Expert Talks With Kalkine || Mr Peter Bird, Executive Chairman of Zenith Minerals
The upbeat announcements pushed ZNC stock higher by 4.255% at 12:36 PM AEST, as the stock was trading at AU$0.245 on 10 June 2021.