Highlights

There is a need to change the existing methods of building and maintaining infrastructure.
EarlyBirds can help businesses in the construction industry benefit from the opportunities provided by the circular economy.
EarlyBirds believes that it is an ideal partner for construction and infrastructure industry businesses to work with.
The World Business Council for Sustainable Development states that around 40% of greenhouse gas emissions globally are contributed by the construction sector. Therefore, there is a great need to radically alter the existing methods of construction and maintaining infrastructure.
This is important in light of the forecast by the Global Alliance on Circular Economy and Resource Efficiency, which states that around half of the world's urban development that is anticipated to be in place by 2050 is not even built yet.
© 2022 Kalkine Media® | Data Source: EarlyBirds | Image Source: © Tund | Megapixl.com
EarlyBirds – an Australian innovation business that monitors and curates innovator organisations that are working on novel technological solutions to solve various business and technical challenges – believes that adopting circular economy approaches in construction is one way to reduce the adverse environmental impact of the construction industry.
Adopting circular economy approaches
A circular economy is a system intended and designed for restoration or recycling of existing materials. For the construction industry, this means utilising fewer raw materials, smart modular designs, and recycling end-of-life modules resulting from the smart designs.
According to EarlyBirds, there are various ways in which it can facilitate construction companies to innovate to achieve zero-waste and zero-emission delivery.
The company is helping the construction industry take advantage of the opportunities offered by the circular economy by connecting significant businesses in construction with innovative companies that have made headway in simplifying various aspects of the industry.
Moreover, the company believes that it is an ideal partner for businesses in the construction and infrastructure space because through EarlyBirds they can gain access to global innovations that are aimed at creating an impact on this sector.
For this purpose, EarlyBirds strategically maps the specific sectors or technology themes that its early-adopter clients need to better understand to enhance their business. As per EarlyBirds, this helps a lot in scenario planning, learning about the trends, finding solutions for challenges, identifying partners, etc.
Challenges to adopting circular production
EarlyBirds believes that some challenges exist to adopting circular production and recycling methods in the construction industry.
© 2022 Kalkine Media® | Data Source: EarlyBirds | Image Source: © Viteethumb | Megapixl.com
EarlyBirds offerings
The EarlyBirds open innovation ecosystem platform includes more than four million innovators and has a variety of capabilities. These capabilities facilitate searching for and empowering innovation projects and modern workflow pipelines.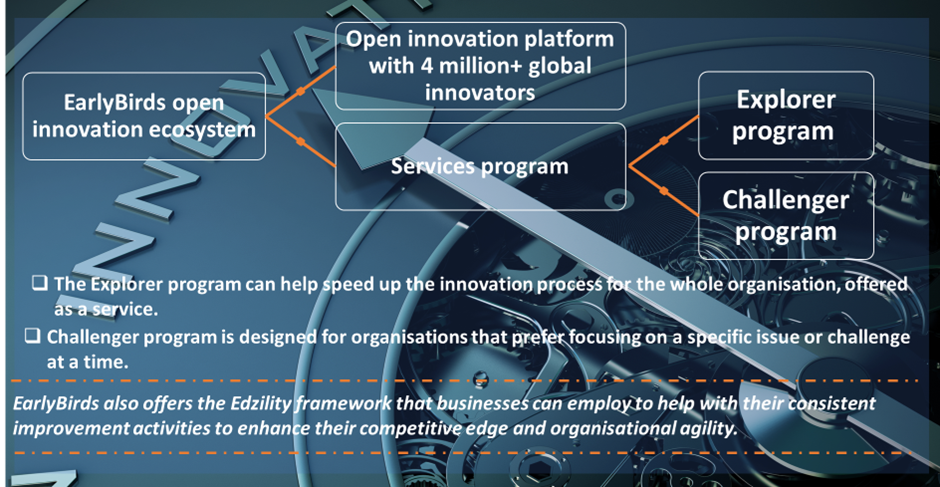 Source: © 2022 Kalkine Media®| Data Source: EarlyBirds| Image Source: © Alphaspirit | Megapixl.com
Besides this, EarlyBirds also offers the Explorer program, which the company refers to as 'innovation as a service'. This program helps industry players tap into the innovations of the ecosystem to bolster their processes over a given time.
Another program offered by EarlyBirds is Challenger, which is helpful for businesses facing certain technical or business challenges that are hindering their progress. Through Challenger, such businesses can obtain solutions that meet their complex business, technical, and commercial risk requirements.