Highlights:

WOLF stock soared over 28 per cent on Thursday morning.
The company posted its fourth quarter and fiscal 2022 earnings results on August 17, after the market close.
It reported a 42 per cent growth in its fiscal 2022 revenue.
Wolfspeed, Inc. (NYSE: WOLF) caught the attention of stock market enthusiasts on Thursday, August 18, as it surged over 28 per cent at the market open.

The WOLF stock appears to be gaining traction since August 17, after the electronics firm posted its fourth quarter and full fiscal 2022 earnings results. In addition, it also provided guidance for the ongoing quarter.
Before we discuss about the company in detail, let's find out why the stock is trending and how it performed in the fourth quarter of 2022.
WOLF's Q4 and fiscal 2022 earnings highlights:
The chipmaker posted a revenue of US$ 228.5 million in the fourth quarter of fiscal 2022, a significant jump from US$ 145.8 million in the year-ago quarter.
Wolfspeed's net income was US$ 32.4 million, or US$ 0.26 per share in Q4 FY22, against a loss of US$ 147.6 million or US$ 1.28 per share in Q4 FY21.
Talking about its full fiscal financial results, it reported net revenue of US$ 746.2 million, noting an increase of about 42 per cent from US$ 525.6 million in the year-ago period. Its net loss in fiscal 2022 also improved to US$ 200.9 million, or US$ 1.67 per share, from a loss of US$ 522.5 million or US$ 4.66 per share in fiscal 2021.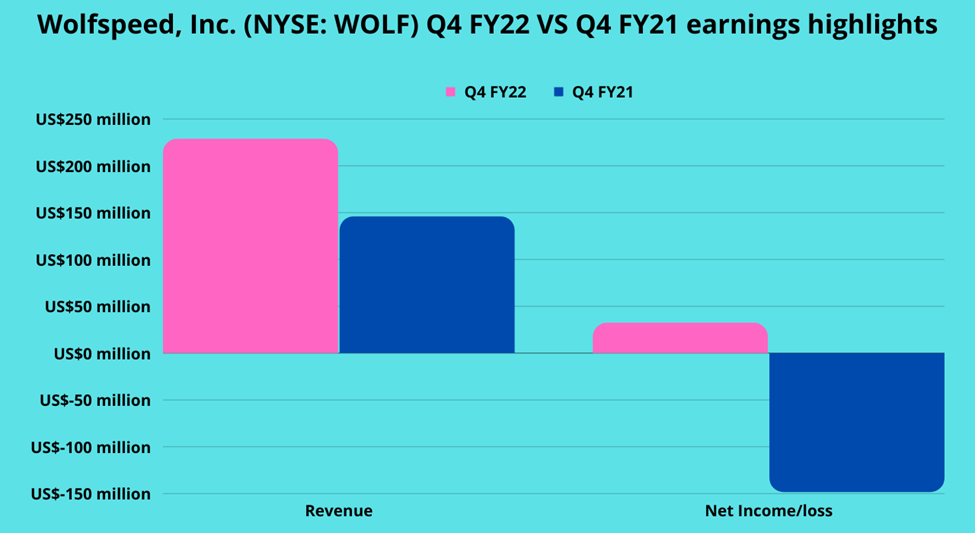 Source: ©Kalkine Media®; © Canva via Canva.com
Wolfspeed expects its revenue to be between US$ 232.5 million and US$ 247.5 million in Q1 FY23. Its GAAP net loss is expected to be in the range of US$ 14 million to US$ 21 million, or US$ 0.11 per diluted share to US$ 0.17 per diluted share in the first quarter of fiscal 2023.
Bottom line
The WOLF stock was priced at US$ 109.90 at 9:54 am ET on August 18, up 28.31 per cent from its previous closing price. Its trading volume was about 3.77 million at the time of drafting.
For the trailing 12 months, it returned over 38 per cent gains. However, on a year-to-date (YTD) basis, it lost nearly three per cent.
Despite the notable surge in its price, investors should also evaluate other factors before spending on the stocks. For instance, the current RSI of the WOLF stock is about 73, which suggests that the stock might be in an overbought condition.
Some analysts believe that RSI between 70 and 100 suggests that a stock is in an overbought condition.