Highlights

Raytheon Technologies Corporation's (NYSE: RTX) net sales surged 10% YoY in Q3, FY21.


Raytheon projected its annual net sales to be US$64.5 billion in fiscal 2021.


The 3M Company's (NYSE: MMM) net sales rose by 7.1% YoY in Q3, FY21.
Raytheon Technologies Corporation (NYSE: RTX) and 3M Company (NYSE: MMM) reported significant revenue growth in the third quarter on Tuesday.
RTX stock was down 0.73% to US$90.63, while MMM stock traded at US$181.44, down 0.53% at around 9:00 am ET from their previous close.
Here are the earnings highlights.

Also Read: Facebook (FB) misses Q3 revenue estimates, profit up 17%

Raytheon Technologies Corporation (NYSE: RTX)
Raytheon Technologies is an aerospace and defense company based in Waltham, Massachusetts. It offers services in the aerospace, intelligence, defense, and manufacturing sectors.
The company raised its profit forecast due to strong demand from the commercial aerospace industry. The firm's net sales were up around 10% YoY to US$16.21 billion in the third quarter of fiscal 2021, compared to US$14.74 billion in the year-ago period. Its net income came in at US$1.40 billion, or US$0.93 per share, versus US$151 million, or US$0.10 per share, in Q3, FY20.
Also Read: Facebook to fuel more unrest, lionized startup culture: Whistleblower
Raytheon's market cap is US$137.66 billion, with a P/E ratio and forward P/E one-year ratio of 63.4 and 22.66, respectively. Its EPS is US$1.44. The 52-week highest and lowest stock prices were US$92.32 and US$51.92, respectively. Its trading volume was 5,953,932 on October 25.
Raytheon raised its sales guidance for fiscal 2021 to US$64.5 billion from its previous range of US$64.4 billion to US$65.4 billion. Its fiscal 2021 adjusted EPS is expected to be between US$4.10 and US$4.20 from its earlier estimate of US$3.85 and US$4.00.
Also Read: Kimberly-Clark revenue up 7%, OTIS raises 2021 outlook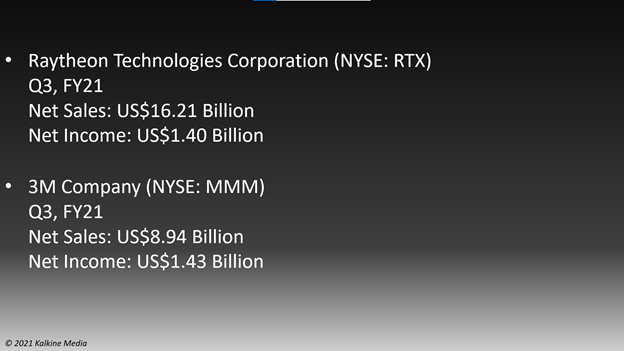 Also Read: Top artificial intelligence stocks to explore amid AI boom
3M Company (NYSE: MMM)
3M is a multinational company based in Saint Paul, Minnesota, and provides services in the industrial, worker safety, and healthcare sectors.
Its third-quarter earnings beat Wall Street estimates but lowered its profit guidance over supply-chain issues. The company's net sales increased by 7.1% YoY to US$8.94 billion in Q3, FY21.
Its operating income came in at US$1.78 billion, as compared to US$1.90 billion in the same quarter of the previous year.
Also Read: Seven most anticipated IPOs this week
3M's net attributable income was US$1.43 billion, or US$2.45 per diluted share, unchanged from the quarter ended on September 30, 2020.
Meanwhile, analysts expect the company's earnings to be US$2.20 per share, on net sales of US$8.67 billion, according to Refinitiv data.
3M expects its annual sales growth to be between 9% and 10% from its previous 7% and 10% forecast. It also estimates its EPS to be between US$9.70 and US$9.90 from its prior forecast of US$9.70 and US$10.10.
The market cap of the Minnesota-based firm is US$105.16 billion, the P/E ratio is 17.87, and the forward P/E one year is 18.67. Its EPS is US$10.17. In the last 52 weeks, the highest and the lowest prices were US$208.95 and US$156.13. On October 25, its share volume was 2,705,116.
Also Read: Top companies to watch for quarterly earnings this week
Bottomline
Both the stocks saw gains in recent months, driven by strong sales growth. The RTX stock grew by 33.42% YTD, while the MMM stock rose by 6.13% YTD, which underscored the improved business environment after the sector's widespread pandemic disruptions last year. For instance, the S&P 500 industrial sector surged 18.44% YTD while increasing 7.36% QTD.