Source: Vadi Fuoco, Shutterstock
Summary

Lockdown easing shall act as a catalyst for the oil & gas stocks in the near term.
Oil & Gas stocks have generated decent returns in the past one year.
Oil & Gas demand is expected to stay resilient in 2021.
The markets are on the path to recovery driven by mass inoculation programme to counter the spread of Covid-19. Similar rebound is evident in the oil markets. However, the companies are under pressure from governments and environmental activists to reduce carbon emissions across their portfolio.
The year 2020 was disastrous for the oil & gas industry as the crude hit an all-time low in April and most companies struggled to remain afloat amid difficult market conditions. Meanwhile, as most countries have eased the lockdown restrictions and travel bans, the demand for oil is improving. This shall benefit the oil companies in the near term as oil demand is expected to recover sharply in 2021.
The Bank of England in its recent announcement has kept the key lending rates unchanged at 0.1 per cent (near zero). The investors are regaining their lost confidence in the stock markets and looking for appropriate investing opportunities at a time when the risk-free assets and British treasury are not offering much income.
Also read: 5 LSE-Listed UK Energy Stocks in Focus
In this article, we would put our lens through best oil & gas companies that offer strong dividends and have the potential to transition to sustainable development, which is the need of the hour. Notably, smart investors are prioritising sustainable businesses over the conventional businesses.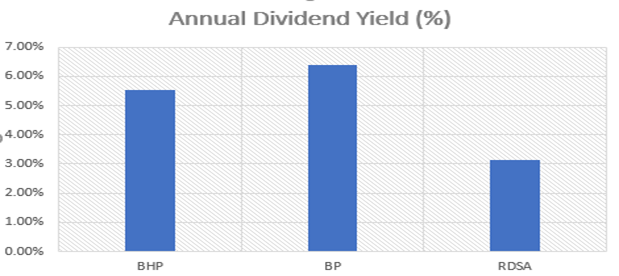 (Data Source: LSE) Copyright © 2021 Kalkine Media Pty Ltd.
BHP Group Plc (LON: BHP)
Footsie-listed BHP Group is engaged in the business of extraction and production of oil & gas along with other minerals.
The UK-based resource company remains confident regarding its long-term prospects and expecting a solid long-term economic recovery and a boost in commodity demand. BHP has a diversified asset portfolio and global geographical presence, which had enabled the company to sustain itself amid several operational headwinds caused by the Covid-19 pandemic. Overall, BHP has delivered consistent cash generation and regular dividend payments.
Notably, BHP is using technologies like cloud computing and smart analytics for better decision making. The FTSE 100-listed oil & gas company's profit from operations increased by 17% Y-o-Y, underlying attributable profit surged by 16% Y-o-Y, along with a stronger underlying EBITDA margin of 59% in H1 FY21. During the period, the Board has declared a record half-year dividend of US$1.01 per share. In the last one year, BHP shares delivered a return of 87%.
Copyright © 2021 Kalkine Media Pty Ltd.
BP Plc (LON: BP.)
FTSE 100-listed oil & gas major BP Plc is a well-diversified energy company. The shares are offering a lucrative dividend yield of 9.01 per cent, with a minimum 10-years track record of consistent dividend payment. BP announced the dividend per share of 5.25 cents for the fourth quarter 2020.
In 2020, the company delivered a strong operating performance, with four new upstream major projects began production and the development of 3.3GW net renewable generating capacity. The company has reported the profit of US$1.4 billion in Q4 FY20 as compared with the previous quarter loss, with US$ 2.3 billion gain on disposal from the sale of BP's petrochemicals business. It made strong progress in reducing the net debt of US$1.4 billion over the quarter. In the last one year, BP shares delivered a return of 21.18%.
Royal Dutch Shell Plc (LON: RDSA)
FTSE 100-listed petrochemical and energy company Royal Dutch Shell Plc demonstrated resilient financial results and sector-leading cash generation, while net debt reduced by US$4 billion during FY2020.
The oil & gas company delivered a decent performance, with lower production volumes and realised refining margins during FY2020. Shell has reaffirmed its intention to maintain a progressive dividend policy and increase the dividend per share by 4 per cent a year. On 15 March, the Board announced the Q4 dividend payments. Both Class A & B Shareholders will be entitled for a dividend of 11.96 pence per share.
The company aims to become a net zero emissions energy business by 2050 or sooner, as it has further developed the integrated power business and commercialised hydrogen and biofuels to achieve net-zero emissions. It is confident that its integrated business model and high-quality assets will help them to overcome uncertain times. The company bought electric car charging company Ubitricity to diversify its portfolio. In the last one year, Shell shares delivered a return of 40.35%.