Highlights

New Zealand's small-caps subindex also traded in red for the day with the S&P/NZX SmallCap index posting a drop of 0.5%.
Rakon, Chatham Rock and Green Cross are creating a buzz today.
Investors must exercise caution while picking penny stocks.
NZ's benchmark index, the S&P/ NZX 50, ended the trading session in red today at 12,128.21, down 0.52% from its previous close.
The local small-caps subindex also traded in red for the day with the S&P/NZX SmallCap index posting a drop of 0.5% on the day at 93,023.76. However, some stocks are staying unimpacted by a weak market and are registering gains.
We have compiled a list of 3 NZX penny stocks trading under $5 that reported substantial gains during the day.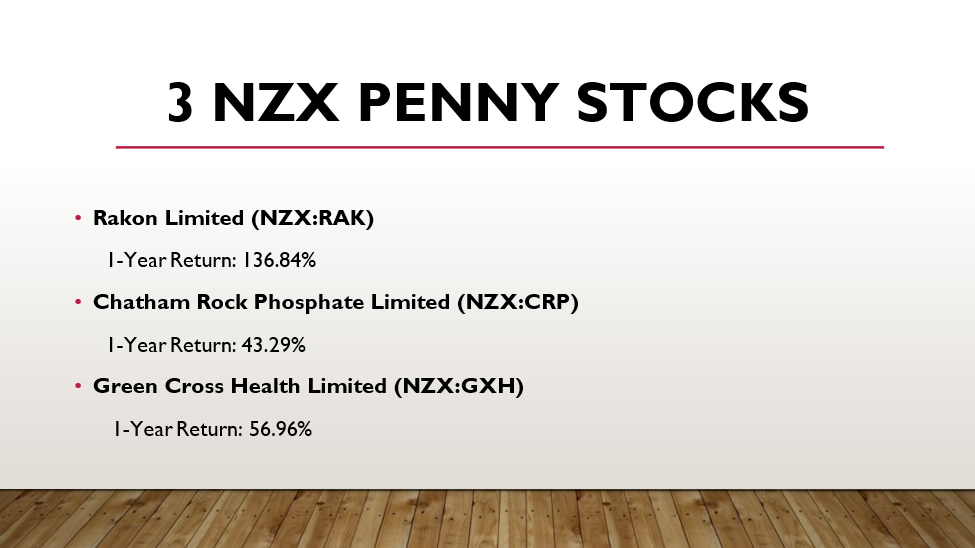 Image source: © 2021 Kalkine Media®, Data source- Refinitiv
Rakon Limited (NZX:RAK)
A global leader in frequency control and timing solutions, Rakon, announced on Tuesday that it had hired Sinead Horgan as its independent Non-Executive Director.
Ms Hogan has extensive financial, risk management as well as M&A experience at the board and executive level. She has been chosen as an additional director as per the Company's ongoing Board succession programme. ­­
ALSO READ: How will these 4 retail stocks fare amid new Omicron wave?
Previously, Rakon's Chairman Bruce Irvine had intended to retire from the Board once the planning succession programme was completed.
On 25 January, BNZ ended the trading session at $1.8, up 11.11% from its previous close.
Chatham Rock Phosphate Limited (NZX:CRP)
Phosphate exploration and development company Chatham Rock announced this month that it would undertake the planned manufacturing of Dicalcium Phosphate (DCP) at Korella South. The prefeasibility study for the production has begun.
Internal talks related to DCP production had begun in January 2021. An elaborate study for the positioning of the DCP plant was started with Prayon SA in relation to supplying 3 key elements.
DO READ: Which are 5 NZX dividend stocks to explore in 2022?
On 25 January, CRP ended the trading session at $0.139, up 6.11% from its previous close.
Green Cross Health Limited (NZX:GXH)
Primary healthcare provider Green Cross Health provided its trading update on Tuesday. The Group notified that it was witnessing higher-than-expected revenue and profitability. GXH saw an increase in revenue of nearly 14% for the 9 months ended 31 December 2021 due to increased activity related to the COVID-19 pandemic in the Company's divisions and recent acquisitions in the medical division.
ALSO READ: Why to look at 3 prominent NZ insurers?
GXH CEO Rachael Newfield stated that the rise might not continue in the next financial year due to an ambiguous and unpredictable view for COVID-19 vaccination and wiping activity.
NPAT for the 12 months to 31 March 2022 is likely to exceed the previous period result by $4.5 million to $6.5 million.
On 25 January, GXH ended the trading session at $1.18, up 2.61% from its previous close.
Bottom Line
Investors may get attracted to investing in penny stocks due to their potential of providing high returns. However, they can prove to be highly risky and erode investors' wealth in the blink of an eye. Hence, investors must exercise caution while investing in penny stocks.
(NOTE: Currency is reported in NZ Dollar unless stated otherwise)