Highlights

New Zealand has a strong and competitive telecommunications sector.
Chorus' total fibre connections increased by 23K to 894,000 in Q1 FY22.
Vital released its AGM presentations for 2021 and provided an update on PSN.
The telecommunications sector includes companies that have made data to be sent and communication possible worldwide through phone, the internet, cables or wires.
New Zealand has a mature and competitive telecom sector, where Fixed-line broadband and telephone services are largely provided through copper-based networks. The COVID-19 pandemic highlighted the importance that the telecom sector has and exposed barriers faced by the sector.
Amid this backdrop, let's cast a glance at how these 3 telcos are performing.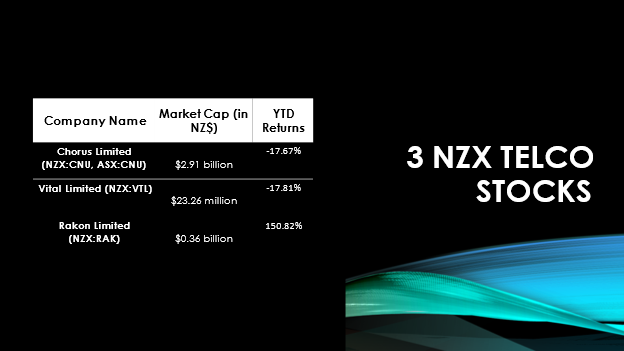 Image source: © 2021 Kalkine Media, Data source- Refinitiv
Chorus Limited (NZX:CNU, ASX:CNU)
Chorus Limited, a telecom infrastructure provider, provided connections update for FY22 on 14 October.
The Group reported that total fibre connections had increased to 894,000 in Q1, up by 23K despite reduced volumes under Alert Level 3 and the halt of installation activity in Alert Level 4 lockdowns across major centres in the latter half of the quarter.
ALSO READ: How Chorus (NZX:CNU) has transitioned towards a new dividend policy
Fibre uptake across the completed UFB path increased from 65% to 66% in the period while copper broadband and voice connections declined by 32K.
On 22 October, at the time of writing, CNU was trading at $6.415, down 0.23%.
Vital Limited (NZX:VTL)
Communication services provider Vital provided its AGM update on 19 October.
Vital saw growth in both revenue and profits in FY21 despite lockdowns affecting its business plans. Vital successfully completed its fibre network in Wellington CBD and the related switchover to new electronics.
The Group also updated that Vital had not been chosen as the preferred party to provide the Land Mobile Radio network as a part of the intended new Public Safety Network for emergency services across NZ.
Also Read: How are these 3 NZX Communication Stocks doing?
The group is forecasting its debt to increase 3-5% in the next 12 months and a capital expenditure of $5.3 million for the year ending 30 June 2022.
On 22 October, at the time of writing, VTL was trading at $0.58, down 3.33%.
Rakon Limited (NZX:RAK)
Rakon announced an upgrade in its FY22 profit outlook. In FY22, the Group now forecasts its underlying EBITDA to be in the range of $39 million to $44 million, up from the previously stated range of $27 million to 32 million.
RELATED READ: Who are 5 popular NZX communications stocks to watch right now?
This was due to the company receiving large orders for its TCXO2 as a result of a significant chip shortage caused by a fire at an AKM facility.
Steven Tucker has been appointed by the Board of Directors as an independent non-executive director.
On 22 October, at the time of writing, RAK was trading at $1.55, up 1.31%.
Bottom Line
As per the NZ Infrastructure Commission, 87% of Kiwis will have access to fibre by the end of 2022. Further, the need for both speed and amount of data is projected to increase considerably in coming years.
(NOTE: Currency is reported in NZ Dollar unless stated otherwise)