On 8th June 2021, NZX 50 ended the session in green as there was a rise of 0.06% to 12,517.65 and NZX 20 increased by 0.19% to 7,965.43. Also, NZX 10 rose by 0.63%. The broader market was supported by the buying witnessed in communications and material stocks.

Data Source: NZX, Table Source: Copyright © 2021 Kalkine Media
MidCap and SmallCap Outperformed Broader Market:
NZX 50 Index managed to close at 12,517.65, which implies ~8.62% growth in the time span of 1 year. Also, MidCap Index and SmallCap Index claimed the levels of 6,325.58 and 22,106.57 points, respectively.
S&P/NZX 50 Index vs SmallCap Index vs MidCap Index – One Year Return
Source: REFINITIV
Gainers and Losers:
In the release dated 8th June 2021, Evolve Education Group Limited (NZX: EVO) came forward and advised that all the centre acquisitions announced on 5th March 2021 are settled. Resultantly, the company is operating 115 early education centres in NZ and 20 in Australia. Based on the present NZ as well as Australian trading conditions, the company anticipates underlying EBITDA for FY 2021 (year ending 31/12/21) in the range of NZ$16 Mn and NZ$18.5 Mn and for FY 2022 (year ending 31/12/22) in the range of NZ$23 Mn and NZ$25.0 Mn.
SkyCity Entertainment Group Limited (NZX: SKC) stated that the company was informed by AUSTRAC's Regulatory Operations Team that there has been identification of the potential serious non-compliance by SkyCity Adelaide Pty Limited.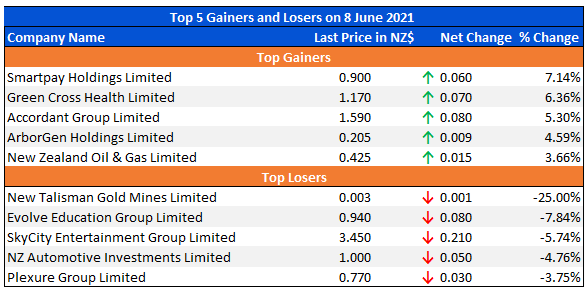 Data Source: NZX, Table Source: Copyright © 2021 Kalkine Media
Movements on Wall Street:
On 7th June 2021, NASDAQ Composite rose by 0.49% to 13,881.72. Notably, Dow Jones Industrial Average fell by 0.36% to 34,630.24.
Note: The reference data in this article has been partly sourced from REFINITIV