At present times, everyone around the world is in lockdown at their homes or under quarantine. Are you also doing Netflix and chill during this lockdown? If yes, let us acquaint you with a thrilling guide to investing for novices that you have been dreaming about finding all your life.
So, let's dig a little deeper and discuss responsible investing and how it impacts returns-
Responsible Investing (RI) also named as ethical investing is something to consider. In the previous few years, this smaller niche kind of investing has gone conventional as more folks associate their values with companies who share their beliefs. As the popularity of RI has increased, there are still some grey regions and, it can get gloomy as you try to figure out what companies are actually "green" and who is just giving lip service.
Unless you intend to dig all through piles of corporate financial reports, it is challenging to decide what companies are following through with their promises. And the best possible way around this is to invest in an ETF (Exchange Traded Fund) or mutual fund. With these types of products, it is the asset manager that does the research on your behalf and determine which companies meet up the benchmarks worthwhile for investment.
Also Read: Climate Change: How Will Greta Thunberg And Attenborough Together Make A Difference
Socially Responsible Investing (SRI)-
A new generation of investors is changing the way anyone think about financial investments. Not only do they would like to work hard and invest prudently, but they also want their investments to make a difference. When Environmental, Social, and Governance (ESG) factors have been applied, Socially Responsible Investing gets one step further. SRI monitors or actively remove companies who take part in an activity that is deemed to be negative. And this is important because it helps select companies that align with your values.
Types of Socially Responsible Investing
No approach would fit in all instances for SRIs. Following are some of the most popular methods of investing with a social conscience-
Socially responsible investment funds (SRIF)- These actively eliminate investments that do not adhere to strict ethical guidelines via positive and negative screens. These funds may allocate a portion of their portfolio to charitable causes while abstaining from fossil fuel investments.
ESG funds-These factors in the material impact of investments, according to environmental, social and governance-based practices. However, the primary evaluation criterion is financial return.
Impact funds- Every investment in these funds must have a positive social or environmental impact. The fund is established to advance social goals before financial gain.
Faith funds- This is ethical investing according to religiously prescribed precepts and guidelines.
Previously, socially responsible investing often intended not investing in companies but in specific industries, such as firearms, tobacco, gambling and nuclear energy. Oil and gas companies have more recently joined the "don't touch" list for many investors who are concerned about fossil fuels' contribution to climate change. RI is not a modern concept, although it is only more recently that it has emerged in the public consciousness.
Through some extensive investigations, it was revealed in New Zealand that a significant number of KiwiSaver providers were investing in cluster bombs and other banned industries, breaking strict international regulations and producing an incredible turmoil among the public as well as the government. And this led to modifications in the legislation, confirming individuals had more transparency on where their money was invested, along with the exclusions that fund managers apply regarding specific industries.
Moreover, a pharmaceutical company that climbs prices pitilessly, a bank that fails to respect its clients, a mining company that shortchanges safety- these companies may increase returns in the short term. Eventually, the objective is the engine of long-term profitability.
If you are making investment in mutual funds or ETFs, you can check the prospectus or marketing brochures to look at what screens are applied. According to the Global Impact Investing Network, impact investments generate a social or environmental impact that is both positive and measurable, in addition to a financial return. If one is looking to do good for both society and their bank account, they should consider impact investing.
Do Read: BlackRock Braces Climate Change & Sustainability
For signifying the concerns of many Socially Responsible Investing (SRI) investors, Trillium Asset management also utilises rigorous exclusionary screens. Such as Trillium would not invest in companies with considerable involvement in the development, marketing, or supplying tobacco, gaming, pornography, firearms, military weapons systems or nuclear power.
Responsible investment strategies-
There are many different ways to involve in responsible investment, as outlined in RIAA's responsible investment spectrum in the subsequent figure, and investors often use a combination of strategies, including-
ESG integration
Corporate engagement and shareholder action
Negative/exclusionary screening
Norms-based screening
Positive/best-in-class screening
Sustainability-themed investing
Impact investing and community investing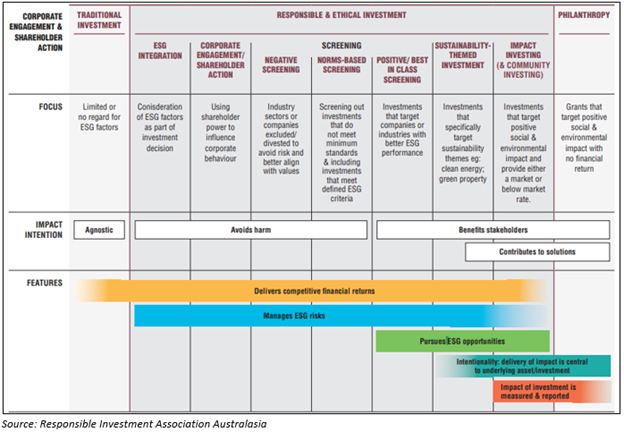 How Responsible Investing impacts returns?
A widespread concern encompassing responsible investing is that integrating ESG (Environmental, Social, and Governance) factors into the investment process or during the screening of certain companies, might concede investment performance. Nevertheless, the latest research indicates that assets under management employing a responsible investment method are progressively delivering comparable, or in some cases, beyond the benchmark profits.
It is noteworthy, though that many of these investment choices are still relatively new and most have not been nearly longer than ten years. This suggests at this stage, their long-term performance is unknown.
BlackRock 2020 Letter to CEOs- 'Climate Risk Is Investment Risk'
The Company's Chairman & CEO, Mr Fink asserted that the evolving trend of climate change has turn out to be an essential factor in long-term prospects of any business. Climate change would have a considerable effect on economic growth as well as prosperity.
The letter stated the change in climate risks had been ignored by the markets mostly. Though, the awareness is developing, and Mr Fink considers that a fundamental reshaping of finance is on the edge.
Moreover, Mr Fink predicts significant variations in capital allocations decisions of the investors going forward.