Highlights

Elon Musk tweets "Hopefully enough to extend life to Mars"
Musk has ambitious plan for the humans
Elon Musk keen on building vehicles off-planet
Since there is coronavirus on earth, would you like to move to Mars? That might have sounded impossible few years ago, but it seems possible now as Elon Musk is all set to terraform Mars and extend life to Mars. Musk said in his latest reply to Matt Wallace's tweet that his net worth is hopefully good enough to extend life to Mars.
Matt Wallace thanked Elon with his reply and expressed his confidence on Elon Musk by saying - 'no doubt that he can make that happen.' Not just this, this tweet thread gained immense attention when an account called Dogecoin appreciated Elon's reply and said that – "We have your back every step of the way." The thread continued with interesting tweets mentioning the official currency of Mars as Dogecoin.
MUSK MARS MISSION
© Studiostoks | Megapixl.com
Though this tweet thread amused a lot of crypto enthusiasts and Musk fans, there were others who questioned his plans. It all started when a twitter account of a popular You Tuber @MattWallace888 pointed out that Elon Musk's net worth makes him richer than Bill Gates and Warren Buffet combined. Elon Musk replied to the tweet by saying "Hopefully enough to extend life to Mars."
Interesting Read: Jeff Bezos and Elon Musk slug it out in space
With these flurry of tweets, one thing is obvious that Musk has ambitious plan for the humans. And it is not the first time that Musk has mentioned his plans to explore Mars. Earlier during Tesla's shareholder meeting for 2021, Elon Musk expressed his interest in building vehicles off-planet.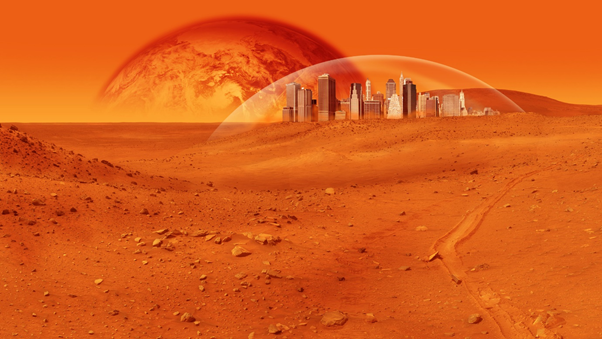 Source: © 36clicks | Megapixl.com
Not just this, Musk aims to build a city of around a million inhabitants on Mars by 2050. It all started five years ago when on September 27,2016, Musk hinted on making life multi-planetary. His speech during a Q&A session at the 67th International Astronautical Congress in Guadalajara, Mexico said a lot about his love for Mars.
He said, "I would definitely like to go to Mars, and I am going to make sure that if something goes wrong in the flight and I die than there is a good succession plan, and the mission of the company continues." Musk has explained time and again that SpaceX's goal is to transform humanity into multi-planet species.
Source: Copyright © 2021 Kalkine Media
Musk is ambitious and he has been living up to all his promises and dreams. SpaceX's all-civilian mission to orbit was a huge success and soon after that he pointed that he aims at making Mars more like Earth. From transforming Mars atmosphere to reducing spaceflight costs – he has all his dreams charted out.
With those ambitious comments and dreams, Musk is someone who believes in doing different things for humanity. So, get all set with your Dogecoins to buy a ticket to live in Mars soon.