Highlights

Not just cryptos, but almost every other risky asset like equities is under pressure this year
Bitcoin is down, and so are the stocks of Apple and Tesla, which indicates a wider bearish trend
Cryptos have multiple dimensions including metaverse and non-fungible tokens (NFTs)
The dip in the total market cap of cryptocurrencies has reignited the debates around long-term viability of these assets.
The market is recalling what top crypto critics like Warren Buffett and Senator Elizabeth Warren have prophesied. From once a US$3 trillion market cap industry to now US$1.6 trillion, things are definitely under pressure. But is the crypto market really dead?
Cryptos vs. stock market performance in 2022
It is not just cryptos that are subdued this year. The global stock market has pared the gains of last year, and most indices, including the heartbeat of the market, S&P 500, are in red. As of now, the S&P 500 index has lost nearly 7.5 per cent this year. The benchmark index of Canada, S&P/TSX composite, has lost over 3 per cent.
Also read: Top cheap cryptocurrencies with high market cap
Tech stocks are one of the biggest losers, with Apple having lost almost 9 per cent. In cryptos, Bitcoin, the biggest of the lot, is down almost 45 per cent as compared to its all-time high value. From Ether to Dogecoin, virtually every high market cap cryptocurrency is down so far in 2022.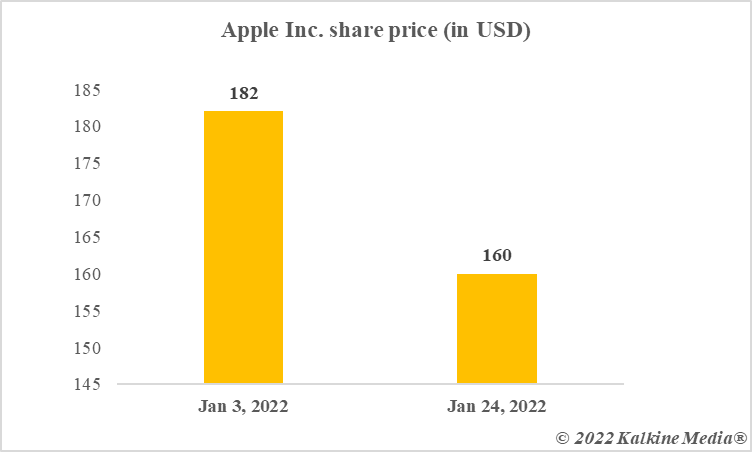 Fed rate hike fears
That the Fed would hike rates multiple times in 2022 is what that has unnerved investors, most analysts say.
A negative sentiment has gripped all risky assets including stocks and cryptocurrencies. Other central banks, including the Bank of Canada, may too soon announce policy rate hikes. Investors are rushing toward safe havens like treasury bonds to hedge their positions. Money is limited, and a portion from equities and cryptos is being diverted toward safe assets.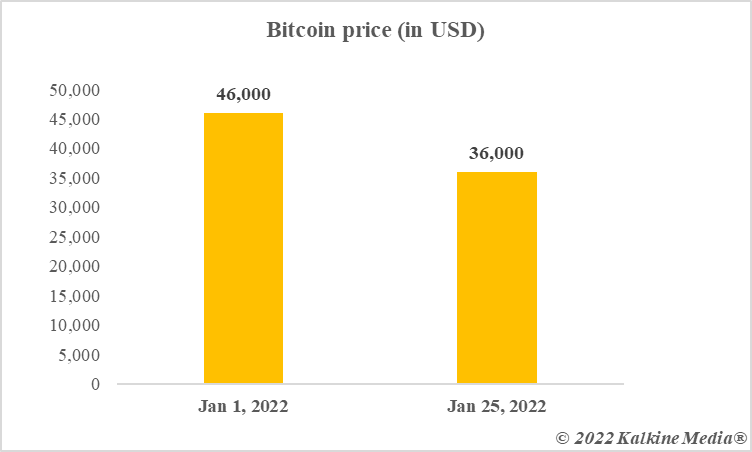 Data provided by CoinMarketCap.com
Not everyone may be selling
Cryptocurrencies are liked by both retail as well as institutional investors. Big corporations like Tesla and MicroStrategy hold BTC in their portfolio.
Many top investment advisors are said to have crypto exposure in personal capacity. It may be possible that seasoned investors may be booking profit or containing any further losses by liquidating their crypto holding. Bitcoin is still trading at a higher value as compared to prices that prevailed before 2021. By selling their investments in cryptos, such investors may be exiting the market under a planned strategy.
But retail investors, among who HODL or hold on to dear life, is a popular sentiment, may have yet to selloff their cryptos and they may hold the fort in the medium-to-long term.
Also read: Best crypto trading platform in Canada -- Top 5 contenders
Viewpoint
It might be too early, and too immature, to announce the death of cryptocurrencies. Investors are now looking beyond Bitcoin. They are interested in gaming tokens, NFTs and decentralized finance, which are all powered by blockchain tech. The new sub-sectors may be the road ahead. Microsoft's metaverse entry, after Facebook's name change, is also being closely tracked.
Lastly, cryptos are volatile and prices may fluctuate in any direction. Over the past 24 hours, Bitcoin is up almost two per cent. And hence, this remains a wait-and-watch game.