Summary

Electric cars have lower lifetime climate impacts than those with internal combustion engines.
A Deloitte report suggests that the total electric vehicle sales are projected to grow from 2.5 million in 2020 to 11.2 million in 2025, then reach 31.1 million by 2030.
In Australia, the electric vehicle revolution is picking up steam in the stock market too, with companies contributing to eradication of emissions.
Electric cars are robust, can cover extensive distances with a single charge. Besides, they are turning out to be affordable. Having said so, it is imperative that electric vehicles become more accessible and convenient for Australians, to curb pollution and have a real impact on climate change.
Price is Less albeit Opportunities are Immense; Invest Wise with Kalkine LITE Just at $19.99
Getting the basics right-
Electric vehicles have their motor running through electricity and not on liquid fuels. Liquid fuels like petrol and diesel generate more harmful emissions over their lifetime than electricity. Subsequently, electric vehicles are crucial to meet the global goal of keeping global warming below 2-degree C.
ALSO READ: Elon Musk Calls for Renewable Energy Audits by Bitcoin Miners
Copyright © 2021 Kalkine Media
However, there is something of paramount importance that needs attention. To derive optimum results from electric vehicles, electricity generation needs to be less carbon intensive. This means that relying majorly on renewables sources is a much better approach.
Time and again, multiple research works have found that if batteries were produced using renewable energy, emissions would fall drastically.
GOOD READ: Is Electric Vehicle Era Making Fossil Fuel-Driven Vehicles a History?
How will electric vehicles help Australia?
Firstly, they will help reducing emissions. While driving, electric vehicles may produce zero carbon emissions. A report by Electric Vehicle Council says that if Australia's policies are boosted for electric cars, cumulative carbon dioxide emissions will decline by 18 Mt by 2030. This decline will equivalate to taking as many as 8 million petrol vehicles off the road.
Secondly, electric vehicles support the greenhouse emission agenda – Battery-powered electric vehicles consume more energy than liquid fluid vehicles during production. However, the excessive emissions are combated within 6 -16 months of driving the car, as per the Union of Concerned Scientists. More renewables used for the production of electric vehicles means less greenhouse gas emission.
Thirdly, electric vehicles are a valuable mechanism to help to reduce household emissions, thanks to the grid technology. During rapid peak hours, they may act as household batteries and provide power. Thus, eclectic vehicles help in improving efficiency and reducing emissions.
GOOD WATCH: Which are the cheapest electric cars in Australia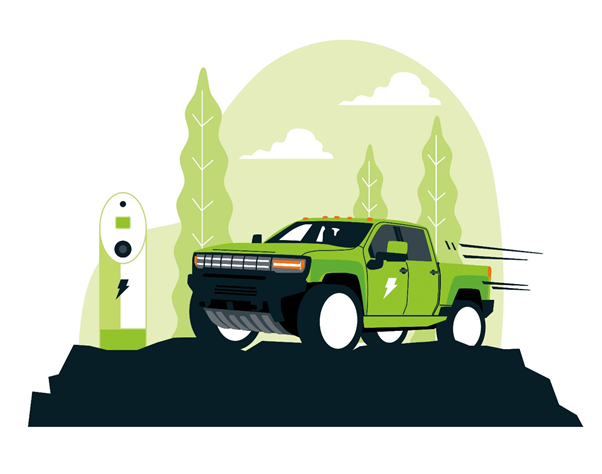 Copyright © 2021 Kalkine Media
Are electric vehicles here to stay?
Interestingly, the prices of electronic vehicles are steadily declining as the automotive market is becoming more aware of its perks and adapting to this beneficial technology.
A Deloitte reports from last year reveals that the combined annual sales of battery electric vehicles and plug-in hybrid electric vehicles tipped over the two-million-vehicle mark for the first time in 2019. But then, COVID-19 completely disrupted global sales and manufacturing.
However, the course seems clear for growth over the next 10 years or so, despite the impending impact of COVID-19 on total car sales. So much so, the Deloitte report states that by 2030, battery-driven electric cars will likely account for 81% of all new electric vehicles sold. Total electric vehicle sales are projected to grow from 2.5 million in 2020 to 11.2 million in 2025, then reach 31.1 million by 2030.
In Australia, the electric vehicle revolution is picking up steam in the stock market too. Let us skim through three such pioneering companies, listed on the ASX.
Magnis Energy Technologies Limited (ASX:MNS)
Magnis Energy Technologies is making impressive strides in batteries with its proprietary graphite-silicon anode technology. it is combining this with the technology of its US partner C4V, to develop lithium-ion batteries (LIBs) capable of a higher voltage and very fast charging times for electric vehicles.
Rectifier Technologies (ASX:RFT)
Rectifier is a preferred supplier to Tritium, which is launching the globe's first ever "pay-as-you-go" scaleable charging platform. In August last year, Rectifier launched its first two-way electric vehicle charger, that will allow homes and businesses to not only charge an electric vehicle, but also sell excess power back to the grid.
Copyright © 2021 Kalkine Media
NOVONIX Limited (ASX:NVX)
NOVONIX is working with two of the largest global lithium-ion battery makers: Samsung and Sanyo. These three represent a 40% share of the worldwide market. NOVONIX says that the annual passenger electric vehicle sales are on track to rise to 10 million per year in 2025, 28 million in 2028 and 56 million by 2040.
The electric vehicle market is expanding its horizons with favourable government policies and increasing consumer demand. Here is some food for thought- with the electric vehicle market on the boom, electricity generated through renewables should also be encouraged. If renewable energy makes a stronger hold, the benefits of electric vehicles will multiply.
ALSO READ: Despite dismal vehicles sales in 2020, EV continues to grow